Last week something happened to Sandy Young's front lawn.  It got smaller.  Or rather, part of it became a vegetable garden.
Sandy had been wanting to decrease her carbon footprint for awhile and decided that she could save some gas money driving to and from the grocery store (even though she already drives a Prius) by growing vegetables on her front lawn.  She had been entertaining the idea of ripping out part of her lawn, and after taking a class in the Gardenerd Organic Gardening Series, she decided to put what she learned into practice.
Sandy is a do-it-yourself kind of woman. She already has done some fantastic work on her yard, but needed a little help getting raised beds installed and planted.  After a consultation, we came up with a plan for two raised beds that would house tomatoes, peppers, squash, melons, lettuces, herbs and some root vegetables.
Here's Sandy's house before the project started: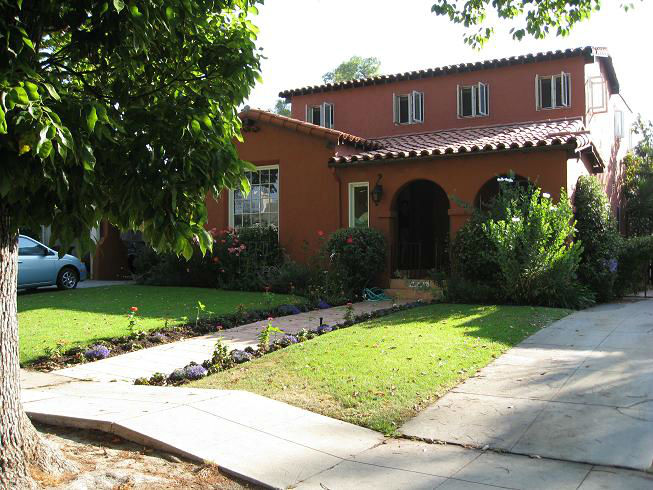 Once we agreed on a design and plant layout, we put together a master list of materials, hardware, soil amendments and plants.  Sandy and her husband wanted to purchase the materials ahead of time so that the installation could happen in one day.  Aside from the fact that Los Angeles was somehow completely devoid of Vermiculite during the week Sandy went shopping for materials, the process went over seamlessly.
The crew arrived at 8:15 to start capping off sprinklers: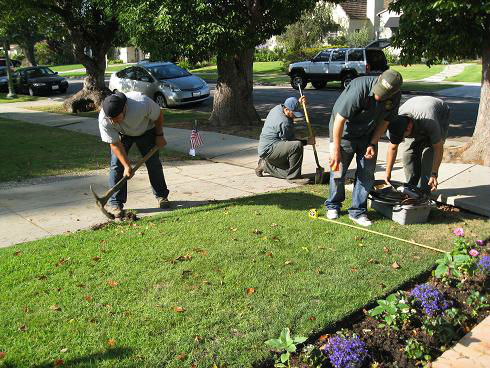 They measured the area and started removing the grass.  Since we weren't sure what was used on the lawn as far as chemicals go, we brought in all new soil amendments and built the beds right on top of the existing soil.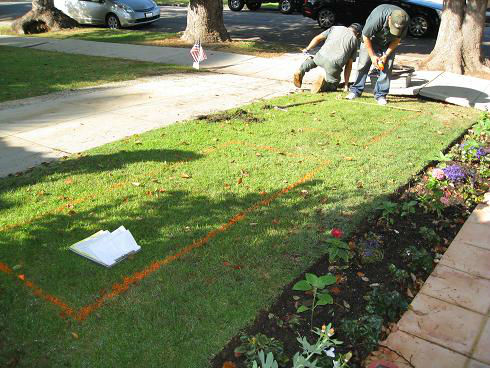 At the end of the day, Sandy was presented with her new vegetable garden, complete with instructions about the irrigation system from the crew.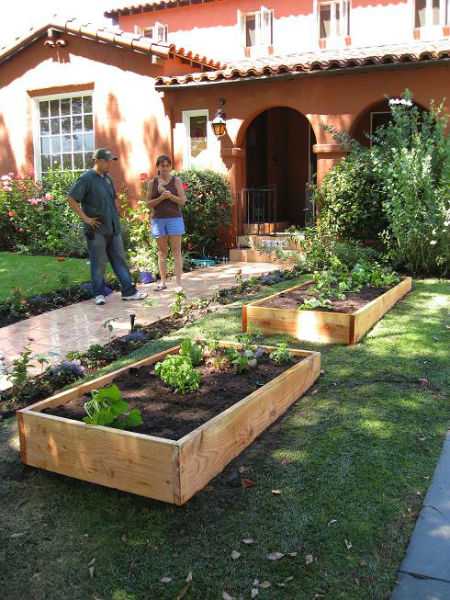 Sandy planted some radish, green onion, and carrot seeds in between the transplants that she bought at the nursery.  When last we spoke, the radish seeds had sprouted already.  Ah- instant gratification.
Her plan is to cover the remaining grass with mulch if it dies off, but now she no longer has to dedicate water to that section of the lawn.  Thank you, Sandy, for boldly re-purposing your front lawn!  Keep us posted on your progress.