There's nothing like a good garden tour to get your spring gardening juices flowing.  Last Saturday, we set out on our bicycles to take in the third annual Mar Vista Green Garden Showcase in all its glory.  This free garden tour is put on by the hard-working volunteers of the Mar Vista Green Committee, and while our house has been on the tour during the first two years, we wanted to get some inspiration and see what our neighbors were doing with their land.
With over 70 houses to see, we had to choose wisely, so of course we focused on houses with vegetable gardens.  We were not disappointed. Mar Vista is leading the trend of front-yard vegetable gardens, converting water-guzzling lawns into productive food factories.  Here are some of the fun gardens we saw: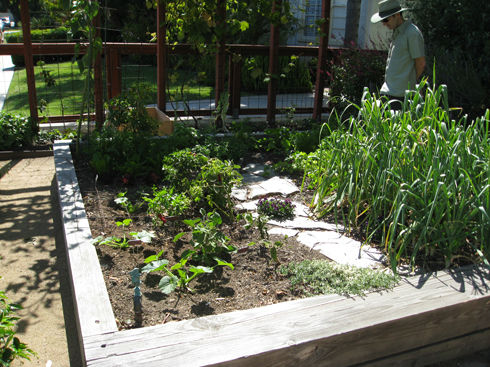 Owner of Yvette Roman Photography, this homeowner's garden was featured in Ivette Soler's new book  The Edible Front Yard
.  She converted her grassy knoll into a raised bed vegetable garden with drought tolerant plantings to have fresh veggies within reach.  While this photo doesn't do the garden justice, you can see through the fence that the neighbors have a regular water-guzzling lawn.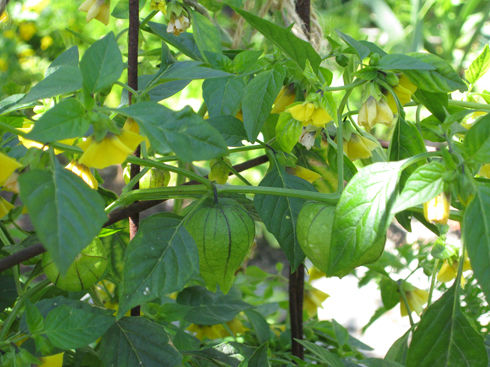 A close up of Yvette's tomatillos
We stopped off at a recently completed garden along a busy street for a look at these half-circle concrete planters that give the homeowner a small space to grow their own food.  It's a nice touch to step away from the traditional raised beds, and it's good to know these planters aren't going anywhere.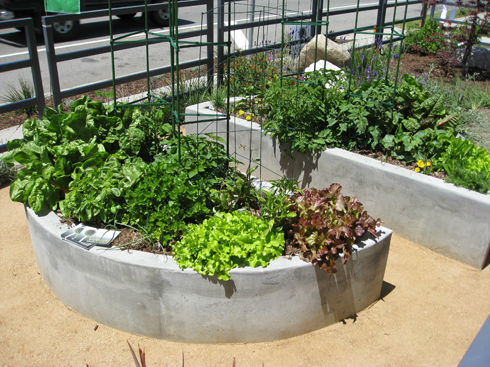 Another great front-yard-to-vegetable-garden conversion was on a larger lot with plenty of space.  They constructed a set of raised beds surrounded by fruit trees to grow plenty of food for the family.  It's stately but at the same time, very fun and abundant: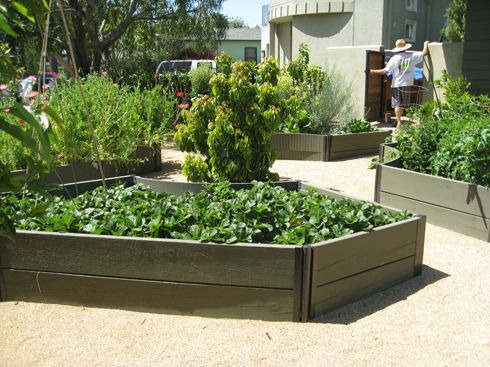 Decomposed granite creates a clean pathway around the garden beds
One of the last stops was to see something completely different.  Aquaponics – a relatively new method of growing plants that combines hydroponics and aquaculture – recycles fish waste as fertilizer and uses far less water than conventional gardening.  This project is still in the works, but we got a sense of what is to come: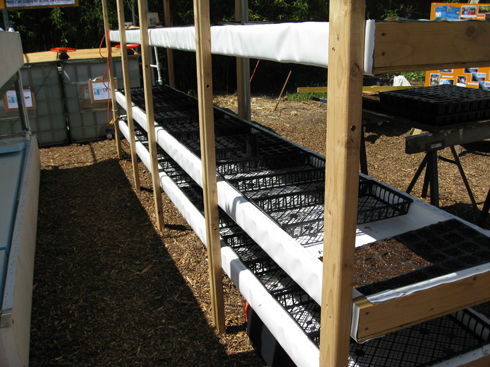 This was a rack of seed flats hooked up to a water bath system.  Those tanks in the background house fish, whose waste becomes fertilizer for the plants.  In a few months the operation will be up and running.
We saw several houses that integrated Edible Landscaping (a design method attributed to Rosalind Creasy) into their drought tolerant landscape.  This house below featured fruit trees and Swiss chard in with native grasses, poppies and ground covers for some showy curb appeal.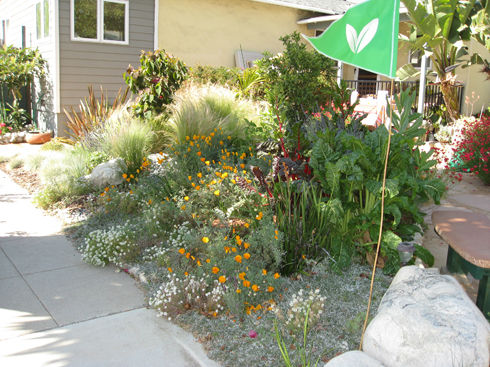 Swiss chard on the right and fruit trees in the background and far left of the house. Poppies, alyssum and dymondia brighten the yard with blooms.

There was so much more to see than we could possibly document, but perhaps these snippets will inspire you in your garden.