This past Saturday, August 7, was our very first Summer Potluck and Seed Exchange.  About 40 gardenerds showed up to share the bounty of their harvest, and they came away with a handful of new seeds to try next season.  From simple dishes like a bowl of watermelon or a platter of caprese (basil, mozzarella, and tomatoes) to fanciful recipes like homegrown banana bread cake or tomato and watermelon salad (YUM!), these gardenerds rose to the occasion and presented their garden's finest. 
Crowding the long potluck table were pots of savory chard, cabbage salad, raw kale salad, root vegetables stewed in olive oil, homegrown melon berry agua fresca, tomato and olive bruscetta, and cranberry crunch cookies. All were mouth-watering and delicious.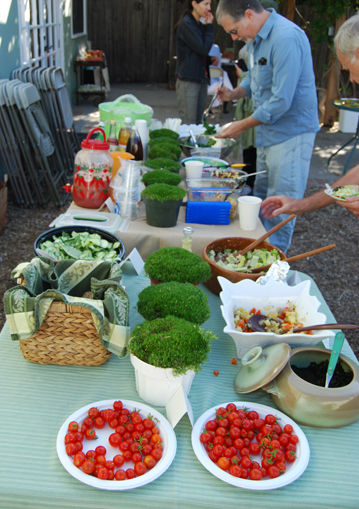 We talked about what we're growing now, and what we want to grow next year. We discussed what worked this year (beans) and what didn't (tomatoes and squash). We even wandered into the test garden to harvest some popping corn.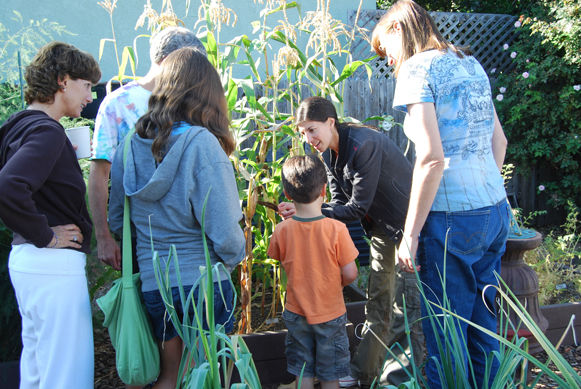 Then the seed exchange began. Early on, when people arrived, we had everyone wear a name tag and we asked them to list what seeds they had and what seeds they wanted on their tag. We had a starter grouping of seeds out on the table with envelopes and pens.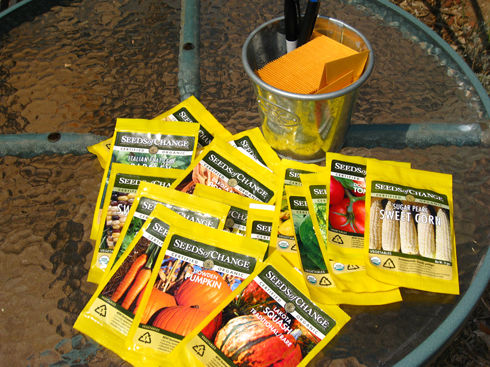 Everyone pulled out their own collection and started sharing. Packets were passed in a flurry of activity and those little manila envelopes were becoming scarce in no time. I came away with some new things to try: Taiwanese Lettuce, Snail Vine (gorgeous purple flowers), Powder Green Peppers, Gourmet Beets (for the husband) and Bittermelon seeds. I'm so excited to find places for all of these in my garden next year.
As a thank you gift for all the participants, we're compiling all the recipes from the potluck into a Summer Harvest Cookbook that will be sent out shortly to everyone who came. Guests made us promise to do this again as they left with their handfuls of seeds. I think it's safe to say that the event was a delicious success.