Traveling as a vegetarian has never been too much of a challenge for me.  Mostly because I eat dairy, so where there is bread and cheese, I am fine.  Recently, however, during the planning of our upcoming trip to Hungary to visit my husband's father, I began to worry about whether or not I would be able to eat in Budapest.  Rumor has it, and my husband confirms, that there are little to no vegetables to be found (which would explain why a salad is called a "vitamin salad" in Hungary).  Meat is either boiled or fried – deep fried – and that's pretty much all she wrote.  Armed with my printout from www.HappyCow.net, which lists vegetarian-friendly restaurants and health food stores all over the world, I figured I had a good chance of surviving the trip.
Imagine my surprise when we arrived, and the first place our hosts took us for sight-seeing was the farmers market.  Behold the beauty of fresh fruits and vegetables: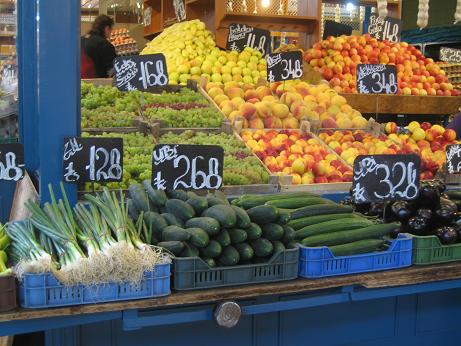 Not only is this place teaming with life, it's beautiful.  There were two floors and a basement (where all the seafood vendors were located).  Like many of our farmers markets, there were a few booths selling ready to eat local foods like hot sausages and what looked like a puff pastry with melted fresh cheese.  There were also wall to wall displays of meats and more varieties of sausages than you can imagine.
Paprika, the Hungarian word for Pepper, is clearly a favorite throughout the country.  Here we found braided paprika of all shapes and sizes.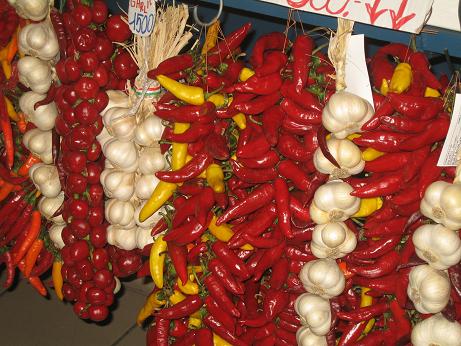 They had a beautiful assortment of fresh fruits and vegetables, all displayed with care by each vendor.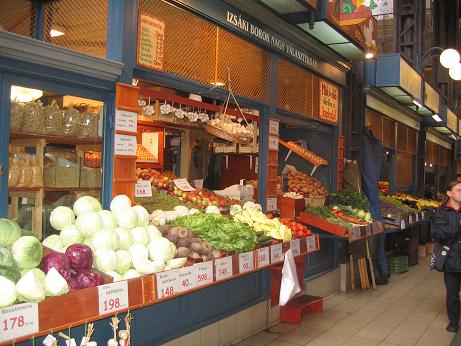 As you can see, the place just goes on forever.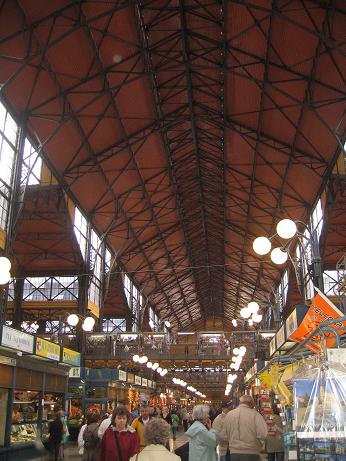 We really enjoyed seeing the market, and I felt relieved to know that I could make a meal or two at this one-stop shop if I needed to.  More on our travels to Europe coming soon…