I'm surprised this question hasn't come in to Ask Gardenerd sooner, but it has finally arrived:
"I pulled out a bunch of mint that had gone awry. What should I do with it? Mint sauce? Dry it? How?"

There are plenty of things to do with mint, but even though that's true,
I still find myself wondering what to do with an overabundance.  Here
are a few suggestions off the top: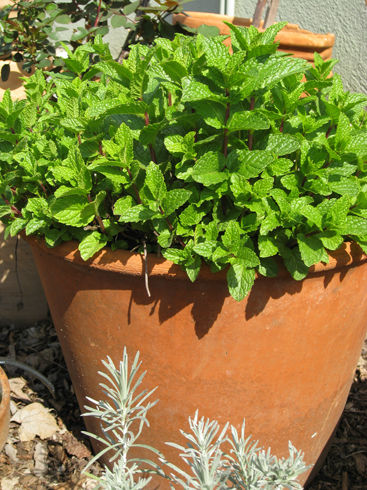 Plant mint in a pot to keep it under control
Moroccan Mint Tea –  My husband traveled to Morocco a few years ago and fell in love with the traditional beverage served everywhere he went.  The locals would simply fill a pitcher of green tea with a handful of fresh mint.  It was so refreshing, he said, that he wanted to make it when he got home.  We have a Moroccan mint plant but it's not producing enough for the tea yet.
Dry it –  Drying herbs is fairly easy, especially if you have a solar food dryer (okay, I'm bragging here).  You can use a dehydrator or an oven, or sunlight to dry your herbs.  Here is a  website with step by step instructions to guide you along:
http://www.pickyourown.org/DHbasilmint.htm
Mint Julep –  Since the Kentucky Derby is this weekend, you'll want to stock up on this traditional libation for your KD parties.  This isn't what they serve at Disneyland, that's for sure.  It's serious stuff, so – adults only please.
Mint Ice Cubes – you can freeze some chopped mint in ice cube trays to have them on hand for lemonade as the weather warms up.  Here in Los Angeles, it's already begun to feel like summer, so you'll have no trouble getting rid of surplus mint cubes at your lemonade stand.
The Herb Companion has generously offered a fine selection of recipes for all that leftover mint.  Check out these for some tasty ideas.
That should get you started.  Gardenerds – do you have any mint recipes to share?  Post your comments here.