The mailbox of Ask Gardenerd has been receiving some great questions this week.  Here's another about the difference between moss and moss:
"A question about moss… What is the difference between
peat moss, sphagnum moss, and the green moss that grows around the
ground?  Going into the 3rd year with my raised bed, and it has many
patches of green moss. Is this detrimental to the plants?   Should it be
removed or turned back under into the soil?  Thanks in advance.  Judy"
I love this question, thanks for writing in.  There is a difference in the functionality of these different mosses, and it's good to know which is which, so you can use them properly.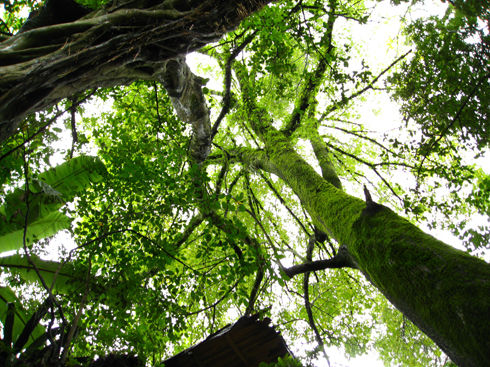 Mossy trees in Mexico's National Park in Uruapan
Peat Moss – Technically called Sphagnum Peat Moss.  This is the stuff you see most often in bags at the nursery, sold as a soil amendment.  It is comprised of decaying material harvested from bogs.  It is the dead material underneath the living part of the plant (we'll talk about that in a second).
These bogs take between one to three thousand years for nature to make them, and we harvest the contents much faster than that.   The world is experiencing a dramatic loss of peat bogs, between 89-98% of the bogs that once existed are now gone.  That's why I recommend using coir, the outside hull of coconuts (which is a waste product)  instead.
Sphagnum Moss –  This is also found at nurseries or craft and hardware stores, and is used to line hanging baskets.  It's often used to cover the soil in decorative topiaries.  This is the living part of the plant that dwells above ground.  It covers the bog and without it the bog can not thrive.  This part is usually removed in order to access the peat below, though many countries have adopted sustainable harvesting methods to preserve the sphagnum layer while still accessing the decaying peat below.
Sphagnum moss can contain some pretty nasty fungal spores, which if not handled properly (or sterilized before being sold) can get under your nails and cause major health issues.  It is recommended to use gloves when handling decorative sphagnum moss.
That other moss – Green moss or algae (and it could be either) that appears on the soil surface usually crops up in places where soil has poor drainage and more shade.  In reading about the possibilities, I came across this helpful guide from University of Georgia:
Controlling Moss and Algae in Turf
To summarize this and other sources of info,  here are a few tips:
It's generally harmless – you can scratch the soil surface to disperse it, and it will most likely come back, but it won't harm or kill your plants.
Check soil pH and fertility – algae tends to grow in infertile areas where there is light, so check your soil and amend with organic fertilizer as needed.  Add lime if the soil is too acidic (another happy breeding ground for algae).
Add compost – to improve drainage, or create raised beds.

Cut back on watering – the presence of algae or moss is a sure sign that the soil is too wet.  Let the soil dry out between waterings if possible and see if that doesn't improve things.
Thanks for writing in.  I hope this helps.