Spring is for cooking fresh from the garden. How delightful it is to run across a recipe, and to happen to have all the ingredients on hand, either in the fridge or in the garden. For those harvesting winter- or early spring-grown radishes right now, this recipe is for you.
The recipe uses fresh radishes, chickpeas, and broccolini for a delicious rustic Italian meal. We made a few substitutes to demonstrate how flexible this recipe is.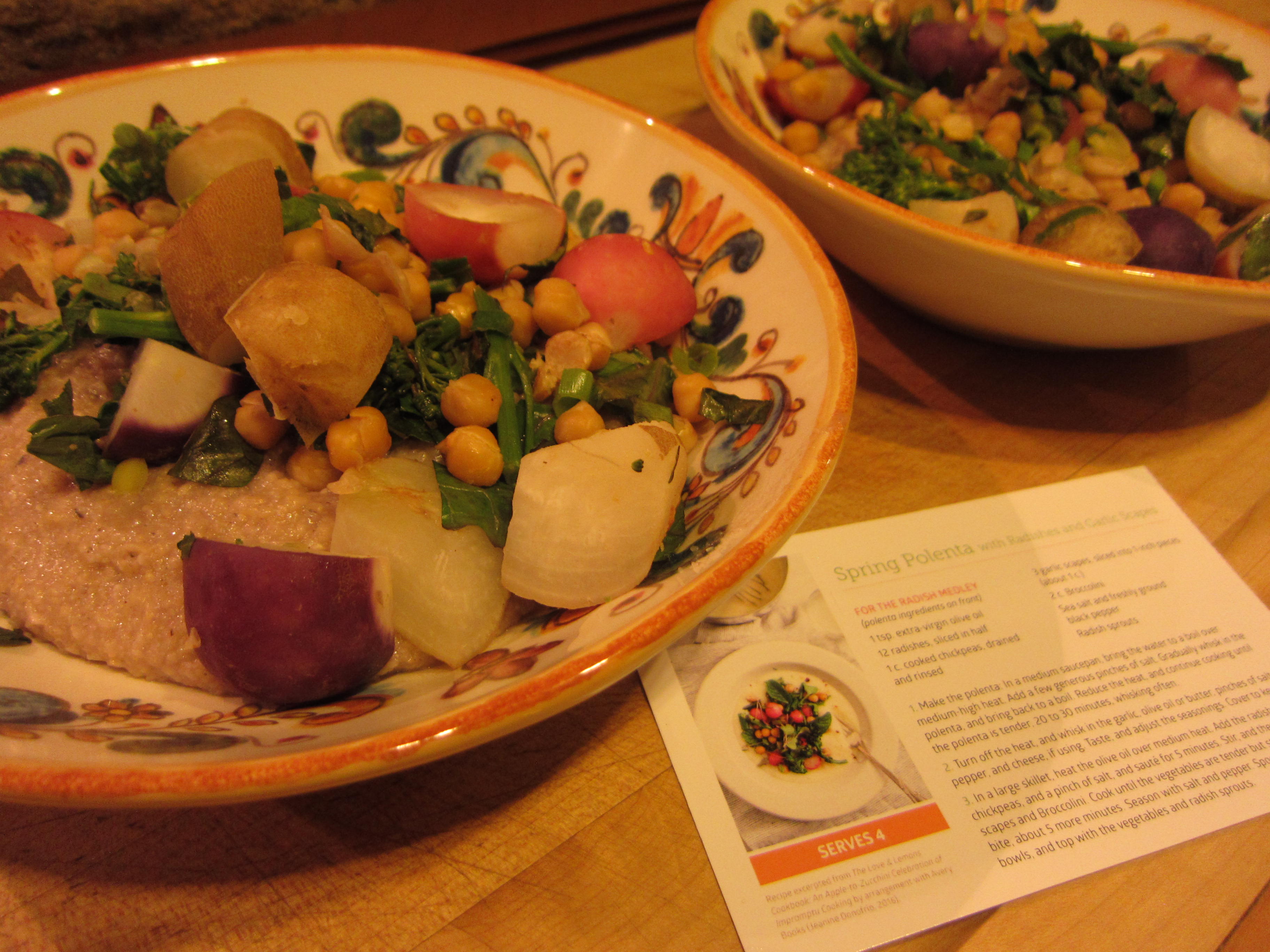 Okay, so we don't have garlic scapes, but we do have garlic and leeks. They make a great substitute for scapes if they aren't available in your hardiness zone.
Spring Polenta with Radishes and Garlic Scapes
from MyRecipes.com
Ingredients
3 cups water
1 cup polenta
1 garlic clove, minced
2 tablespoons extra-virgin olive oil or unsalted butter
Sea salt and freshly ground black pepper
4 tablespoons grated pecorino cheese (optional)
1 teaspoon extra-virgin olive oil
12 radishes, sliced in half
1 cup cooked chickpeas, drained and rinsed
3 garlic scapes, sliced into 1-inch pieces (about 1 cup)
2 cups broccolini
Radish sprouts
Sea salt
Method
To cook polenta, boil water over medium-high heat in a medium sauce pan. Add a pinch or two of salt. Add polenta and whisk to blend, then bring the mixture to a boil. Lower heat to simmer until polenta is tender, about 20 – 30 minutes. Stir often. Turn off the heat and add garlic, 2 tablespoons olive oil or butter, more salt if needed, and pepper. Add cheese (we used Parmigiano) , if using. Cover to keep warm.

Note: we didn't have polenta, but we had cornmeal so we used that. It works the same way, it's just more course in texture. We also added the garlic earlier in the cooking process to blend flavors better. Cheese is essential if you are using cornmeal.

Heat 1 teaspoon olive oil over medium heat in a large skillet. Add the radishes, chickpeas, and a pinch of salt, and sauté for 5 minutes. Stir; then add the garlic scapes (we used leeks) and broccolini (we used broccoli) and cook until the vegetables are tender but a little crunchy, about five more minutes. Season with salt and pepper. Spoon the polenta into bowls, and top with the vegetables and radish sprouts.

The result was a fresh-tasting bowl of hearty veggies and creamy polenta. Give it a try with whatever is coming in from the garden now.