It's eggplant time, so it's time to decide which side you're on: love it or hate it. If you're at all squeamish about the texture of eggplant (like yours truly) you'll want to try this recipe that does an excellent job of masking the vegetable's inherent sliminess. It appeared recently in Vegetarian Times magazine and it is proving to be a reputation-building recipe for dear old eggplant.
We happened to have harvested several Japanese eggplant and a handful of green beans this week, and we had green onions on hand in the garden as well. The rest came from the pantry. Here's how it works: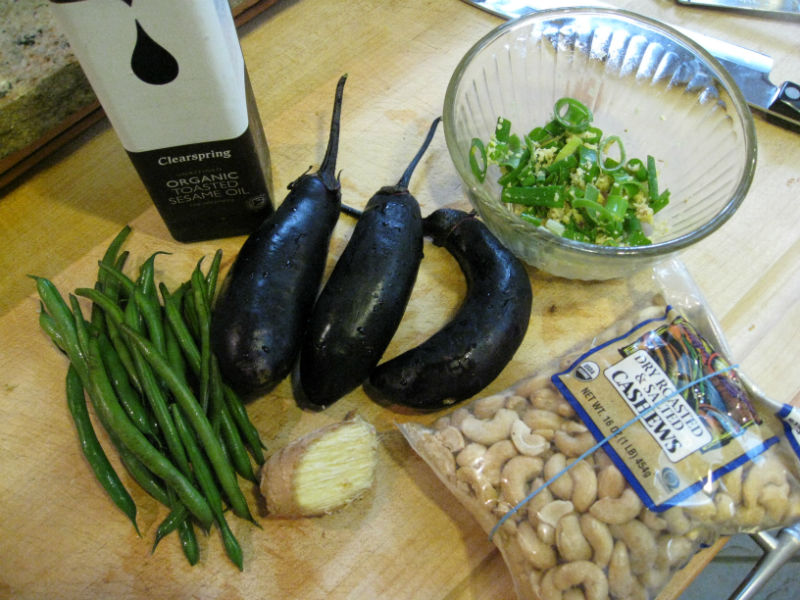 First, we mixed the sauce and set it aside (stir-fry technique calls for having everything prepared and ready to add to the recipe). Then we blanched the green beans in boiling water for  4 minutes, rinsing them with cold water afterward. Note: reserve some cooking liquid for later.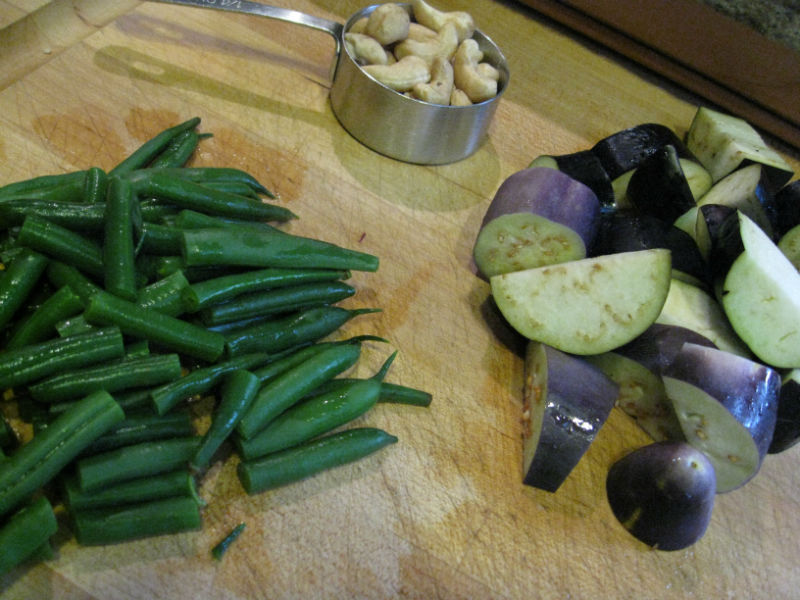 We cut the beans and eggplants, and mixed the garlic, ginger and green onions together in a bowl. Now for some heat!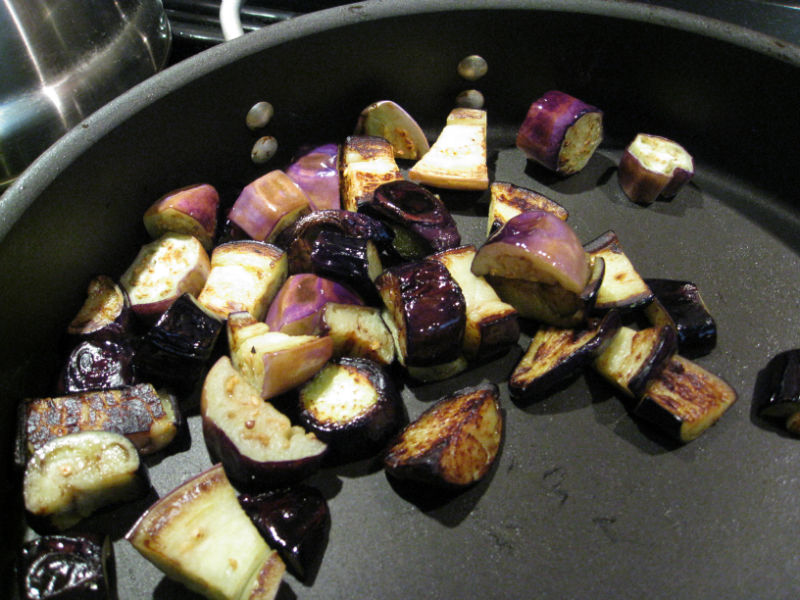 We fried up the eggplant in a tablespoon of oil until browned and a little crisp. The recipe provides the perfect time reference to accomplish beautifully browned pieces. Once browned, we covered and cooked undisturbed for another 5 minutes to soften up the eggplants.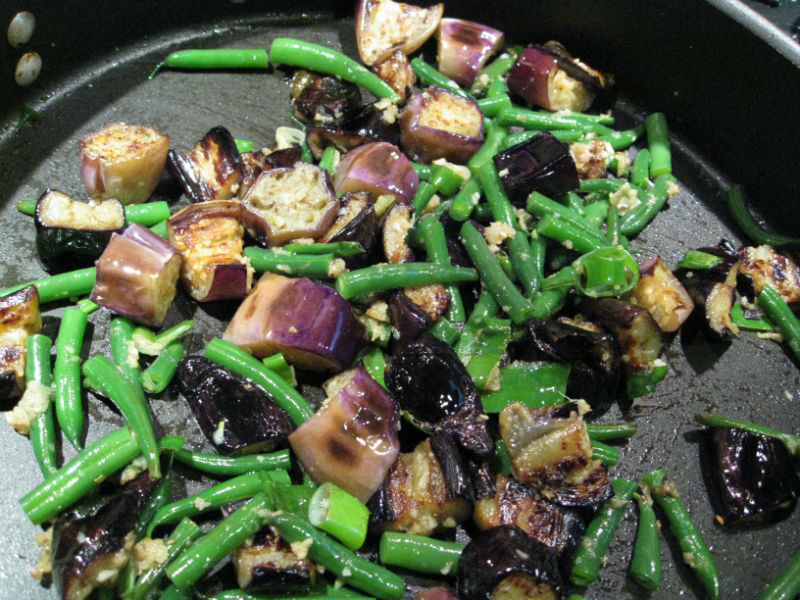 Now bring it together – we set the cooked eggplants aside, cranked up the heat and dumped the green onion mixture into the empty pan for a quick flash fry. Add the green beans and eggplant, then the sauce and some cooking liquid from the beans. With a quick drizzle of toasted sesame oil and a sprinkling of cashews, this dish was done. We served it on a bed of brown rice.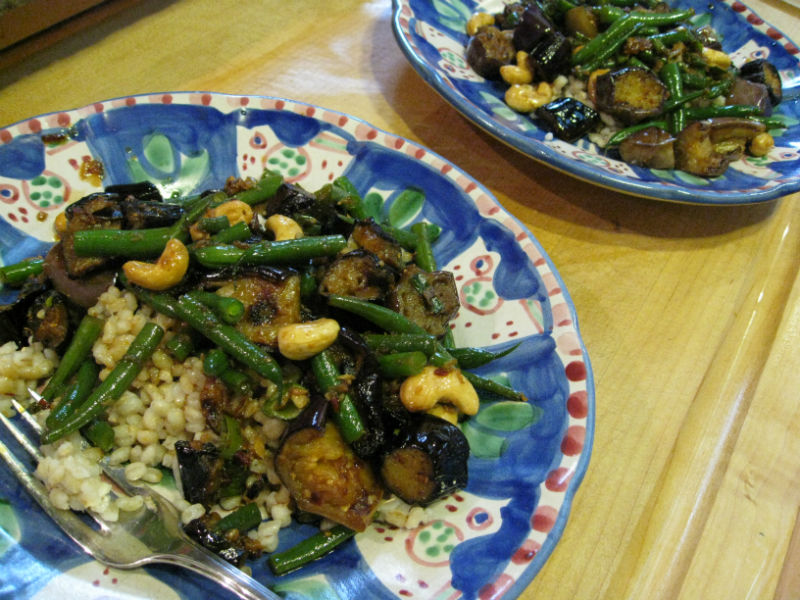 Okay, so we were short on Asian bowls at the time, but you get the idea.
Eggplant Stir-fry with Green Beans and Cashews – July / August 2013
Sauce
1 Tbs. low-sodium soy sauce
2 tsp. light brown sugar
1 ½ tsp. black bean sauce with garlic, such as Kikkoman, optional (we skipped this)
1 ½ tsp. unseasoned rice vinegar
1 tsp. chile-garlic sauce, such as Huy Fong (we substituted Sambal Oelek because we had 1,000 packets from take out food lying around)
Stir-Fry
8 oz. green beans, cut diagonally in thirds
2 green onions, chopped (¼ cup),plus 1 Tbs. more for garnish
2 tsp. minced fresh ginger
1 clove garlic, minced (1 tsp.)
2 Tbs. plus 1 tsp. canola, peanut, or grapeseed oil, divided
3 Chinese, Japanese, or Filipino eggplants, unpeeled, cut into ¾-inch pieces (4 cups)
1 tsp. dark sesame oil
¼ cup toasted cashews
1. To make Sauce: combine all ingredients in small bowl.
2. To make Stir-Fry: Blanch green beans in 2 1/2 cups boiling water 4 minutes, or until crisp-tender. Drain, reserving cooking liquid. Rinse with cold water, and drain well.
3. Combine 1/4 cup green onions, ginger, and garlic in bowl. Set aside.
4. Heat 1 Tbs. canola oil in large skillet or wok over medium-high heat. Add 2 cups eggplant pieces, and stir-fry 6 minutes, or until browned. Transfer to bowl. Add 1 Tbs. canola oil and remaining 2 cups eggplant pieces to pan, and stir-fry 6 minutes.
5. Return all eggplant pieces to pan.Season with salt, if desired, and stir-fry 3 minutes. Cover pan, reduce heat to medium, and cook 5 minutes, or until tender. Transfer to bowl.
6. Add remaining 1 tsp. canola oil to pan, and heat over medium heat. Add ginger mixture, and stir-fry 15 seconds, or until fragrant. Add green beans and eggplant pieces, and stir-fry 1 minute. Add 1/4 cup green bean cooking liquid and Sauce, and cook until heated through. Drizzle with sesame oil, and garnish with green onions and cashews.
Let us know what you think! Post your comments below.