The 2015 Heirloom Expo was another huge success. I had the pleasure of giving a talk to a full house about Growing Food in the Drought. The rest of the time I was wandering amidst the beauty, sampling wholesome food, listening to top-notch bluegrass music, and meeting some of our fearless leaders in the movement toward seed freedom.
Please allow me to gloat for a moment. Being a speaker (and having a blog) affords one the opportunity to chat with really famous people in the organic gardening community. One can't help but grin from ear to ear when standing next to Dr. Vandana Shiva, who has worked for forty years to get genetically engineered seed out of India's farming system.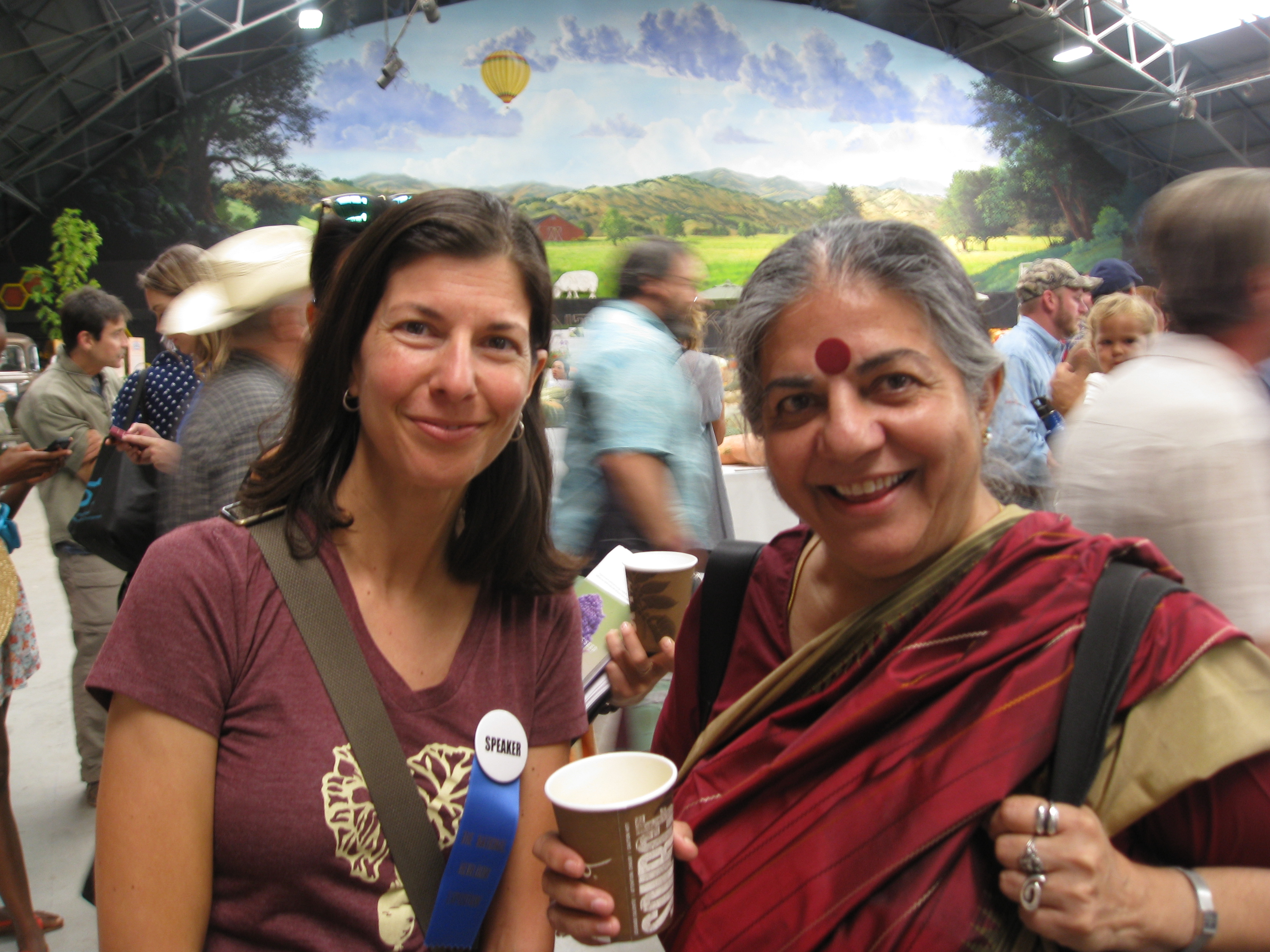 Admittedly, I only got to say a few words to Dr. Shiva as she pushed through the crowd to get to an interview. Her words through the week were inspiring and motivating. Her work through Navdanya has educated people about seed sovereignty (and therefore food sovereignty) all over the world. Her work emphasizes the importance of keeping open-pollinated seed safe (no genetically engineered [GE] cross-contamination) and free (keeping it legal for farmers and home growers to save seed year after year. "Whoever controls the seed, controls the people."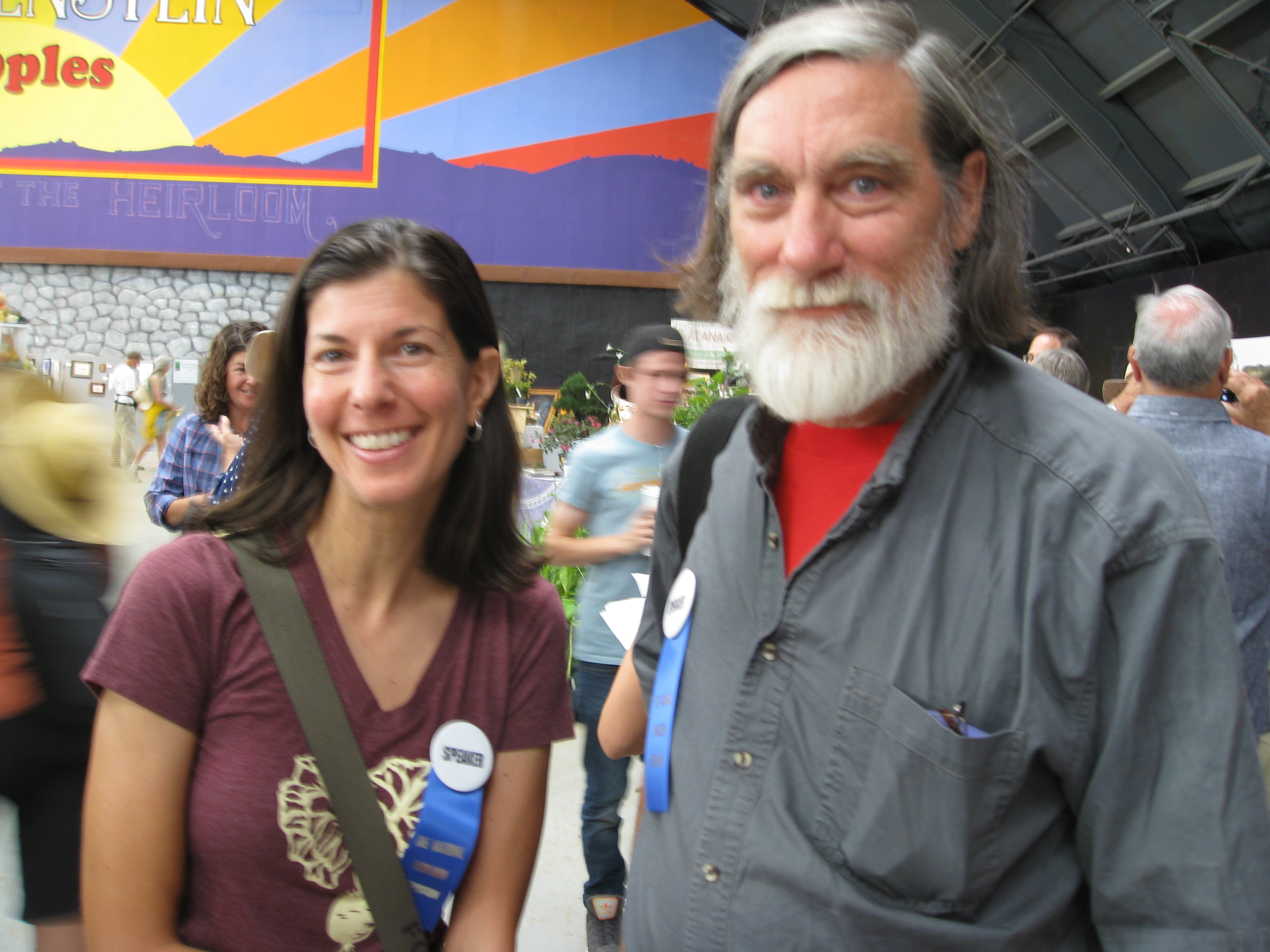 It was an honor to meet Jim Gerritsen, our favorite organic seed potato supplier in the U.S. His work at Wood Prairie Farm extends far beyond growing potatoes. He helped lead over 100,000 farmers in New England in a preemptive lawsuit against Monsanto. As you may know, Monsanto has a practice of suing organic farmers if any of their GE crops are found in these farmers' fields, even if the farmer didn't plant them (not that they would, they're organic). The lawsuit failed, but the farmers did get a promise in writing that Monsanto would never sue them if transgenic contamination occurred in their fields. Still, the farmers weren't able to secure a judgment allowing them to sue Monsanto for that transgenic contamination. There is clearly more work to be done.
Let me take a moment to define transgenic contamination. It means that pollen from a GE crop can blow into an organic farm and contaminate the future seed of a crop with GE DNA. That means that the farmer can't save the seed from that crop because it now contains patented DNA owned by Monsanto or another biotech company. This results in a loss of hundreds of thousands of dollars for the farmer, leaving them without viable seed to sell or use to grow next years crops. Sound fair? As it stands, there are no laws protecting farmers from transgenic contamination, and no laws forcing the biotech companies to compensate farmers for this loss.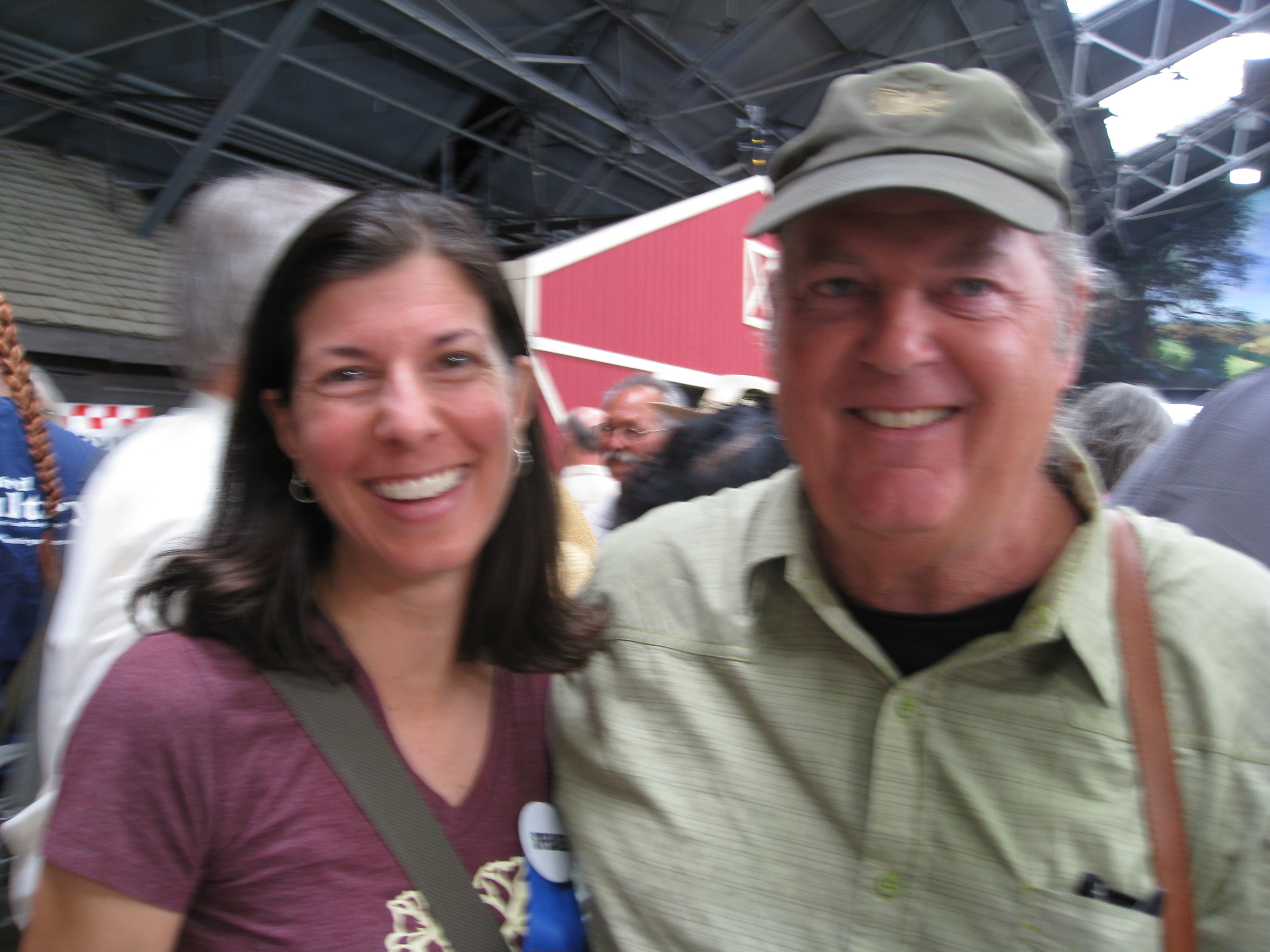 Lots of blurry photos here. Ronnie Cummins usually wears a beret. He's a force to be reckoned with. His Organic Consumers Association brings issues to the public about food safety, organic regulations and more. If ever organic standards are threatened, he's there to push back and gather signatures against weakening our organic standards. He uses strong language, but sometime you need that in order to get things done.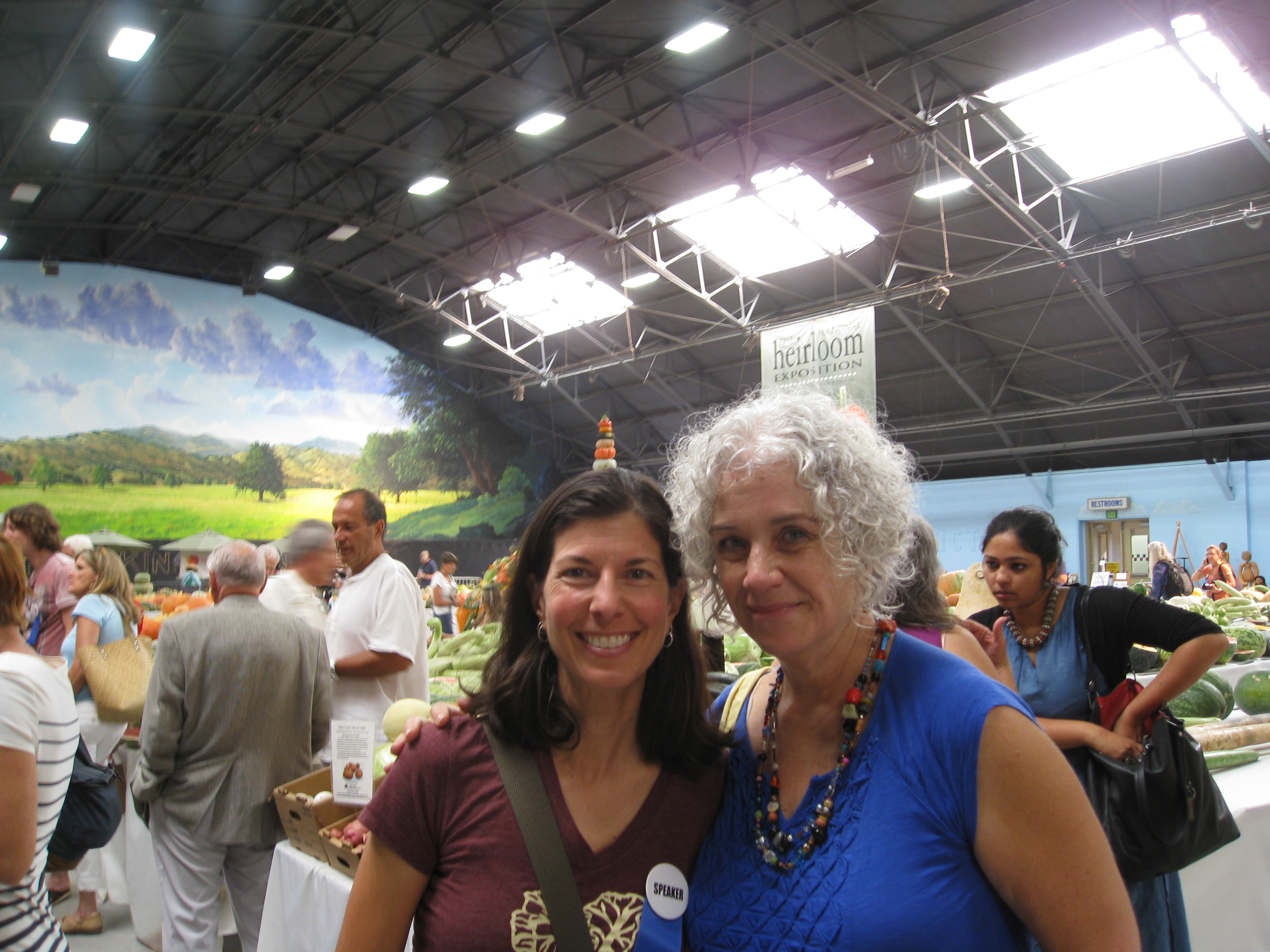 I had the pleasure of meeting Pamm Larry earlier this year at a health conference. She's one of the bravest people I know. She's fighting to get genetically engineered ingredients labeled on everything we buy (64 other countries label GE ingredients, BTW). She lead the way on Prop 37, and keeps us posted on upcoming ballot measures, as well as back door deals happening in government to undermine food safety and a citizen's right to know. She insists that if GMOs are safe, they should be labeled…just like cigarettes.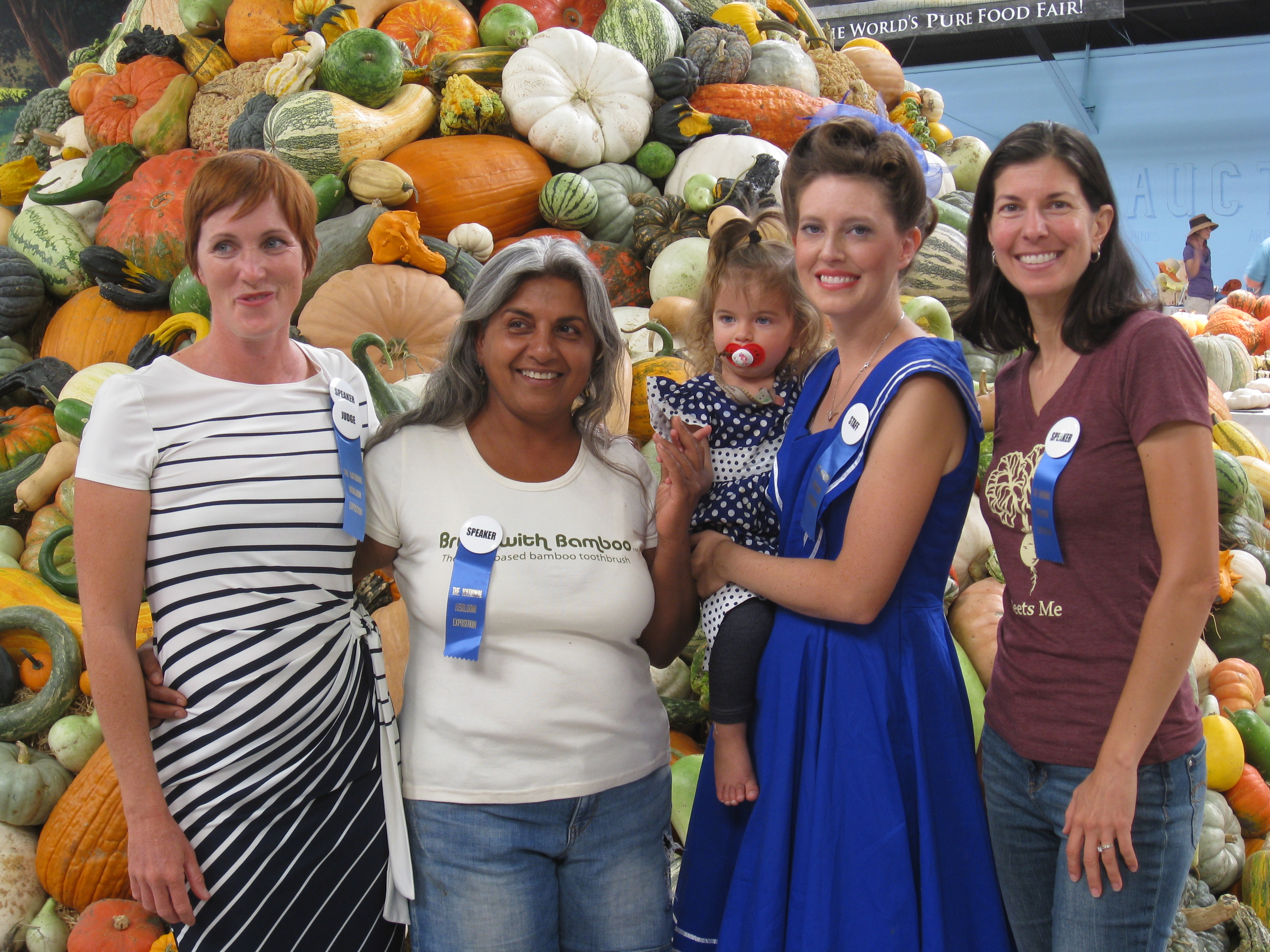 Heirlooms all around, and fantastic women abound. I met Anna Peach of Squash and Awe Farm, who is growing heirloom squash in Hawaii, where squash pests are so prevalent, the Island imports all its squash…until Anna started farming heirloom varieties like the one she found growing wild on her land, that is. She has a zero-waste farm, so she fixes cars and tractors herself and publishes videos on how to do it, just to spite her local Island mechanics who charge Hawaiians thousands of dollars for simple jobs.  Go Anna!
Pearl (that's what we call her) is co-founder of The Growing Home, and amazing homestead in Diamond Bar, CA where she and her son Rishi Kumar grow organically, keep chicken, harvest rainwater, use graywater systems, produce classes and so much more. On top of that, Pearl is CEO of a bamboo toothbrush company (it composts when you're done with it). Pearl has invited me numerous times to come visit, and that will happen soon. Stay tuned.
Emilee Gettle is wife of Jere Gettle, founder of Baker Creek Heirloom Seeds. She's the guiding force behind Heirloom Gardener Magazine (which has published several articles from Gardenerd) and so much more at Baker Creek. She's vegan, raises 2 kids, homesteads, and keeps Jere on his toes, I'm sure. It was great to finally meet her.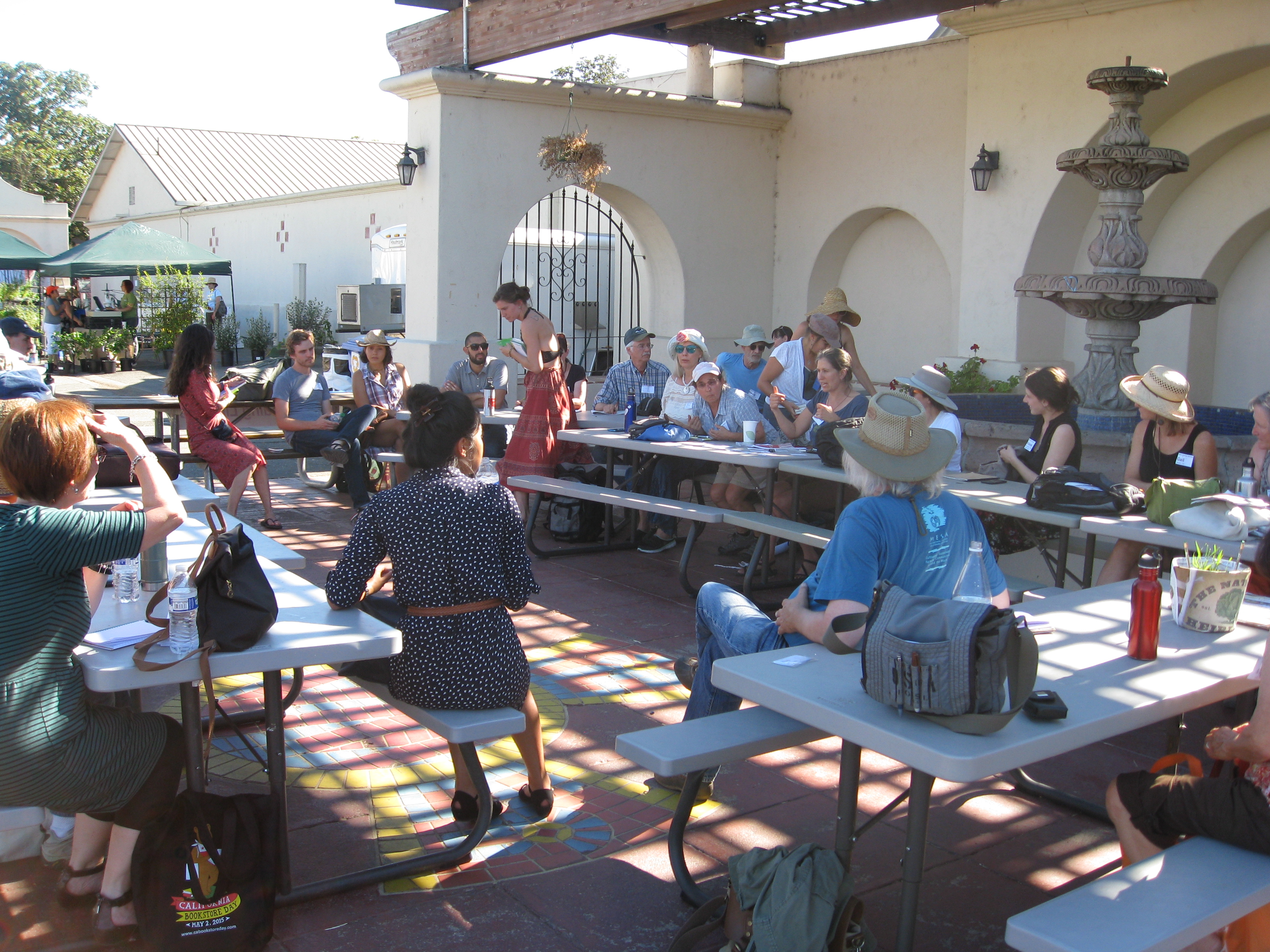 Amidst all the events, panel discussions and giant pumpkins contests was the Seed Library Summit. Seed librarians from around the country gathered to share what's working, what's not working, and how to keep from getting shut down.
If you hadn't read in the news, there have been recent attacks on seed libraries, claiming that they are illegal. Certain agribusiness corporations took action to shut down seed libraries, and now governments are imposing the same regulations on seed libraries that were created to keep large seed companies from selling bad seed to customers. The trouble is, with seed libraries, one size does not fit all.
Seed libraries are a great way to keep open-pollinated seed available to everyone. You check out seeds, grow them out, and return a similar portion of seed to the library. That seed is now more locally adapted and will grow better in your climate. What's not to love? Apparently, someone feels threatened, thus the attacks. I was there as part of SLOLA, the Seed Library of Los Angeles, along with David King of the Learning Garden.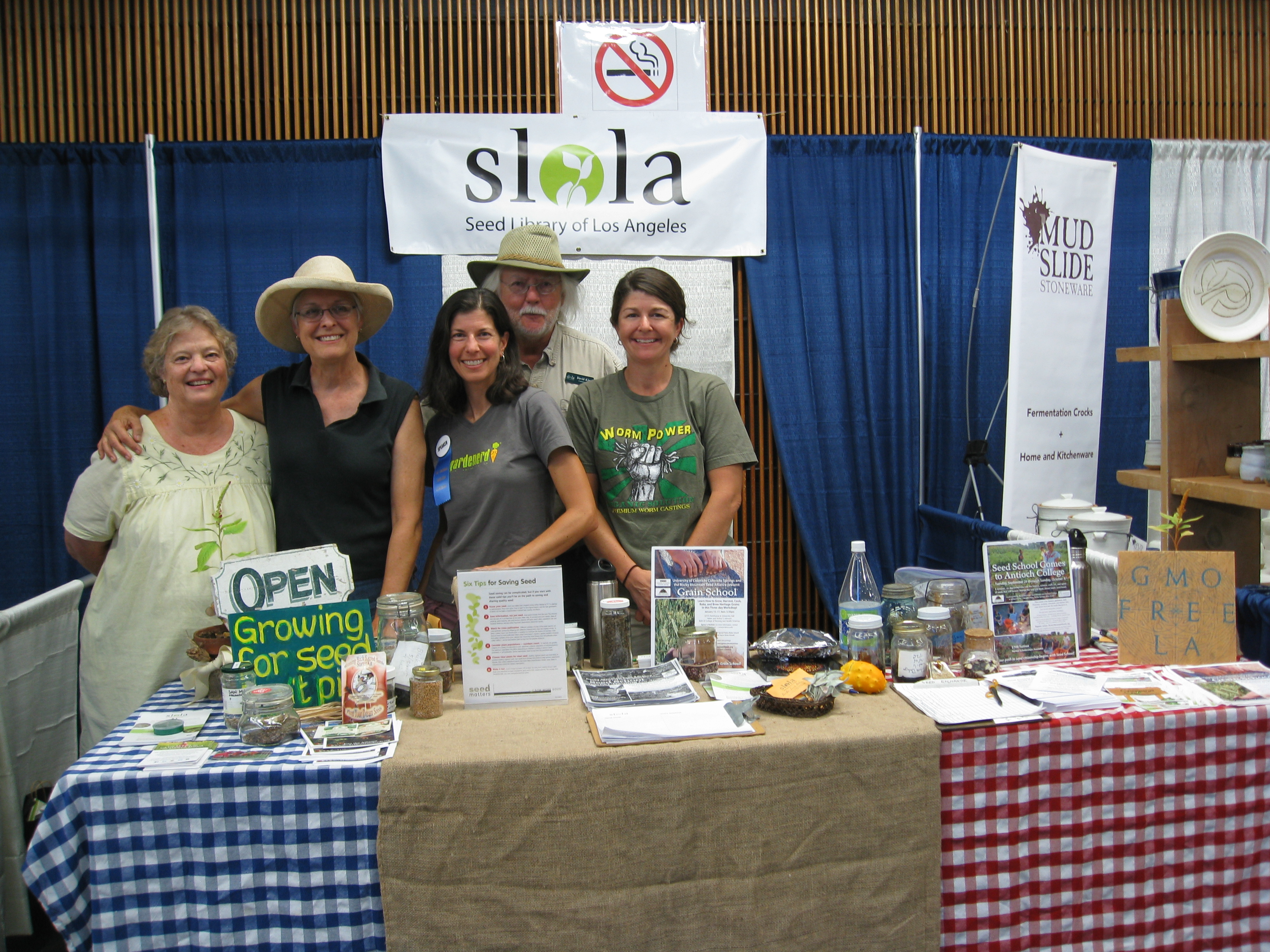 And you can't have an Heirloom Expo without a seed swap. Just to prove that it's perfectly legal to swap seeds among friends and fellow gardeners, Baker Creek puts on a seed swap each year. But that's a story for another day. Stay tuned!