Spring is here, and our friends at Botanical Interests have offered Gardenerd an extraordinary giveaway of spring seeds, garden tools, and more. Three winners. Three gift sets to choose from. Behold the wonder of these drool-worthy giveaways: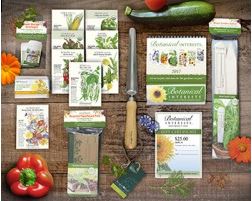 This gift set includes flowers, veggies, tools and soap. What more could you want?:
Bring Home the Butterflies Flower Mix – Long-blooming, colorful mix supports the butterfly lifecycle.
Basic Bounty Veggie Garden Seed Collection – Reliable, favorite vegetables sure to produce a bountiful harvest.
Widger – A clever Burgon and Ball tool that expertly lifts seedlings from planting cells.
Seed Storage Envelopes – A convenient way to keep track of, and store seeds.
Garden Stakes – So handy, easy to read, and biodegradable!
3-inch Paper Pots – An eco-friendly way to start your seeds, and a 2015 Direct Gardening Association Green Thumb Award winner!
Lemon Calendula Gardener's Scrubbing Soap – Refreshes and gently exfoliates after a day of gardening.
$25 Gift Card – For future online or mail-in orders.
---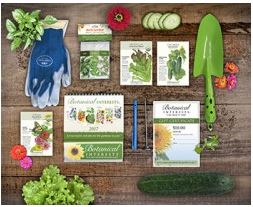 Perfect for the new/newer gardenerd or the small-space gardenerd, this kit includes gloves, gadgets, and seed tape:
Painted Green Steel Trowel – Never lose your trowel in the garden again! Brightly painted to be easily found in the planting bed!
5″ Soil Thermometer – Outdoor soil thermometers help you garden smarter! Correct soil temperatures are essential to germination success.
Sun Grips Gloves Medium – Lightweight and comfortable garden gloves.
Spacemaster Cucumber – A very compact, bushy plant that won't take over your entire garden. Ideal for containers.
Salad Bowl Blend Leaf Lettuce Organic – A favorite for so many years! If you are looking for just one lettuce to plant, this is it!
Thumbelina Zinnia Organic – These charming, brightly colored, button blooms on short plants are perfect for the front of the flowerbed.
Herb Garden Seed Tape Kit – Contains 9 varieties including Basil, Chervil, Cilantro, Dill, Parsley, Thyme, Chives, Oregano, Rosemary!
$10 Gift Certificate – For future online or mail-in orders.
---
And our final gift set giveaway is for you sprouters and micro-greens fans: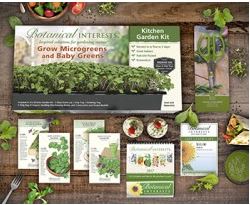 Herb Scissors – Harvest like a pro! Stainless steel blades detach for easy cleaning and sharpening.
Kitchen Garden Kit – Everything you need to grow microgreens and baby greens in a reusable and convenient, countertop growing kit.
Smoothie Mix Baby Greens – Add this perfect mix of nutrient and antioxidant packed baby greens to your any-time-of-day smoothies.
Superfoods Baby Greens – A beautiful blend of healthful veggie greens, high in glucosinolates, vitamins, and fiber; low in calories.
Ciao Bella Basil Blend Microgreens Organic – Hello beautiful! As the name suggests, this basil blend has attractive purple and green leaves with wonderful basil aroma and flavor.
Be Mellow Blend Microgreens Organic – Living up to its name, this mix gives a delicate flavor boost to all types of cuisine.
$10 Gift Certificate – For future online or mail-in orders.
---
How to Enter
It's easy to enter. Here's what you need to do:
All entrants must sign up for the Botanical Interests' newsletter
Follow at least one of Botanical Interests' social media platforms: Facebook, Instagram, or Pinterest.
Post a comment below listing which gift set you want to win.
That's it! Deadline to enter is April 12, 2017. Winners (one for each gift set) will be announced in the Gardenerd Weekly Update email (sign up for Gardenerd's newsletter at the top of the page if you aren't already subscribed) on Thursday.
Good luck Gardenerds. Enjoy spring and all the abundance it has to offer.