I've been unknowingly conducting an experiment on compostable cutlery over the last three years. Today I report my findings to you, in hopes that it will dispel some of the myths about biodegradable products.
I celebrated a landmark birthday in February nearly 3 years ago. In our effort to lower our carbon footprint, we bought compostable/biodegradable cutlery and planned to compost everything from the party, including paper plates and cups (no birthday girl wants to do dishes in a ballgown).  As of this morning those compostable forks and spoons are still with us.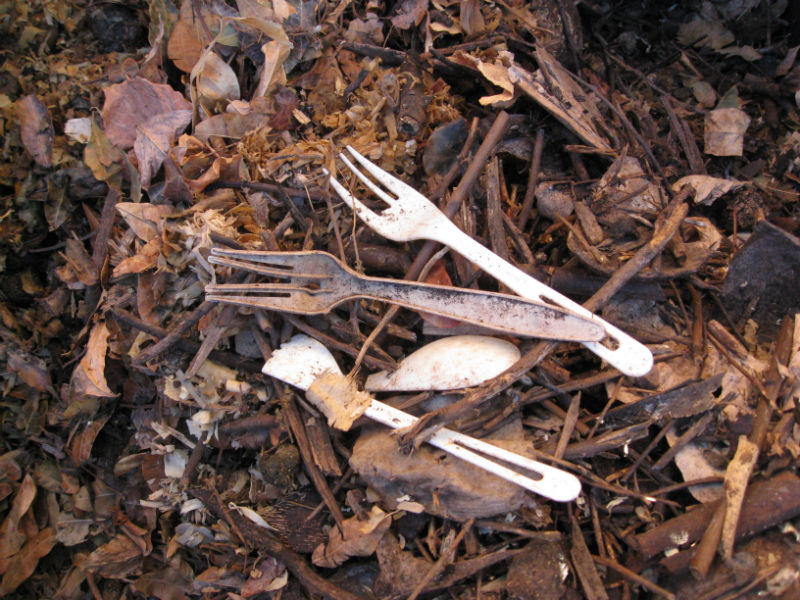 A year ago, it still looked like you could eat with it. Mind you, people, this is what happens in an AEROBIC environment (which works faster at breaking down organic matter than an anaerobic environment – like our landfills). We turn our piles every month or so, and when we sift out a finished pile, the big pieces go back into the first compost bin to start the process over.
Manufacturers of "biodegradable" cutlery and other products say that these items will break down in commercial compost facilities in 4-6 months, and in backyard composters in 12-18 months. What does my inadvertent study show? That's bull pucky.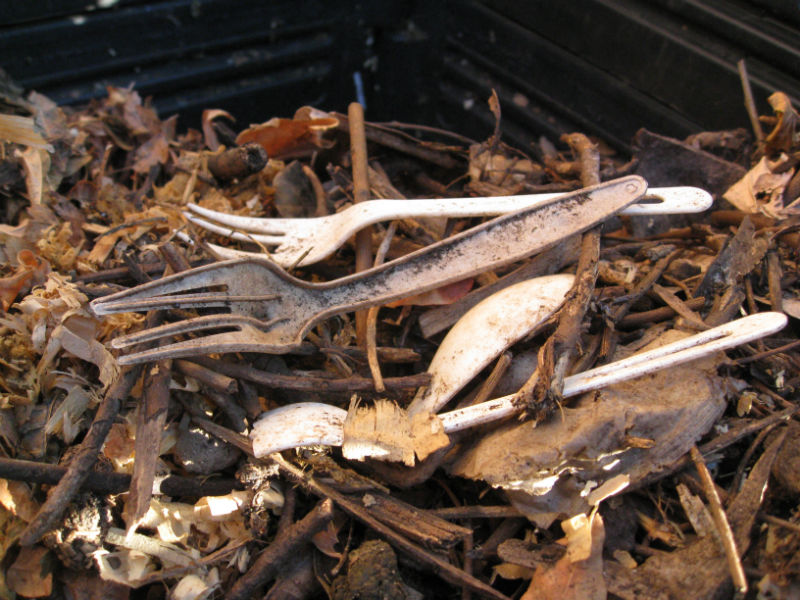 There's another factor we have to deal with in this equation. The truth is that compostable and biodegradable materials usually end up in the recycle bin, and that only contaminates the waste stream, because those products are not plastic or paper – they're corn or potato.
So, what do we do? I have a suggestion:
Since compostables are clearly not a genuine answer to our waste problem, let's make it cool to bring your own plate and cutlery to every party. Let's make it fashionable to show up with a snazzy looking goblet or drinking mug at every social event.
It's already happening here in LA. At Time Bank potlucks, we all bring our own. It makes doing dishes so much easier at the end, because everyone does their own and takes it home.
If you have suggestions for how to reduce waste or eliminate "disposable" items, post a comment below.