If there's one thing I unwittingly repeat over and over again, it's this:
You haven't lived until you've grown your own potatoes.

Potatoes have been part of my garden for years.  They are comfort food for some, or the carb from hell for others, but aside from tomatoes, they are the quintessential vegetable (okay, tuber) to grow as a home gardener.
About a month ago, I planted an assortment of seed potatoes in my back yard garden.  I obtained them from Wood Prairie Farm in Maine, where they sell organic, non-GMO seed potatoes and other organic vegetable seeds.  I was thrilled to discover the Experimenter's Special, where they will send you 3 each of the 4 varieties of your choice.  I went for the rainbow of colors: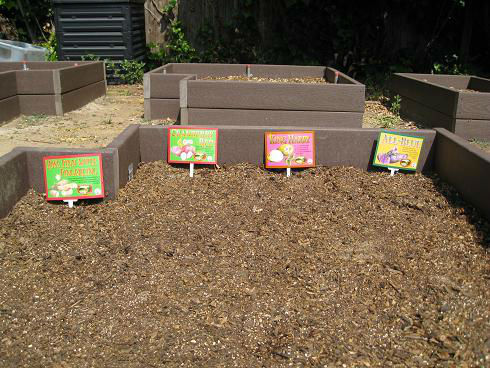 A Rose-Finn Apple Fingerling (pink), a Cranberry Red, a King Henry (white), and All Blue.  They sent my order along with these charming vintage-looking crate label postcards of each of my potatoes.
This year, for the first time, I decided to cut some of the seed potatoes in half before planting.  Usually I plant the whole potato because I've never had the guts to cut them up as many growers do.  I feared that the potato would rot in the ground if I didn't cure it enough before planting, or didn't treat it first or it didn't have enough eyes or whatever.  Armed with the comforting and sure-footed instructions from Wood Prairie Farm, I ventured on to the unknown…and it worked.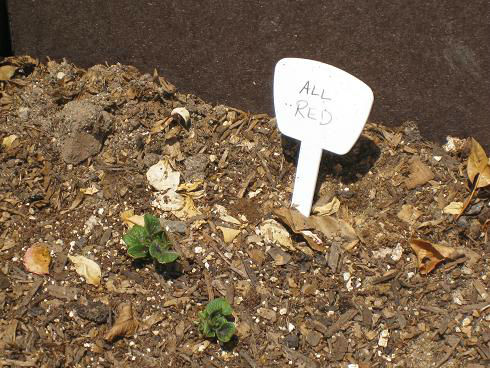 The first plants to emerge were the Cranberry Red and All Blue.  I got "all" excited and mislabeled my Cranberry Red.  Oh well, if weavers can purposefully weave a mistake into their tapestries to demonstrate their human nature, I can mislabel a potato.  I digress.  Little potato foliage poked its head out of the soil about a week after planting.  Then within a short time, the foliage became the prominent feature in that raised bed.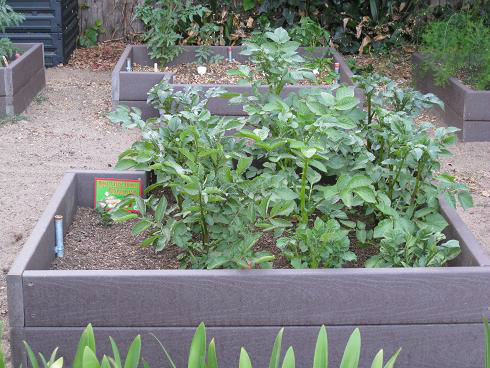 You may notice that the Fingerlings are taking their sweet time coming up.  In fact, only two have emerged as of this writing.  Truth be told, I was impatient and didn't wait long enough for the fingerlings to develop eyes, while the other seed potatoes were well on their way.  Note to self: be patient, read a good book and let the eyes develop.
At this point, or rather, much earlier than this point, I am supposed to have piled up the soil or "hilled up" the plants so as to encourage more tubers to develop underground.  Alas, a busy schedule has prevented that, but I plan to get to it this weekend.  To be continued…
Have you had any experiences with growing potatoes?  If so, share them with us here.