In this issue:
March in the Garden
Spring Planting Guide

Gardenerd Tip of the Month: Nature Abhors Bare Soil

Gardenerd Product of the Month: New Organic T-shirts

---
1. March in the Garden
Daylight Saving Time is here, and now spring arrives on Friday, March 20th. It just keeps getting better, doesn't it? This is the season to grow to your heart's content; to plant new seeds and watch them flourish in healthy soil. My top advice for this spring: get rid of your tiller. The more we learn about microbial life in the soil, the more no-till gardening makes sense. Read below for more details.
We've started seeds for cucumbers, tomatoes, watermelons and 4 types of basil. We're also trying to grow sunflowers inside in seed trays, since the birds eat every single seed we plant outdoors! Stay tuned to see how that goes. Our wheat is starting to turn colors and our lettuces and arugula have bolted to seed. Time for warm-weather crops (in warm-winter climates). Check out the spring planting guide below for what to grow when.
Speaking of help, if you need guidance planning your spring garden, we have one more class to walk you through the process. We've also added a composting workshop on April 11, 2015 to help you get your soil as healthy as possible. Happy spring, and…
Happy Gardening,
Christy
---
2. Spring Planting Guide

It bears repeating every year, this spring planting guide. As we enter into the cool growing season for folks who get snow, and the warm growing season for those who don't, it's easy to get confused. We're here to help. Here's what to grow no matter where you live:
Cool Season crops (after snow melts and soil thaws):
Brassicas – broccoli, cabbage, cauliflower, kale, kohlrabi, Brussels sprouts, etc.
Root Crops – carrots, parsnips, beets, turnips, radishes.
Greens – lettuces, arugula, mustard greens, Swiss chard, spinach
Herbs – cilantro, parsley, dill, oregano, thyme, etc.
Onions – bulbing and green, garlic, shallots, etc.
Grains –wheat, quinoa, rye, amaranth
Others –peas, potatoes, celery, and perennials like asparagus and rhubarb
Warm Season crops (if high temps are over 65-70 degrees now – heck, it's 80 here in L.A. today!)
Some of the above – if it stays cool in your neck of the woods
Beans –bush and pole (try limas if you haven't)
Cucumbers – try something new like Poona Kheera or Mexican Sour Gherkin
Corn – sweet, flint and popping corn
Nightshades – eggplant, tomatoes, peppers (and potatoes work too in warm weather)
Okra – oh, and collard greens
Squash – summer and winter squash are both grown in spring/summer. It's how long they store that determines their type. Summer squash: zucchini, yellow crookneck, patty pan, etc. Winter options: pumpkin, butternut, acorn, Delicata, etc.
Melons and watermelons – both need warm temperatures to flourish.
Herbs – basil, mint, all mentioned above.
Start from seed or purchase from a reputable nursery. It's all good, just get growin'!
---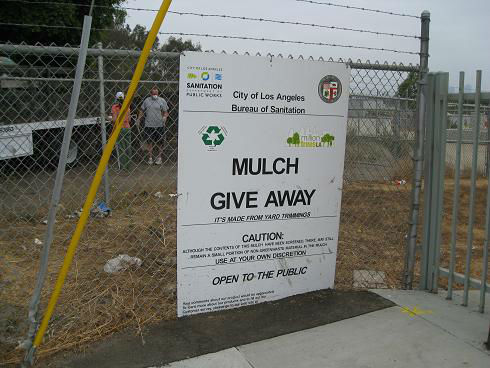 3. Gardenerd Tip of the Month – Nature Abhors Bare Soil

You've probably heard this, "Mother Nature abhors bare soil." She works really hard to cover any bare spot with whatever is close by. Usually weeds. Save yourself time and energy by covering beds and pathways with mulch. Mulching is one of the best ways to keep moisture in your soil, and to keep weeds at bay. So put down a layer. Not just an inch. Go for 3-4 inches if you can.
There's one more reason to keep soil covered. Mulch keeps soil temperatures cooler, which means it keeps plant roots cooler, which means plants are happier in hot weather and soil microbes are too! (BTW – tilling soil pulverizes all these microbes and exposes important fungal chains to the surface, where they dessicate and die. So refrain from tilling soil. Spread compost on the soil surface instead.) In drought conditions (you know who you are, California, Texas, et al) mulch is critically important for keeping water where you put it. So prevent evaporation, dryness and death. Mulch, mulch, mulch!
Many local waste management facilities offer free mulch (shown above) made from tree trimmings. Contact your Urban Forestry division or Bureau of Sanitation and ask if they offer free mulch. Find L.A.'s free mulch drop locations here.
---
4. Gardenerd Product of the Month – New Organic T-shirts

We've just added organic cotton T-shirts for many versions of our Gardenerd T-shirts on CafePress.com. Wear clothes that reflect how you grow your own food. Grow organic, wear organic! Check out the new organic styles and colors available. Just in time for a spring wardrobe change.