In this issue:
June in the Garden
Brewing Compost Tea

Gardenerd Tip of the Month: SeedSavers Webinars

Gardenerd Product of the Month: Gardenerd Grocery Tote

---
1. June in the Garden
June brings warmer…and hotter…weather, making the garden really bloom. Hot weather crops are in their element, flowering and setting fruit, sprawling across the garden, climbing for the sky.
In our Test Garden, we're harvesting blackberries, cucumbers and green beans. Picking often is the trick to continued production. Don't leave them on the plants too long–it sends a signal to to the plant to stop producing. We picked our first tomato of the season along with several types of basil. Now for some mozzarella! Our winter squash is going crazy (check out our blog post from last week, if you missed it). It's time for mid-season feeding  to keep plants producing. We recommend worm castings and compost along with compost tea or kelp emulsion for vigor.
Summer officially starts this Sunday. How are you planning to enjoy your time outdoors? Send us your plans! Let us know what you'll be doing in your garden (or other outdoor space) this month. It's time to enjoy nature and all its beauty.
Happy Gardening,
Christy
---
2. Brewing Compost Tea

Compost tea not only provides nutrition for the garden, it inoculates your soil with beneficial microbes that get to work synthesizing nutrients and minerals for your plants. Microbes like bacteria, fungi, protozoa and nematodes break down compost into usable foods for plants. They patrol for diseases and combat pests that attack your plants. Read all about how we home brew compost tea for our garden:
---
3. Gardenerd Tip of the Month – SeedSavers Webinars

If you want to dive into the world of seed saving, there's no better place to start than with Seed Savers Exchange. For over 40 years, SeedSavers has been preserving heirloom and open pollinated seeds from around the country and the globe. SeedSavers also has a series of free webinars to educate and inspire you this season. Plan your garden right and you can save seeds year after year. Need to learn how? Choose from archived webinars like Isolation Techniques, Seed Saving from Legumes, Corn Hand-pollination, and Planning your Garden for Seed Saving. You'll also find videos on how to join and post to their special seed exchange website and a presentation from Rosalind Creasy on heirloom vegetables. Find all the webinars and more here.
---
4. Gardenerd Product of the Month – Gardenerd Grocery Tote

You may need some help hauling in the harvest from the garden this season. Our Gardenerd Recycled Cotton Grocery Tote will do the trick. With a generous gusset and ample shoulder straps, you can carry pounds of produce to-and-fro. Get yours today!
Gardenerd Recycled Grocery Tote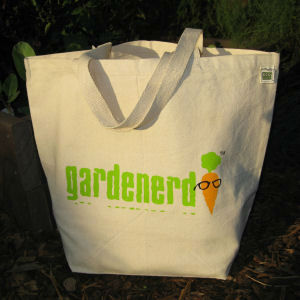 Stay tuned for more tips and tidbits from Gardenerd.com. Happy summer gardening!