Tag Archives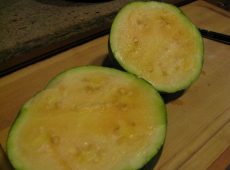 Chalk it up to climate change, or just a fluke of nature, but we're harvesting watermelon in November. Not just any watermelon, Golden Honey watermelon. Our other watermelons grew within the appropriate time frame expected from any hot weather crop, … Continue reading →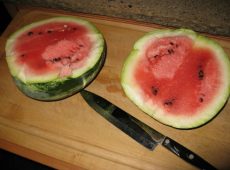 Just in the nick of time, our watermelons are ready to harvest before summer ends. How do you know they're ready? Consider this post to be a companion piece to our watermelon Tip of the Week Podcast, visual aid style, that illustrates the tell-tale sign that watermelon is
ready for harvest.
There are old wives tales about the sound that watermelons are supposed to make when ripe. You can also look at the underside of the melon to check whether …
Continue reading → Continue reading →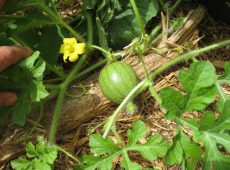 I've never had much luck growing watermelons in our coastal climate. The plants usually succumb to powdery mildew before they really get going and the result is little melons or no fruit at all.
This year I tried something different and have seen great results. Apparently, it's all about timing.
Watermelons like hot weather to mature, in fact according to the University of Ohio, they need daytime temperatures between 70 and 80 degrees, and nighttime temperatures between 65 and 70 degrees.
(While we're at it, soil pH is preferred between 6.0 …
Continue reading → Continue reading →