09-22-11 Goodbye Summer, Hello Fall
In this issue:
September in the Garden
Upcoming Classes: Fall Garden Planning Workshop
Gardenerd Tip of the Month: Cleaning Tomato Cages
Gardenerd Product of the Month: New Fall Seed Collection
---
1. September in the Garden
Between the heat waves and the unusually cool summer weather, it's hard to tell what Mother Nature is doing. Regardless of what the weather is like in your hardiness zone, September is the time for most hopeful gardeners to put in fall crops. Autumn officially starts tomorrow, and while we usually wait until October here in Los Angeles, a bout of impatience has me planting now.
We've got brassicas in the ground, with more on the way in seed flats. Lettuces are planted, root crops are in, and green onions and leeks have found a new home in a raised bed. Still to come: cover crops of Peaceful Valley Farms' Soil Builder Mix and some buckwheat. Garlic is on the way, and as soon as the zucchini gives up the ghost, peas and sweet peas will be going in.
Our peppers are just beginning to be ready for harvest, so I did a little research about what to do with them. We'd love to hear what you're doing with your harvest this season. Shoot us an email and let us know. Oh, and thanks to everyone who came out to the Good Food Festival and Conference. It was a great weekend of food-focused classes and lectures. I'd like to welcome the new gardenerds to the community and invite you to celebrate the arrival of autumn in the garden.
Happy Gardening,
Christy
P.S. Don't miss our latest blog post about harvesting watermelons. Learn the trick to knowing when to pick!
---
2. Fall Garden Planning Workshops
ONE DATE LEFT:: The ever-popular Fall Garden Planning Workshop is still happening, and our first class was a great success. Next up: Saturday, October 1 from 9-11 a.m. Spaces fill up fast in this small group workshop that gives you all you need to get your garden growing this fall. Details and registration are below: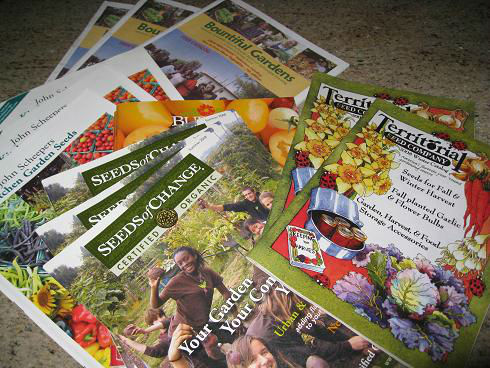 ---
3. Gardenerd Tip of the Month: Fall Clean Up – Cleaning Tomato Cages
Whether you are closing down the garden for the season, or just moving on to the next one, be diligent in cleaning up your garden at the end of this summer. Doing so will help prevent the return of any diseases that may have struck your garden. Blight and other diseases can live on tomato cages through the winter unless you clean them. Here's how:
---
4. Gardenerd Product of the Month – 2011 Fall FantaSeed Collection
Are you planting fall crops? Then you don't want to miss this new seed collection. We pulled out all the stops to bring you this colorful collection of fall/winter vegetables. Purple and yellow carrots, purple beets, red-tipped lettuces, crimson chard and more. Read all about it here, and order yours today.
We only order a small quantity of these seeds, so get 'em while they last!
2011 Fall FantaSeed Collection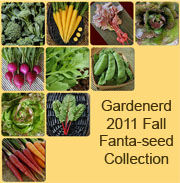 ---
Stay tuned for more tips and tidbits from Gardenerd.com. Happy fall gardening!