05-26-10 Memories of May
In this issue:
May in the Garden
Upcoming classes
Gardenerd Tip of the Month: Harvesting Seeds
Gardenerd Product of the Month: Gardenerd Tank Top
---
1. May in the Garden
It seems that everyone I talk to is just as surprised as I am that May is nearly over. Just a few weeks ago it was February, right? The passage of time can often go unnoticed, but with each passing day, the garden declares it loudly. Flowers bloom, fruits appear, leaves grow larger, all marking the passage of time. For many, this is the month to get plants in the ground, while others have already started harvesting.
Some of my favorite memories in May are centered around food. I have fond memories of making that first batch of lemon sorbet or fresh strawberry ice cream in anticipation of summer. I remember eating my very first fresh cherry at a roadside stand on my way home from the Renaissance Faire one May many years ago. Cherries have never tasted quite as good as they did on that hot and dusty day of revelry.
This week in the garden, we lifted a few new potatoes for a meal, and picked our first ripe tomato. Okay, it might not have been completely ripe, but it fell off in my hand when I touched it, so you can't blame me. The garbanzo beans are flowering, and we have two little pumpkins on the vine. There are many more memories to come this spring, and I hope you enjoy them.
Happy Gardening,
Christy
---
2. Upcoming Classes
Summer is just around the corner, but there's still time to get in a garden. We have classes to help you get started. The Gardenerd Organic Gardening Series Weekend Intensive is on June 12 – 13. Registration is now open – Click here to register.
Organic Gardening 101, the 4-class course at Santa Monica College begins on July 11. Details and registration are available at SMC's website.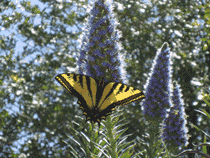 Also – Christy will be giving a lecture on Small Space and Container Gardening at Lightning in a Bottle this weekend, and at the Culver City Garden Club on June 1, at 7 p.m. She'll also be speaking about organic gardening at the Metropolitan Water District's Spring Green Expo 2010 on June 10th. Come visit us and bring your gardening questions!
---
3. Gardenerd Tip of the Month – Saving Seeds
This story has been 6 months in the making. Check out the latest blog entry on saving seeds – Brown Mustard Seeds to be specific! Learn how to grow and harvest your own seeds for cooking and growing next year.
---
4. Gardenerd Product of the Month – Gardenerd Baseball Cap
It's getting warmer, sunnier and more like summer. You'll need coverage in the garden. With Father's Day just around the corner, the Gardenerd Baseball Cap is the perfect gift for that fatherly garden nerd in your life. Get 'em while they're hot.
---
Stay tuned for more tips and tidbits from Gardenerd.com. Happy spring gardening!