04-23-10 Earth Day Every Day
In this issue:
April in the Garden
Garden Tours – Get your game on
Gardenerd Tip of the Month: Shiny Pretty Things
Gardenerd Product of the Month: MinifarmBox
---
1. April in the Garden
Happy Earth Day! Each year for Earth Day I try to do something new to lighten my environmental impact on the planet. Sometimes I succeed, and other times Earth Day goes by without much change. This year, I had the great pleasure of sharing the excitement of gardening with two groups of tween and teens at Fox Studio's Future Professional's Day. The kids loved the worm bin I brought, and they left with a tomato plant from the LA Conservation Corps, and the knowledge of how to plant it at home.
Along with Earth Day comes a flood of garden tours. Be sure to check out the long list of them below for the Los Angeles and Orange County areas, and get your fill of ideas for next year's garden. Nationwide, garden tours are your opportunity to see what others in your neighborhood have done to beautify the planet. In this newsletter you'll also find information about how to re-use something that would otherwise end up in a landfill to keep birds out of your garden.
Quick garden update: We've hung Woolly Pockets to cover our dilapidated fence, and it has drastically improved the appearance in just a couple of hours. We're still harvesting asparagus and strawberries, and recently planted Crimson Sweet and Sugar Baby watermelons. Eggplant and more peppers are soon to come!
Happy Gardening,
Christy
---
2. Garden Tours – Get your game on
Sunscreen, check. Giant sun hat, check. Good walking shoes, check. Maps, check. Camera and notepad for stealing good ideas, check.
Garden tours are a big deal in Los Angeles, and with good reason. With prolonged droughts and water restrictions becoming, well… more strict, residents here are taking the challenge seriously to lower their water usage. So any opportunity to get outdoors, walk around town and see what other creative people are doing to make flowers bloom in the desert is a good one.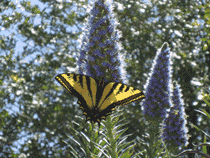 Click here for the LA Times list of upcoming garden tours, and here for the tours in Orange County. For other areas, a quick search of "garden tour + (your city)" will yield bountiful results.
---
3. Gardenerd Tip of the Month – Shiny Pretty Things
Keeping it short and sweet (plus a picture says a thousand words): This spring you may find that your garden has become the snack bar for birds. They're presently munching on my brown mustard seed plants as I write this. Hang old CDs in the garden to scare away the birds – it's an earth-friendly way to re-use something that would otherwise be sent to a landfill.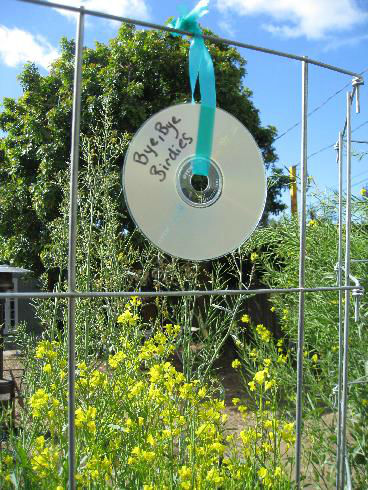 ---
4. Gardenerd Product of the Month – MinifarmBox©
The newest member of the Gardenerd Collection is the MinifarmBox©. We've set one up in the test garden and it came together in about 20 minutes (in case you missed it, see the whole story here). For those who want an easy solution for raised beds, this is really a good option. Cedar beds finished with linseed oil that assemble without tools. What could be better?
---
Stay tuned for more tips and tidbits from Gardenerd.com. Happy spring gardening!