In this issue:
July in the Garden
Pesto Time
Gardenerd Tip of the Month: Saving Kale Seeds
Gardenerd Product of the Month: Gardenerd Tank Top
1. July in the Garden
Summer is kicking into high gear, with record-breaking temperatures across the country. Now is the perfect time to grab a glass of lemonade and a bowl full of peaches; sit back and watch your garden ripen!
In the Test Garden, our Black Cherry tomatoes are starting to ripen (we planted late). While our Romano beans are beginning to dry out, the Black Coco beans are just starting to flower. We've had good luck with melons this summer, with Crimson Sweet and Golden Yellow watermelons doing really well. Our mystery melon is developing netting (we're guessing it's a cantaloupe) and our Italian Rugosa di Consenza melon is offering up some fuzzy oblong fruits. We've harvested the last of the Edamame, and continue to pick strawberries, basil and cucumbers – there seems to be no end to them!
Our first Organic Gardening 101 class began Sunday at SMC. Another batch of enthusiastic, inquisitive students are ready to grow their own food. It's incredibly satisfying to see the numbers of new urban farmers continue to grow. My best advice for new gardeners is to start small and keep experimenting.
Happy Gardening,
Christy
2. Pesto Time
If the snails haven't taken down your basil plants yet, you're probably overwhelmed with this delicious herb. We've been making pesto from a recipe from our friend David King of the Learning Garden. It's the perfect blend of nutty goodness, garlicky punch and summer flavors, and it uses 8 cups of basil! You can't go wrong.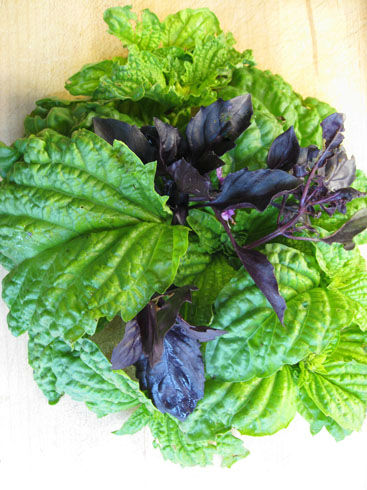 Lettuce Leaf and Opal Basil
3. Gardenerd Tip of the Month – Saving Kale Seeds
Over a year and a half ago, we planted Lacinato kale. It survived cutworm attacks and resisted powdery mildew. It never got aphids. Now over 10 feet tall and finally finished, we pulled the plant yesterday, but not without saving seeds of this magnificent specimen first. Find out how in this latest blog post: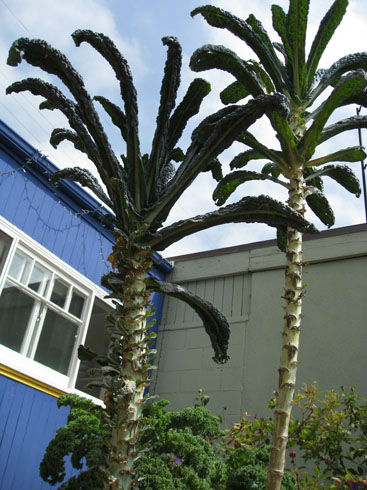 towering kale
4. Gardenerd Product of the Month – Gardenerd Tank Top
Brave the summer heat in something a little more comfortable than that t-shirt. Our Gardenerd Jr. Tank Top prevents farmer's tan and keeps you cool. Available in four colors, it's a gal's summer delight.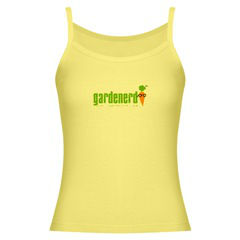 Plus, our 2012 Spring/Summer Seed Collection is on sale! Save even more on seeds that will store well until next spring. Take advantage of the savings today.
Stay tuned for more tips and tidbits from Gardenerd.com. Happy summer gardening!