5-23-12 May Sweet May
In this issue:
May in the Garden
Composting Workshop – June 16
Gardenerd Tip of the Month: Planting Sweet Potatoes
Gardenerd Product of the Month: Gardenerd Hand Care Kit

---
1. May in the Garden
May is that transition time between spring and summer. The weather warms up, school comes to an end, long sleeves are swapped out for lighter clothing, and the garden is taking off like gangbusters. It's like "senioritis" out there! Plants are growing, but not quite ready to harvest yet. We're itchin' to start eating hot weather crops from the garden. We're almost there.
In the Test Garden, we're still harvesting spring crops like lettuces and celery, and we've picked our first blackberries from cuttings we planted last year. Tomatoes are flowering, and pole beans are climbing their "second sister" – corn (which has silks out now). They will overtake the corn shortly, so we've added some trellising to help out. We harvested our garlic and planted some melons last week. We've been harvesting a spear of two of asparagus, and our leeks are ready to come out of the ground.
There's still time to get hot-weather crops in the ground in warm climate zones, while cool-weather climates are busy planting early season crops. It's a great time to experiment – we're planting sweet potatoes for the first time (see below) and a few new-to-us varieties. Be sure to check out our latest blog post on culinary uses for Lemon Balm. I hope you'll enjoy the sweet and wonderful details of gardening this season.
Happy Gardening,
Christy
2. Composting Workshop – June 16
Got kitchen scraps? Got yard waste? Then you have the ingredients for composting or vermiculture. Recycling garden biomass is an important part of gardening. Learn how to close the loop and keep your garden fertile and growing.
Join us for our next composting workshop on Saturday, June 16 from 3-5 p.m. This is a hands-on workshop – we'll be turning a pile or harvesting finished compost. You'll see what an active worm bin looks like and get all your questions answered in this 2-hour class. Click here for details and registration.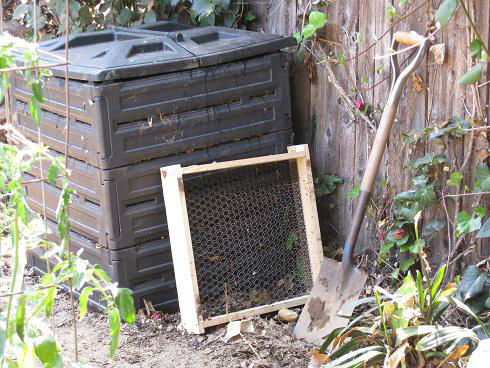 Learn to compost on June 16 th.
3. Gardenerd Tip of the Month – Planting Sweet Potatoes
For years, we've been wanting to grow sweet potatoes from slips, but every catalog seemed to restrict shipping to California (probably because sweet potatoes are in the Morning Glory family, which is invasive). Then one day, the Southern Exposure Seed Exchange catalog appeared, offering several varieties of certified organic sweet potato slips – with NO California shipping restriction! We had to test this out and see if dreams do indeed come true.
Guess what! A box arrived this week with our slips and they're already in the ground recovering from the trip. Find out how to plant sweet potatoes (or grow your own slips) this week on the Gardenerd Tip of the Week Podcast.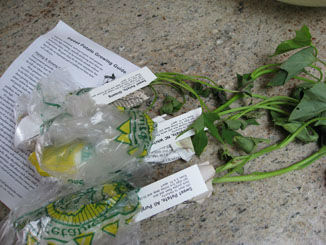 Sweet Potato Slips
4. Gardenerd Product of the Month – Gardenerd Hand Care Kit
As the weather warms up, dryness is sure to follow. Keep your gardening hands in tip-top shape with the Gardenerd Hand Care Kit. Gentle exfoliating properties help remove soil while citrus essential oils and super luxurious cream nourish tired hands. Get yours today.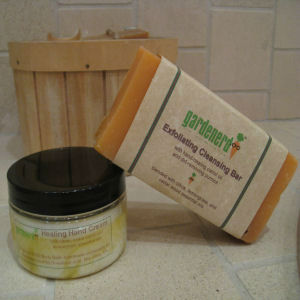 Plus we still have the 2012 Spring/Summer Seed Collection, great for Dads and Grads.
Stay tuned for more tips and tidbits from Gardenerd.com. Happy spring gardening!
---