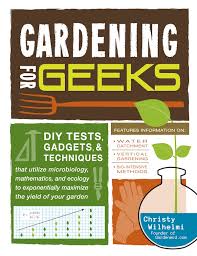 Whether you've got a spacious backyard or only a few feet of patio, GARDENING FOR GEEKS will soon have you growing your own delicious, organic food—and maybe even running germination tests, starting a worm farm, and gearing up for active batch thermal composting.
In GARDENING FOR GEEKS (Adams Media, April 2013, $15.95, paperback, 978-1440557798) organic garden designer and founder of Gardenerd.com, Christy Wilhelmi shares the secrets and science of successful gardening. Readers can skim the science and just take what they need to get started growing their own organic produce, or they can go "full geek" and immerse themselves in the mathematics, biology, and ecology of gardening, which Wilhelmi translates into accessible, user-friendly language.
Wilhelmi is available for interview. She can also write a short article or share excerpts for your publication or site. Here is just some of what she can discuss:
WHAT MAKES YOUR GARDEN GROW? THE GEEKY STUFF
GARDENING FOR GEEKS
is packed with advice that helps everyone from the novice to the seasoned gardener understand how to get the best yields and achieve long-term success and sustainability. Throughout the book, Geeky Gardening Tips offer DIY techniques, such as conducting a home germination test that reveals if seeds are past their prime; pruning like an artist; becoming one with the helpful bee, and much more.
THE DIRT ON SOIL: EVERYTHING YOU NEED TO KNOW Not all dirt is created equal. If your soil isn't healthy your plants won't flourish. Wilhelmi shows you how to achieve optimum ph balance and nutrient levels; explains why worms can be a gardener's best friend, and reveals why composting is must. She also shares the best organic fertilizers and gives you a whole new appreciation for icky organisms, like fungi, bacteria, protozoa, and nematodes that make up the "soil foodweb."
Wilhelmi provides the best planting strategies for a small space, gives a primer on biointensive methods that will help you make the most of a limited area, and offers techniques for manipulating sunlight and ensuring that all plants receive the needed amount of sun.
PLAN BEFORE YOU PLANT: KNOWING WHAT AND WHEN TO PLANT
Smart planning is essential for starting and maintaining a healthy garden. Wilhelmi explains how and why to find your frost dates, shares details on cool, warm, and hot season crops, reveals why plant families should stick together, and offers essential information on crop rotation and companion planting.
NOT ALL PESTS ARE PESTS: THE GOOD VS. THE BAD
"Gardening is all rainbows and butterflies until your first head of lettuce is savagely snatched underground by a gopher, or your beautiful Swiss chard becomes ravaged by aphids overnight," says Wilhelmi. She differentiates between friend and foe pests, and offer cutting-edge advice for drawing the good guys and repelling the bad without nasty synthetic pesticides. She'll even share which flowers can both beautify and protect your garden.
CAN IT, DRY IT, COOK IT: HOW TO PRESERVE AND PREPARE WHAT YOU'VE GROWN
"There is no substitute for the flavors a home garden can bring to the table," says Wilhelmi. She offers expert tips for keeping veggies fresh for weeks and preserving them with canning, drying, and other methods. Best of all, she shares a series of mouth-watering recipes for going from garden to table. Recipes are versatile and can be adapted to the veggies that are in season or in your fridge.