In this issue:
November in the Garden
Ideas for Thanksgiving

Gardenerd Tip of the Month: Planting Alfalfa – why it's important

Gardenerd Product of the Month: Gardening for Geeks

---
1. November in the Garden
We're hearing from people across the country this week about temperatures in the -teens, killing frosts and snow falls. We're also hearing about the mad rush to bring in the last harvest from the garden. What to do with all those green tomatoes? We've got ideas to share in this newsletter, along with some great menu suggestions for Thanksgiving.
Speaking of Thanksgiving, we've got gratitude on our minds here at Gardenerd. We're so grateful for you, our fellow gardenerds, and the enthusiasm you have for growing your own food. It may be down-time for some in the garden, but the excitement continues through the holidays as we celebrate the harvest and everything we're thankful for.
I'm grateful to be harvesting the first kale and chard of the season. I'll be really grateful when we get some rain, but until then, I'm thankful for the cooler days and fewer watering duties. I'm especially grateful to everyone who has bought a copy of Gardening for Geeks this year, and hope you enjoy the bounty of information it provides. Here's to the harvest!
Happy Gardening,
Christy
---
2. Ideas for Thanksgiving

There are so many good things to enjoy from the garden this time of year, whether you're picking them right now, or pulling them down off the shelf from a summer canning frenzy. Thanksgiving is a celebration of food, and more specifically, the season. Fallen leaves decorate our tables along with gourds and dried corn cobs. Winter squash, root vegetables, and greens take the stage. Here are some ideas for your Thanksgiving table:
Root Vegetable Jambalaya – okay, not at all traditional, but this recipe showcases root crops like crazy.
Northern Spy Kale Salad – add a little roasted squash to a kale salad and you've got magic.
Butternut Squash recipes galore – find some great suggestions for this sweet squash.
The Best Sweet Potatoes Ever – if you prefer your sweet potatoes savory, this is the end-all, be-all of recipes.
Fried Green Tomatoes in Winter? – Maybe not for Thanksgiving, but certainly before those green tomatoes go to waste.
And as a final tease – find more great recipes for Sesame Roasted Radishes, Romantic Notions of Root Vegetables (with Halloumi), Savory Winter Squash with Sage, and Tender-Crisp Steamed Veggies with a Kick in Gardening for Geeks!
---
3. Gardenerd Tip of the Month – Planting Alfalfa – Why it's Important!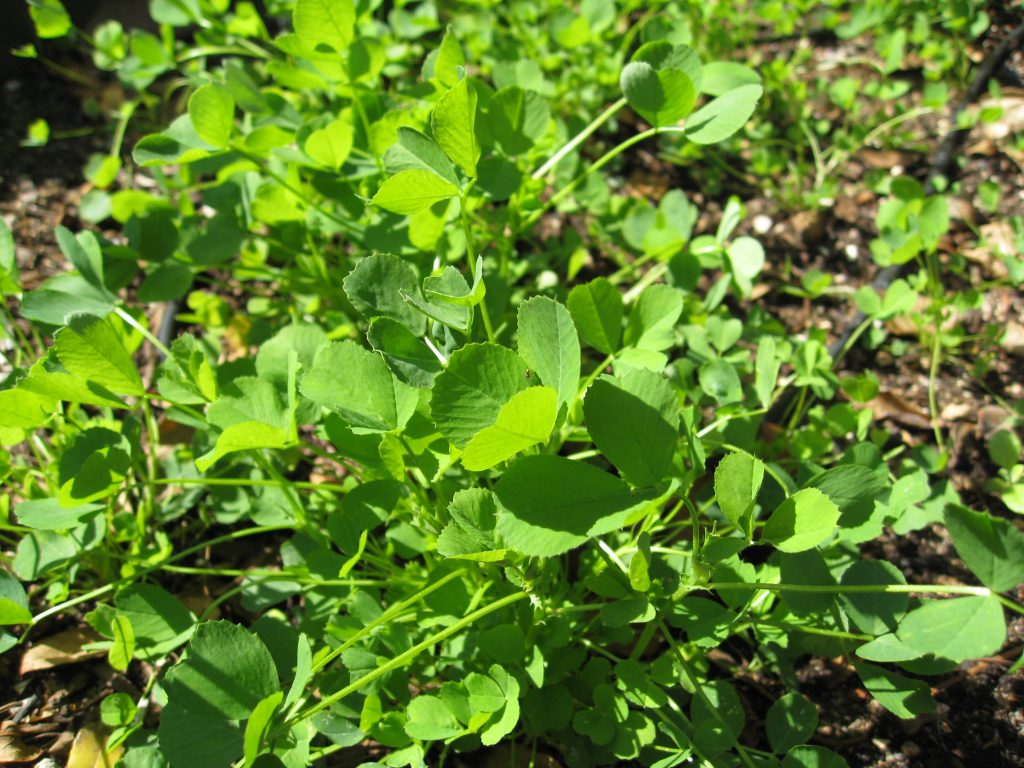 Our latest YouTube video shows you how to plant a permanent crop of alfalfa. Why plant alfalfa? It's a high-nitrogen ingredient for your compost pile, which means when you add it to your compost bin, you're finished compost will be higher in nutrients. You can also cut off a handful to feed your chickens once in awhile. Learn how to do it here:
Planting Alfalfa for Cover Crops and Compost
---
4. Gardenerd Product of the Month – Gardening for Geeks

If you haven't started your holiday shopping, let us make a not-so-subtle suggestion to give all your fellow gardenerds the gift of knowledge this season. Gardening for Geeks makes a great gift–one that keeps on giving year after year. It's perfect for those just getting started, or garden veterans who want to explore a few new ideas. Find the best places to buy it here:
Stay tuned for more tips and tidbits from Gardenerd.com. Happy fall gardening!