In this issue:
June in the Garden
Organic Gardening 101- July 15th
Gardenerd Tip of the Month: Zucchini Cobbler
Gardenerd Product of the Month: Gardenerd Grocery Tote
1. June in the Garden
As June exits and July enters, summer vacations and garden parties take the stage. We welcome the summer solstice, and next week we celebrate our country's independence. As gardeners, we celebrate Food Independence every day that we harvest from the garden. We take back control and savor the rewards of growing fresh produce in our yards and on balconies. It is a wonderful time to be gardening!
In the Test Garden, we're coaxing tomatoes along as they set fruit and ripen. Romano beans and Edamame pods are filling out. Basil is in abundance, while our peppers just started flowering. We've been harvesting strawberries (clutching recipes for crumbles and pies all the while), and our cucumbers are growing thick. Green beans abound and there's more patty pan squash than we know what to do with (see one idea below).
We're installing summer gardens and gearing up for classes. We're adding compost to crops as they grow, and experimenting with Norwegian kelp and biochar in the compost bin. More on that soon! In the meanwhile, I hope you enjoy your food independence and all the other joys that summer brings.
Happy Gardening,
Christy
---
2. Organic Gardening 101 – Starts July 15
Do you want to feel more confident in the garden? We've got just the thing for you this summer. Our next Organic Gardening 101 course begins at Santa Monica College on Sunday, July 15.
This 4-class course will walk you through the basics of soil, seed-starting, small-space gardening techniques, pruning and so much more. Each 2-hour class answers your nerdiest gardening questions. Click here for details and registration.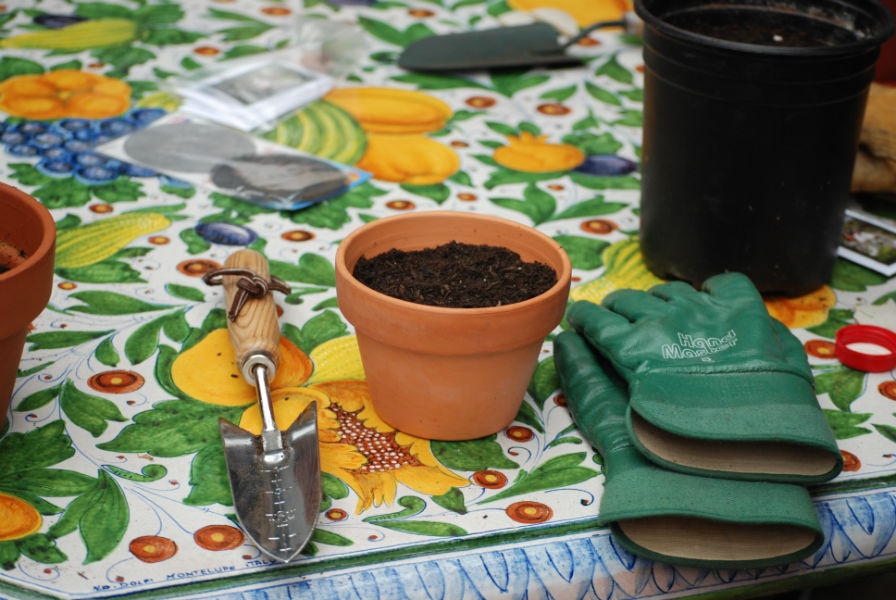 Join us for Organic Gardening 101 on July 15th.
---
3. Gardenerd Tip of the Month – Zucchini Cobbler
It happened just today. A client walked out to her garden after being gone for a week and discovered not one, but FIVE baseball bat-sized zucchini awaiting her return. What to do with all of this abundance? You could leave one in your neighbor's mailbox, but you'd make fewer enemies if you turn these behemoths into something tasty. Like this, for example:
Zucchini Cobbler – from AllRecipes.com – This is basically apple pie, but with zucchini instead of apples. No one will know the difference.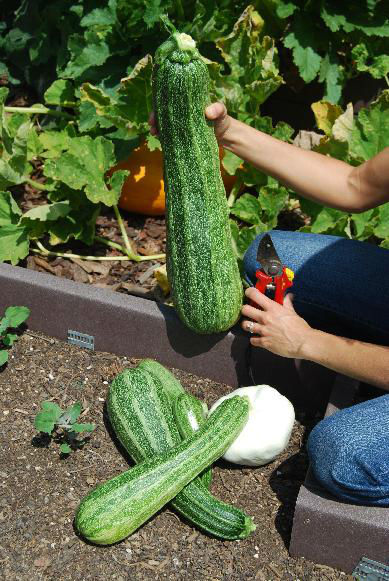 Ingredients
5 cups zucchini – peeled, seeded, and chopped
1/2 cup fresh lemon juice
3/4 cup white sugar
1 teaspoon ground cinnamon
1/2 teaspoon ground nutmeg
4 cups all-purpose flour
1 1/2 cups white sugar
1 1/2 cups butter, chilled
1 teaspoon ground cinnamon
Directions
Preheat oven to 375 degrees F (190 degrees C). Coat a 9×13 inch baking dish with cooking spray.
Place zucchini and lemon juice in a medium saucepan. Cook, covered, over medium-low heat, stirring occasionally, for about 15 minutes, or until tender. Stir in 3/4 cup sugar, 1 teaspoon cinnamon, and nutmeg. Simmer 1 minute longer, remove from heat, and set aside.
In a large mixing bowl, combine flour and 1 1/2 cups sugar. Cut in butter until the mixture resembles coarse crumbs. Stir 1/2 cup crumb mixture into zucchini mixture. Press half the remaining crumb mixture into the prepared pan. Spread zucchini evenly over crust. Crumble remaining crumb mixture over zucchini, and sprinkle with 1 teaspoon cinnamon.
Bake in the preheated oven for 35 to 40 minutes, or until golden and bubbly.
For other recipes for zucchini like chocolate zucchini bread and savory zucchini pie, just type in "zucchini recipe" in the search box on the Gardenerd.com home page.
---
4. Gardenerd Product of the Month – Gardenerd Grocery Tote
It's official, Los Angeles has banned single-use plastic bags. So now is a great time to stock up on Gardenerd Recycled Cotton Canvas Grocery Totes. We're proud of our grocery bag, not just because it's made from recycled materials, but it holds EVERYTHING!
With a generous 7 1/2″ gusset, you can carry gallons of milk, sacks of flour, stacks of books and plenty of beach towels without exerting yourself. The long handles fit nicely on a shoulder, leaving you hands-free to enjoy your walk. Grabs yours today.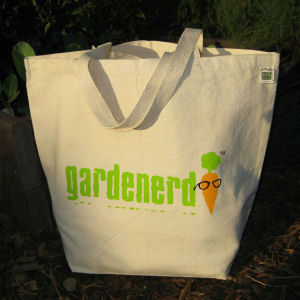 Plus, our 2012 Spring/Summer Seed Collection is now on sale! Save even more on seeds that will store well until next spring. Take advantage of the savings today.
---
Stay tuned for more tips and tidbits from Gardenerd.com. Happy summer gardening!