2-09-11 Garden Love Affair
In this issue:
February in the Garden
Spring Garden Planning Workshop
Gardenerd Tip of the Month: Turning Cover Crops
Gardenerd Product of the Month: 2011 Spring/Summer Seed Collection
---
1. February in the Garden
February means Valentine's Day, and whether you have a significant other in your life or not, you can still start a love affair with your garden without breaking anyone's heart. Even if there's snow on the ground (and up to your ears in some parts of the country), you can cheat Mother Nature by starting seeds indoors – the perfect way to live out a garden/romance novel (a.k.a. seed catalog) fantasy.
In our Test Garden, we have colorful sprouts popping up out of seed trays this week. 5-color Swiss chard puts on a good show this time of year, and we just planted tomato seeds yesterday in hopes of a late March planting. Sweet corn is up too, which means we'd better get those beds prepped and ready to plant (see below for how)! If you need help deciding what to plant, check out this Spring Planting Guide, where you'll also find details for how to start seeds indoors.
With spring right around the corner, our love affair with the garden turns to thoughts of warm weather crops like tomatoes, squash, and peppers. Unfortunately, thoughts of warm weather pests can't be far behind. Be preemptive – visit the Gardenerd Blog for tips on how to handle squash bugs this week.
Happy Gardening,
Christy
---
2. Spring Garden Planning Workshop
With all those catalogs and seed packets floating around, it can be a challenge to decide where to plant everything. Let Gardenerd help you get ready for your spring garden season. In 2 hours you'll have a plan on paper to take home and implement. Space is filling fast, so register now:
Spring Garden Planning Workshops – 2 Dates to choose from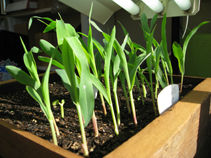 ---
3. Gardenerd Tip of the Month – Turning Cover Crops
If you grew a cover crop over the winter, you might be seeing flowers by now. When about one third of the flowers are open, it's the perfect time to turn them under.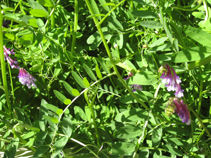 There are 2 schools of thought about cover crops:
1) Chop up the greens and bury them under a 2″ layer of compost or manure, water well and wait 3 weeks before planting new crops.
2) Chop up the greens, but put them in your compost bin instead (apparently this method loses less nitrogen in the process, and makes your beds available more quickly for spring planting. If you choose this method, prep your beds with a 2″ layer of finished compost (from last year's cover crops, yes?) mixed with a cup or two of organic vegetable fertilizer. Dig it into the top 4-6 inches of soil, water well and let rest for a week. If you're a full-tilt gardenerd, double dig your beds to a depth of 24 inches, mixing in compost along the way. Then take a hot bath!
Either way, you'll infuse your soil with organic matter and nitrogen for the coming growing season.
---
4. Gardenerd Product of the Month – 2011 Spring/Summer Seed Collection
Enhance any romance relationship with the gift of seeds. Valentine's Day is next week, and there's still time to get your 2011 Spring/Summer Seed Collection to win over your favorite Gardenerd. Melt hearts with Crimson Sweet Watermelon. Swoon over Cannellini Beans. Add a little spice to your life with Early Jalapeno Peppers. Read more about the Collection here:
2011 Spring/Summer Organic Seed Collection
---
Stay tuned for more tips and tidbits from Gardenerd.com. Happy winter gardening!