11-23-11 Grateful for Gardening
In this issue:
November in the Garden
Black Friday Sale
Gardenerd Tip of the Month: Jerusalem Artichokes
Gardenerd Product of the Month: 2012 Seed Collection
---
1. November in the Garden
For many climates across the country, the killing frost has swept through to end the gardening season. Adventurous gardeners thrive on the challenge of gardening in snow and bleak conditions with the help of cold frames, Agribon and greenhouses. Here in warmer Los Angeles, the rain barrels are full and salad greens are plentiful.
In this time of Thanksgiving, gardeners are grateful for many things: the land we grow on, the fertile soil, the sun that brings plants to life, and the water that keeps them growing. I am particularly grateful for the growing trend toward preservation of heirloom seed varieties, and our nationwide re-discovery of urban homesteading over the past few years. It feels good to know that even in big cities, people are doing their part to respect the land, reduce consumption and give back to the community through gardening efforts.
Planning Thanksgiving this year with heirlooms and preserving in mind, I encourage my fellow gardeners to include as many fresh ingredients from the garden as possible. Mash those home-grown potatoes, roast those root crops, and offer up delicious squash-based desserts (A.K.A. pumpkin pie) for all to enjoy. It feels so good to celebrate the garden even after if has, perhaps, gone to rest for the winter. We'd love to hear what you're feast will feature from the garden this year. Drop us a line and let us know.
Happy Gardening,
Christy
---
2. Black Friday Sale
The day after Thanksgiving kicks off the official holiday gift buying (or trading, bartering or making) season. Get all your shopping done for that special gardenerd in your life at Gardenerd.com. The Gardenerd Store is ready and waiting, and we have a special offer for you that only lasts until Cyber Monday.
Use the coupon code 11BLACKFRIDAY15 at checkout and get 15% off your entire order. Discount not applicable to sale items or the 2012 Spring/Summer Seed Collection (it's already 15% off).
Gardenerd Store Sale – 15% off entire order (expires 11/28/11)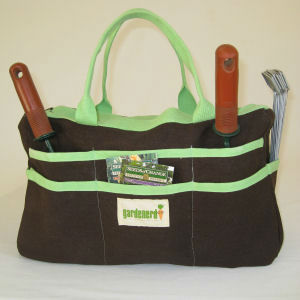 ---
3. Gardenerd Tip of the Month: Jerusalem Artichokes
Tubers and root crops are making their way from the garden to the table in time for Thanksgiving, but if you're bored with the same old potatoes or parsnips (though I can't imagine), try this underdog of the underground this season.
Jerusalem artichokes aren't technically artichokes at all. The plant is a member of the sunflower family, looks a lot like ginger root, tastes like a nutty potato, and can be grown with relative ease in most climates (although it has been said that they grow better in the upper 2/3rds of North America).
The tuber is planted in spring and harvested in fall/winter, so now is the time to add them to your diet, and save a few to plant in spring. A few suggestions for eating:
Roasted Jerusalem Artichokes with Chives
Jerusalem Artichoke Soup with Caramelized Onions
Jerusalem Artichoke and Arugula Salad with Parmesan
Stay tuned for another delicious way to prepare them next week on the Gardenerd Blog.
These suggestions come with a couple of warnings:
Eat in moderation, these guys can be tough on the digestive system. In fact, some people put an "F" in front of "Artichoke" – so start slow.
In some gardens, Jerusalem Artichokes can be considered invasive. Tubers can multiply from a small piece in the compost bin, and have been known to take over garden beds. Treat it like mint and plant in a confined space, or anywhere you don't mind having it take over.
---
4. Gardenerd Product of the Month – 2012 Spring/Summer Seed Collection
The holiday season is well underway, and holiday gift giving isn't far behind. It's time to give the gardenerd in your life the gift of seeds. We've just finished dreaming up the 2012 Gardenerd Spring/Summer Seed Collection, and it is ready to pre-order now!
This season's collection comes from Seed Savers Exchange and includes beautiful choices like Dragon Tongue and Christmas Lima beans, Romanesco broccoli, Mexican Sour Gherkin cucumbers, Red Malabar spinach, Stevia and more. Get all the details at the Gardenerd Blog.
Pre-order your collection today. 2012 Spring/Summer Seed Collection
---
Stay tuned for more tips and tidbits from Gardenerd.com. Happy fall gardening!