1-20-12 New Year, New Garden
In this issue:
January in the Garden
New Year's To-Do List
Gardenerd Tip of the Month: Winter Meals
Gardenerd Product of the Month: Gardenerd Hoodie
---
1. January in the Garden
In January, some gardens are buried under snow, but the gardener is awakened from dormancy as seed catalogs begin to fill up the mailbox. The prospect of a new spring garden is exciting and, to be honest, a little amnesia-inducing. We tend to forget what didn't work last year in favor of adventurous dreams about new varieties.
I've dog-eared pages of hopeful seed selections, even though there isn't room for all of them. Some of my hopefuls are in our 2012 Spring/Summer Seed Collection, like Malibar spinach and Mexican Sour Gherkin cucumbers. I'm looking ahead to seed starting and bed prep and I can't wait to see how these new crops do. What will you grow this year? Send us your list – we'd love to hear from you.
From the Test Garden, we're eating a lot of chard and kale, lettuces and broccoli. The Snow peas are flowering and fruiting, while some of the mustard greens have started bolting to seed. This month, we celebrate the abundance of winter veggies with a few recipe suggestions below. We also are offering some new classes to help get you ready for spring, as well as a helpful list of to-do's.
Happy Gardening,
Christy
---
2. New Year's To-Do List
January in Southern California (and other warmer climates) is the time for a number of garden tasks. Here's a handy checklist to get you started:
Rose Pruning – roses thrive with proper pruning, and January is a great time to do it. Need help? Click here for step by step info.
Fruit Tree Pruning – if you haven't done your winter pruning yet, now is the time. For the basics, just prune away the 3 Ds: Dead, diseased and disorderly. Avoid pruning apricots and other stone fruits if rain is in the forecast in the coming weeks, as it can leave your trees vulnerable to diseases. For a more in-depth look at pruning, watch these videos from UC Cooperative Extensions

Seed Ordering – go ahead – have a blast! It's hard to resist the pull of colorful seed catalogs, so don't! Choose a few new seeds and plan out a space to try them out. Maybe the only space left is the front yard… I'm just saying. Visit the Links page for our favorite catalogs.
Garden Planning – This is a great time to plan out your garden, to determine where everything is going to be planted this spring. Need help doing it? Join us for one of our popular Spring Garden Planning Workshops.
Whatever you choose to do this January, Gardenerd is here to help!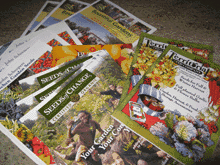 ---
3. Gardenerd Tip of the Month: Winter Meals
As part of our New Year's Resolutions here at Gardenerd, we're trying to make a new recipe each week. With all the winter greens just begging to be eaten, we've found a few good ideas for how to use winter's bounty:
Layered Sweet Potato Torte – it uses a fair amount of Swiss chard and looks fancy even though it's easy to put together. We suggest putting down some parchment paper or foil on the baking sheet underneath your springform pan.
Kale Aloo by Maninas: Food Matters – We mentioned this is a recent blog, but it's worth repeating. Serve it with some chickpeas sauteed with whole cumin seeds and turmeric.
Roasted Winter Squash and Apple Soup – we haven't made this one yet, but it's on the list. Can't think of a better way to celebrate winter squash and apples together.
If you have a New Year's resolution to eat from the garden (or just more healthfully) more often, these recipes will help you on your way.
---
4. Gardenerd Product of the Month – Gardenerd Zipper Hoodie
It's cold outside! Gardenerds can stay warm in our brand new Gardenerd Zipper Hoodie. Stay warm while planting cool season crops in grime-hiding gray. Carrot on the front, Gardenerd on the back. Get yours today!
Gardenerd Zipper Hoodie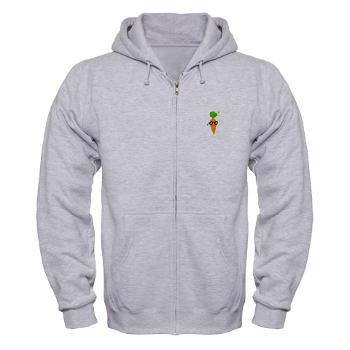 ---
Stay tuned for more tips and tidbits from Gardenerd.com. Happy winter gardening!