08-26-10 Summer Spoils
In this issue:
August in the Garden
Fall Garden Planning Workshop
Gardenerd Tip of the Month: Lavender Ice Cream
Gardenerd Product of the Month: New Fall Seed Collection
---
1. August in the Garden
Summer sure took its time getting here in Los Angeles, but now that it's here, it feels wrong to talk about Back to School or anything like that. So I won't. There's still plenty of summer to enjoy in the garden, like ripe tomatoes and Caprese salads. Heck, we're not even sick of zucchini yet!
The eggplant is getting tall, but we've pulled up the green beans. We do have a lone Christmas Lima Bean climbing up the dry corn stalks though. We got it from our friends at Ardenwoods Edibles, who specialize in organic seedlings without plastic pots. It's taken over 3 corn stalks so far, with more growth to come.
The strawberries are making another round of juicy fruit, and we've been enjoying fresh arugula salads over the last couple of weeks. Fall is just around the corner, however, so my mind is both reluctantly and excitedly looking ahead to fall crops. What will be on your list to grow this fall?
Happy Gardening,
Christy
---
2. Fall Garden Planning Workshop
THIS SATURDAY: Our potluck and seed exchange was a great success, but now it's time to get down to business. The ever-popular Fall Garden Planning Workshop is this Saturday, August 28 from 3-5 p.m. There are just a few more seats available in this small group workshop that gives you all you need to get your garden growing this fall. Details and registration are below: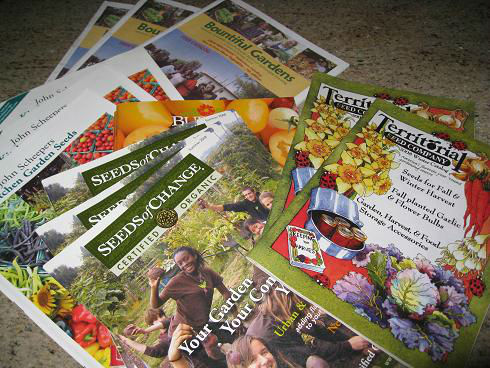 ---
3. Gardenerd Tip of the Month – Lavender Ice Cream
Making stuff from flowers can be fun…and adventurous. This month, why not try making Lavender Ice Cream to sooth the summer heat and Back to School jitters? Read our quick How-to below and you'll be transported to serenity:
The Return of Lavender Ice Cream
---
4. Gardenerd Product of the Month – New 2010 Fall Organic Seed Collection
This year's fall seed collection is a veritable wish list of goodies for the fall gardener. Not only will you find great heirloom and open-pollinated varieties like Waltham Broccoli and Sylvetta Italian Rustic Arugula, you'll also enjoy adding True Siberian Kale (withstands aphids longer than other kales) and Ianto's Yellow Fava Beans (a great cover crop or mature bean) to your collection.
Don't forget your greens either! Fordhook Giant Swiss Chard, Mizuna Mustard Greens, and two fun lettuces are also part of the Fall Collection. Top it off with Tango Celery, Sugar Snap Peas and Lisbon Bunching Onions and you're garden is all set. All this for 25% off retail prices. Order yours while supplies last!
---
Stay tuned for more tips and tidbits from Gardenerd.com. Happy summer gardening!