07-15-11 Garden Independence
In this issue:
July in the Garden
How Heirlooms Can Feed the World
Gardenerd Tip of the Month: Braiding Garlic
Gardenerd Product of the Month:

SALE

on seeds!
---
1. July in the Garden
Independence Day has come and gone, but as gardeners, we celebrate food independence every day. As we tend our plots of land, the garden rewards us with ripe tomatoes, zucchini, cucumbers, and more. We have the ability to control where our food comes from, and that feeling is worth setting off fireworks.
In the garden, we've planted out heirloom melons in hopes that we'll bypass the problems that befell our rotund comrades in early summer last year. We've been picking tomatoes and harvesting asparagus – a few each day. Strawberries are going gangbusters, and we still can't put away all the squash that has been harvested. If you're looking for something interesting and tasty to try this summer, check out our latest ice-cream experiment.
What's growin' on in your garden? We love hearing from you. Are your tomatoes growing like weeds? Do you have mystery squash growing out of your compost bin? Tell us!
Happy Gardening,
Christy
---
2. How Heirlooms Can Feed the World
A few years ago, National Geographic published an article about the wonders of genetically modified organisms with nary a mention of the potential dangers or detrimental effects they could have on our ecology. Now, several years later, they have redeemed themselves by publishing this article on the benefits of heirloom seeds.
Heirlooms are seeds that have been handed down from generation to generation, and due to modern agricultural practices, many species are becoming extinct. As home gardeners, we can preserve bio-diversity by growing rare varieties, saving seeds and sharing them with fellow gardenerds.
The article also features an info graph that demonstrates how our abundance of plant varieties is dwindling. The varieties that survive do so because they satisfy the criteria for commercial markets: they weigh a lot, transport well over 1,500 miles and look uniform. We don't have to conform to those requirements, so the world is our oyster. Grow heirlooms this season and enjoy the diversity!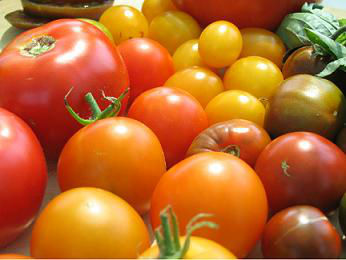 ---
3. Gardenerd Tip of the Month – Braiding Garlic
It's harvest time for garlic, onions and shallots here in Southern California. We've just finished braiding this year's garlic harvest to hang in the kitchen. Want to learn how to do it yourself? Watch the our garlic braiding video on YouTube for step by step instructions.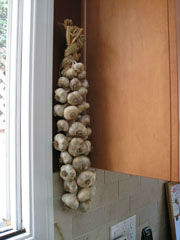 ---
4. Gardenerd Product of the Month – SALE on 2011 Spring/Summer Seed Collection
Speaking of heirloom seeds – we're clearing inventory, so now is your chance to pick up the Spring / Summer Seed Collection for even more savings – over 30% off regular prices. Hurry, only 5 sets left!
2011 Spring/Summer Seed Collection
---
Stay tuned for more tips and tidbits from Gardenerd.com. Happy summer gardening!