06-24-10 Summer Beginnings
In this issue:
June in the Garden
Stuff to Do
Gardenerd Tip of the Month: All About Leeks
Gardenerd Product of the Month: Gardenerd Hand Care Kit
---
1. June in the Garden
Summer is officially here, and the garden knows it. The corn is high, the strawberries are ripe, and the tomatoes are turning colors (way to slowly for me). Our latest crop of quinoa is getting taller, and the seeds heads are starting to look like something serious. We've got acorn and delicata squash catching on to the warm weather as well.
We've been harvesting potatoes and leeks (soup – here we come!). Be sure to read all about leeks below for some great ideas on how to use them. As potatoes are harvested, it leaves room for the companion-planted watermelons to take over the space. Flowers are forming and we anticipate a good year for melons.
There is plenty to Stuff to Do this summer (see below). There are a couple of great ideas for summer fun on the Gardenerd Blog this week. Don't miss out on this great time in the garden.
Happy Gardening,
Christy
---
2. Stuff to Do
THIS SUNDAY: Christy will be part of a terrific day of panels and discussions on June 27 from 1:30 – 2:00 at Dwell on Design at the LA Convention Center. KCRW's Good Food host, Evan Kleiman, has invited Christy to be on the panel, Feeding the City: School and Community. In addition to this innovative discussion about neighborhood food sharing, community gardens and school garden programs, there will be a full day of panels all about food and how we make it.
UPCOMING CLASSES: Organic Gardening 101, the 4-class course at Santa Monica College begins on July 11. Details and registration are available at SMC's website.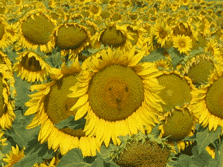 Also – Stay tuned for an announcement about our upcoming Summer Potluck and Garden Extravaganza. We're planning a party and you're invited. More details to come.
---
3. Gardenerd Tip of the Month – All about Leeks
If you've never grown leeks, we highly recommend that you try this year. In Southern California, you can grow leeks all year long. Leeks can be planted from seed directly in the garden. As they grow, you can harvest them thick or thin, and if you leave them long enough, they'll make babies for future crops – side shoots form at the base of the leek, which you can break off and replant. You'll have leeks for life!
To harvest leeks, simply pull them out of the ground. Some people cut them off just below the soil level and let the roots re-grow another leek. In the kitchen, slice the leeks and agitate them in a bowl of cold water to help clean out the sandy bits. If your leeks have already formed a seed stalk, simply slice them and remove the woody center stalk before using.
Here's a great recipe to try from Rose Elliot's The Complete Vegetarian Cuisine:
Leek and Potato Soup
3 leeks, washed and sliced
1 1/2 pounds potatoes, peeled and diced
2 Tbs. butter
1 quart vegetable stock
salt and pepper
Saute the leeks and potatoes in a stockpot over medium heat for 20 minutes, stirring frequently. She says not to let the vegetables brown, but I kinda like it that way.
Add the stock and simmer for 5-10 minutes, until the vegetables are tender.
Puree with an immersion blender, or in batches in the blender or food processor. Cream is optional if you like to add that for a richer soup. Season with salt and pepper to taste.
I like to add copious amounts of dill, or top with rosemary flavored olive oil. Delicious!
---
4. Gardenerd Product of the Month – Gardenerd Hand Care Kit
No tomato harvesting jag is complete without the unavoidable green glow that shows up in the suds as a gardener washes her hands. Sometimes it takes 3 or 4 lathers to get it all off. That can be hard on your hands. The Gardenerd Hand Care Kit can help.
Pumice helps get the grime off faster, and carrot oil keeps your hands supple. Then when you slather on the hand cream, you're in heaven with scents of lemon grass, cedar wood and citrus. The Gardenerd Hand Care Kit makes a great summer gift for your favorite gardenerd.
---
Stay tuned for more tips and tidbits from Gardenerd.com. Happy summer gardening!