The Gardenerd Hand Care Kit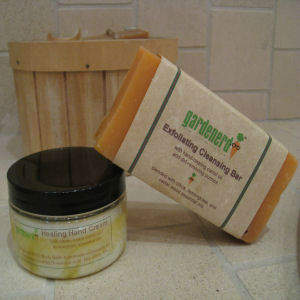 A gardener's hands need special care after a long day in the garden. Exposure to sun, soil and soggy-ness can leave your hands chapped and scrapped. We've partnered with Soaptopia to create a Gardenerd Exclusive – this set of soothing goodies to restore cleanliness, softness and moisture to your hands.
Step 1: Wash with the carrot oil-infused exfoliating bar to get rid of dirt and grime.
Step 2: Slather on our special 50/50 cream to moisturize and heal tired hands.
Both products are blended with essential oils of citrus, cedarwood, and lemongrass, handmade exclusively for Gardenerd.com by Soaptopia.com in Mar Vista, CA.
What makes this hand care kit so great?


    Gentle exfoliant gets the grime off your hands while nurturing you with carrot oil


    4 oz. pot of 50/50 lavishes you with decadent skin-loving cream and essential oils


    Citrus, Cedarwood and Lemongrass work for men and women alike


    You can't get this anywhere else in the world!
$21.00
SOLD OUT