4-25-12 The Only Planet We've Got
In this issue:
April in the Garden
Composting Class – short version
Gardenerd Tip of the Month: Spring Cleaning
Gardenerd Product of the Month: Gardenerd Mug
1. April in the Garden
Flowers are blooming, fruit is forming and green is growing in the garden. It's obvious that it's spring here in Southern California. We're even getting rain in April, which is unusual (climate change?). With Earth Day last week, our focus is on how to be more sustainable and steward the planet as we provide fresh produce for ourselves. This Gardenerd Gazette helps you find simple ways to participate.
In the Test Garden, we're harvesting lettuces and celery, but our cucumbers have been eaten again, so we're replanting. Tomatoes and peppers are going in the ground this week, and bush beans have sprouted. Kale is growing steadily, and garlic is almost ready to harvest. We have plans to put in melons once the garlic is finished. We've also planted three types of squash, which have sprouted nicely. We'll be up to our eyeballs before long.
Okay, chicken update: Our flock has suffered a complication or two, including a visit to the vet for Polly. Find out more about it on the Gardenerd Blog this week. We feel that it's important to share setbacks as well as successes. Hopefully it will help others along the way. We're all here on this planet together. Let's make the best of it!
Happy Gardening,
---
2. Composting Class – Lilly in Pasadena

Christy will be teaching a 1-hour composting workshop in South Pasadena on May 12th from 10:30 -11:30 a.m. Lillian Montalvo will be hosting the workshop at her retail shop, Lilly. Learn the basics about browns and greens, carbon and nitrogen, mature and immature biomass.

So if you made a promise to start a compost bin this Earth Day, take this class and you'll be on your way.

Composting Workshop -RSVP to Lilly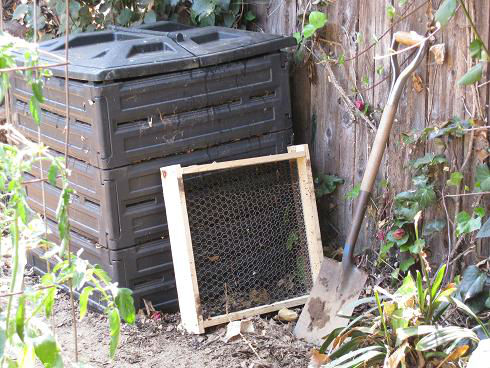 Learn to compost on May 12th.
---
3. Gardenerd Tip of the Month – Spring Cleaning

With the arrival of spring and the recent celebration of Earth Day, we're taking some time to clear out unused items to either repurpose them or give them away.

Needing ideas for how to reduce, reuse and recycle? It's all here on the Gardenerd Tip of the Week Podcast, and the home page of Gardenerd.com for this week only. Find out how to make a garden apron from an old pair of jeans, and what to do with all the old seed-tray soil once your plants are in the ground.
---
4. Gardenerd Product of the Month – Gardenerd Mug

We may be jumping a head a little, but Mother's Day is right around the corner. Give mom the most popular item in the Gardenerd Store: the Gardenerd Mug. It's irresistible, and functional. If you have a mom who spends more time in her garden than she does with her grandchildren, this is the perfect gift for her.

Plus we still have the 2012 Spring/Summer Seed Collection, which makes a wonderful Mother's Day gift. Give the gift of life – like she did for you.
---
Stay tuned for more tips and tidbits from Gardenerd.com. Happy spring gardening!