In this issue:
November in the Garden
Frost Kissed Seed Tin Giveaway

Gardenerd Tip of the Month: Protecting Your Garden

Gardenerd Product of the Month: Gardenerd Mug

---
1. November in the Garden
Wow. Hurricanes, tsunamis and earthquakes are all over the news this week. It's hard to ignore these changes in our climate, and while scientists around the globe universally agree that it's happening, some people still deny that climate change exists. While California experienced heat wave after heat wave this October (when it's usually cool enough to plant fall crops), the east coast has been blasted with Sandy. Our thoughts are with everyone affected by the storm.
In the Test Garden, the hot weather has kept our rogue watermelons growing bigger and bigger. Meanwhile, the heat makes for the perfect seed-starting conditions. Our peas, cover crops, and garlic have all sprouted, with lettuces, carrots and parsnips not far behind. We're still holding off on putting brassicas in the ground until the weather cools (Bagrada bugs are still at large in the heat). No matter what your weather is doing, this is a good time to plant flower bulbs both outdoors and inside for forcing. Bulbs remind us that spring will once again return.
We have another great Giveaway this week. Peaceful Valley Farm and Garden Supply has generously donated a Frost Kissed Spring or Fall Seed Mix, a collection of 10 certified organic seed packets for your fall or spring garden. See below for details, and…
Happy Gardening,
Christy
---
---
2. Frost Kissed Seed Tin Giveaway

Thanks to everyone who participated in the Garlic Planting Party last month. Now we're pleased to be able to give away a great seed collection from Peaceful Valley Farm and Garden Supply. It's their Frost Kissed Seed Tin with these 10 great varieties which can be planted this fall or next spring:
Express Red Cabbage– great for coleslaw and salads, soups and casseroles.
Snowball Cauliflower– heirloom variety with resistance to downy mildew.
Red Russian Kale – sweet, purple-veined kale great raw or cooked.
Pak Choi – technically a non-heading cabbage, use leaves in soups, noodle dishes, and stir fries.
Progress #9 Peas -heirloom variety, the quintessential garden snack.
White Icicle Radish – A.K.A. Lady Finger, long, slender roots with edible tops.
Bloomsdale Spinach – a great heirloom spinach with savoy-ed leaves.
Broccoli Raab "Spring Rapini" -Italian heirloom variety with an abundance of side shoots.
Fordhook Giant Swiss Chard – heirloom chard with white ribs/stems and dark, glossy leaves.
Rutabaga"Joan" -A.K.A. Swedish Turnips, a classier Purple Top Turnip with mild flavor.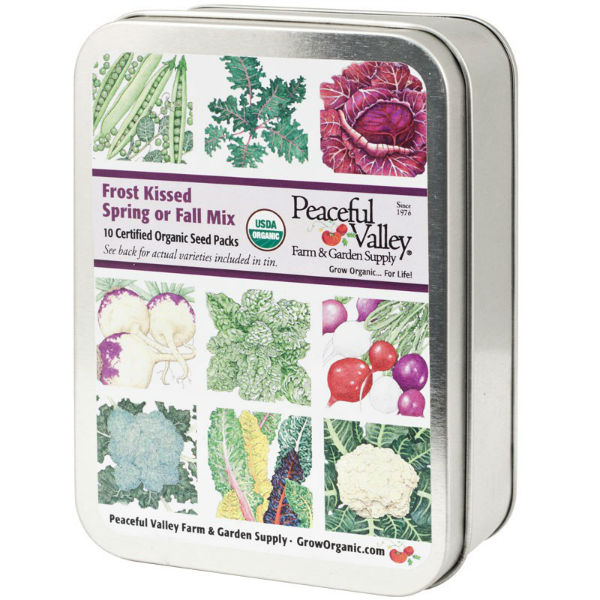 PVF happens to have a sale on all their seed tins this week, so if you don't win, you can pick up a collection at a discounted price.
Enter to win by posting a comment below between Thursday, November 1 and Wednesday, November 7 before midnight. The winner will be chosen at random and announced Thursday morning, November 8th. Good luck!
---
3. Gardenerd Tip of the Month – Protecting Your Garden

As critters come to investigate your garden snack bar this fall, it's a good idea to literally cover your bases. Cloches, floating row covers and insulated garden fabric will help keep the elements at bay as harsh weather and foraging becomes more commonplace.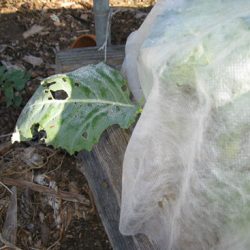 Here are some previous posts with tips on how to protect your crops with fall and winter:
Keeping Cucurbits "Cloche" By – it may be about cucumbers, but it works great for lettuces, mustard greens, peas and more.
Take Cover! It's Cabbage Moth Season – how to use floating row cover to your advantage.
Bad Haircuts, the Cutworm Way – paper collars work most of the time, but even when they don't, there are solutions.
Death of a Garden – for tips on Agribon and cold frames, and links to frost date resources.
---
4. Gardenerd Product of the Month – Gardenerd Mug

Cool weather and holiday gift giving season is fast approaching, if not here already. The Gardenerd Mug makes a great gift and keeps you warm this fall and winter. Who can resist its adorable charm? Display your gardenerd tendencies proudly!
---
Stay tuned for more tips and tidbits from Gardenerd.com. Happy fall gardening!