In this issue:
October in the Garden
Cover Crops

Gardenerd Tip of the Month: Plan Ahead

Gardenerd Product of the Month: Gardening for Geeks

---
1. October in the Garden
Autumn equinox has arrived once again, and as gardenerds we turn our thoughts to cool weather crops and a change in season. Brassicas, root veggies, salad greens…these are the wonders of a fall garden. This is also the time, for many, to plan ahead (See the Tip of the Month below). For those who do not grow crops over winter, this is the ideal time to prep beds for next spring, or at least to think about it.
In our Test Garden, our kale, broccoli, cabbage & kohlrabi have been transplanted from 2″cells to 4″ pots. We've started seeds for onions in seed flats, with fingers crossed for a high germinate rate. Our kumquat, loquat, apple & orange trees are flowering, so we're giving them a boost with kelp emulsion and compost this week. We're waiting for cooler weather to direct-seed lettuces & root veggies. Soon! It's just around the corner.
Our first Fall Garden Planning Workshop of the season is over, but there's still one more to go. This class will help you figure out what to plant where. Join in to learn how. In the meanwhile, in this issue, we're sharing our tips on cover crops, bare roots and more.
Happy Gardening,
Christy
---
2. Cover Crops

Fall is the right time to plant cover crops. But what are cover crops? The easy answer is: crops that grow over winter and keep the soil covered and protected. The more complex answer is that cover crops, which are most often leguminous in nature, grab atmospheric nitrogen out of the sky and fix it into garden soils for later use. Cover crops add biomass to compost bins and soils, which breaks down to improve soil structure and fertility. It's the old fashioned way of fertilizing without chemicals. It's the way everyone did it before synthetic nitrogen.
Cover crops can be a single crop, such as fava beans, or a blend of seeds including hairy vetch, oats, peas, favas and clover. These crops are planted in a bed that will not be cultivated over winter. Seeds germinate and fill the bed with high-nitrogen plants that protect soils from drying out, as well as keep soil microbes fed and happy all winter.
In spring, when about one third of the flowers have opened, these crops are cut down and either dug into soils, or chopped up and layered in a spring compost pile. Either way, it's wonderful nitrogen biomass! Here at Gardenerd HQ we dedicate at least one bed to cover crops each fall, and we rotate that bed each year.
Cover crops can also be grains, such as wheat, rye, triticale, barley, or millet. There are winter varieties available that insulate soils and offer plenty of carbon biomass in spring. This year, we'll be growing heirloom wheat in one bed and a high-nitrogen soil builder blend in another. Try cover crops and see how it can improve your soil over winter.
---
3. Gardenerd Tip of the Month – Plan Ahead

Fall can sneak up on you as the weather suddenly turns cooler. It's important to plan ahead, before it takes you by surprise. Many seed companies are already selling out of fall and winter planted crops like garlic, onions, shallots and potatoes. And soon it will be bare root planting season, which means it's time to order bare root fruit trees, perennial vegetables and berries for late winter delivery. The time is upon us. Don't miss it.
Some of our favorite resources for bare root fruit trees, cane berries, seed potatoes, and perennial vegetables include:
Peaceful Valley Farm & Garden Supply – check out their berries and veggies pages too.
Southern Exposure Seed Exchange – check out their perennial onions and leeks.
Ecology Action's Bountiful Gardens – want tree collards? Get cuttings here.
Wood Prairie Farm – certified organic seed potatoes – check out their Experimenter's Special for small gardens
Fall planting ensures strong root development over winter, which increases vitality in spring. In some climates plants must be protected from frost with insulation, cold frames, or greenhouses. If you can't plant in fall, dig the hole and condition your planting area with compost now. Then you'll be ready to plant in spring when the ground thaws.
---
4. Gardenerd Product of the Month – Gardening for Geeks

Need help figuring out how to plan and plant your fall garden? Gardening for Geeks will walk you through the process, step by step. Touted as a "logical, well-organized book" that gives you all the info you need to grow organically and sustainably, Gardening for Geeks is a hot-weather summer page-turner.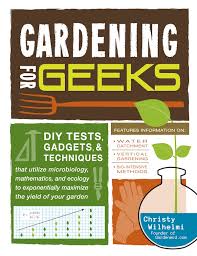 Stay tuned for more tips and tidbits from Gardenerd.com. Happy fall gardening!