In this issue:
May in the Garden
Spring Garden Wisdom

Gardenerd Tip of the Month: SaveSeedSharing.org

Gardenerd Product of the Month: Gardenerd Mug

---
1. May in the Garden
May is when days really start to feel summery, though not quite summer. Those longer daylight hours really open up the calendar to late afternoon gardening and early morning strolls through the yard. Plants drink up extra sunlight and benefit from cool evenings. It's beginning to feel like it's time for outdoor parties, Caprese sandwiches (okay, not quite yet) and shorts (oh, the farmer's tan!).
We're picking blackberries daily, and watching our cucumbers set fruit. We turned on our drip irrigation system when the rain barrels ran dry, but a bit of rain last week filled them up again. So off goes the irrigation again. We're pulling radishes to make room for larger crops and we'll tuck in some lettuces to see if we can get one more round of greens before it gets too hot. Take a look at our spring garden wisdom below for more tips on what to do in May.
FYI – It has come to our attention that our Ask Gardenerd web form and WheresGardenerd email address are broken. So if you've sent a question or your contact info in the last few weeks without getting a response, we apologize. We haven't received an email or notice since April 24th. We'll have the system up and running again shortly and will ask for your info again. Stay tuned! In the meanwhile, enjoy this month's newsletter and all the gardening tasks at hand. It's shaping up to be a great growing season.
Happy Gardening,
Christy
---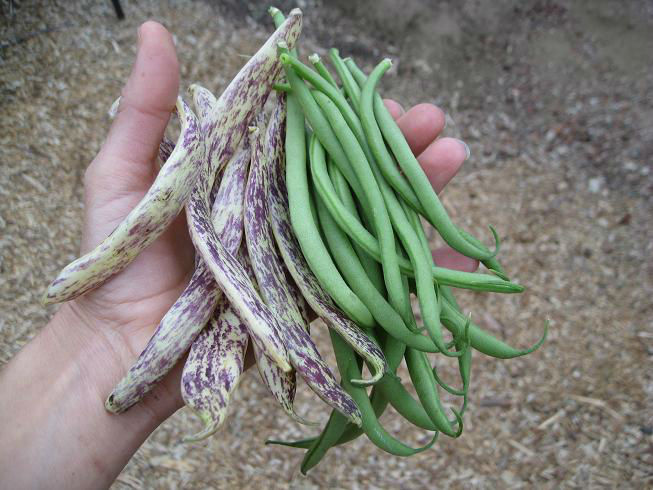 2. Spring Garden Wisdom

Once the spring garden is planted, it still needs care. Here are some tidbits of wisdom to make the most of your garden this spring:
1) Pick often – green beans, berries, and peas produce for a longer period of time if you harvest pods and fruits regularly. Let's not mention zucchini…we all know what happens if you leave zucchini unattended for a couple days. If you are planning a vacation, invite a friend over to harvest while you're away.
2) Plant corn in a block – we've seen a few people planting corn in one long row recently, so it's worth mentioning that corn pollinates via the wind. This means you need several rows of corn in order to ensure pollination. No pollination, no corn on the cob. Plant at least 3×3 (we plant 4×4) and you'll have a good corn crop this season.
3) Thin out seedlings – it's hard to do, but you have to choose which babies to keep. Choose the strongest, most compact plants and snip the others down to soil level. This helps remaining plants grow big and strong with enough air circulation to ensure success. This goes for everything: tomatoes, squash, herbs, cucumbers, etc.
4) Water with kelp emulsion – as you plant new seeds and seedlings, give them a good soak with diluted kelp emulsion after planting. The broad spectrum of minerals will boost survival odds and plant vitality.
5) Guidance – walk through your garden to offer guidance to your plants. Guide tomatoes up through cages, guide cucumbers up their trellises, guide melons and squash into pathways or circle them back into raised beds to keep them contained. Avoid auto-piloting your garden once you've planted. Keep after your plants and they will reward you abundantly.
---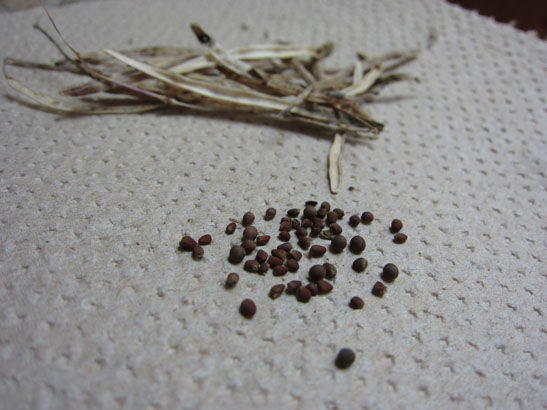 3. Gardenerd Tip of the Month – SaveSeedSharing.org

All across the country, gardening communities are starting seed libraries in order to preserve locally-adapted seeds, and offer free seeds in exchange to its members. A seed library is a great thing: check out some seeds, grow them out, let some plants go to seed, save those seeds and return them to the seed library. What happens next? The next time those seeds are checked out they will grow in that neighborhood more easily. Those seeds will have traits well-suited to that local climate, and will become even more adapted over generations. It's a good thing, right?
Unfortunately, some states are banning seed libraries. Sound fishy? We thought so. SaveSeedSharing.org offers information about the issue and even a petition to sign to help the cause. Find out more details and help preserve our right to save seeds and share with our neighbors, as we have for centuries.
---
4. Gardenerd Product of the Month – Gardenerd Mug

Need a belated Mother's Day gift? Thinking ahead for Dads and Grads? The Gardenerd Mug is the perfect gift for the gardenerd in your life. It's holds that morning cuppa Joe in style and broadcasts your gardenerd tendencies proudly. Go for it. You know you want one.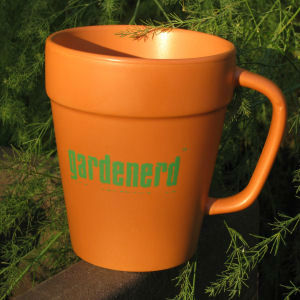 Stay tuned for more tips and tidbits from Gardenerd.com. Happy spring gardening!