3-17-11 Spring is Here!
In this issue:
March in the Garden
Spring Garden Planning Workshop
Gardenerd Tip of the Month: Tomato Events
Gardenerd Product of the Month: Gardenerd Mug
---
1. March in the Garden
It's been a little hard to concentrate around here, with the news of Japan's nuclear reactor meltdown threatening to send fallout to the Western Untied States in the next week. There are conflicting reports as to whether we'll see actual contamination here in Los Angeles, but people are stocking up on potassium iodide tablets anyway. My concern is the soil – since the half-life for cesium-137 is 30 years. Should we see fallout (which several sources claim is highly unlikely) it would remain in the soil, waterways and our bodies for a long time. Let's all breathe together, shall we?
In spite of all this, the excitement about the start of spring is working hard to overshadow current events. In our Test Garden, we planted some Ronde de Nice and Bennings Green Tint patty pan squash. We also planted arugula and Orach mountain spinach. Tomatoes have been transplanted into bigger pots, and we just put some basil sprouts out in the garden as well. Next up – green beans and dry beans!
Spring is a time for renewal and positive thinking. I hope you'll join me, in whatever way that you prefer to generate positive thoughts, be it prayer, affirmations, meditation, or gardening, to welcome spring with a hopeful spirit.
Happy Gardening,
Christy
---
2. Spring Garden Planning Workshop
At a loss for what to plant in your garden this spring? Let Gardenerd help you sort it all out. In 2 hours you'll have a plan on paper to take home and implement. Space is filling fast, so register now:
Spring Garden Planning Workshops – 1 date remaining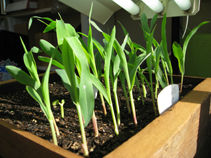 ---
3. Gardenerd Tip of the Month – Tomato Events
It's time for tomato seedling events all across the country:
A Los Angeles favorite is TomatoMania, which boasts over 300 varieties of tomatoes in alphabetical order, just waiting for you to come snatch them up. Always the last weekend of March in Encino, CA! Check their website for nationwide events.
If you live near Ocean View Farms organic community garden, you can come to TomatoBration, which will feature and informative lecture from Barbara Spencer of Windrose Farms. Barbara will bring flats and flats of her organically grown tomato seedlings for sale at the lecture on March 26th in Mar Vista, CA.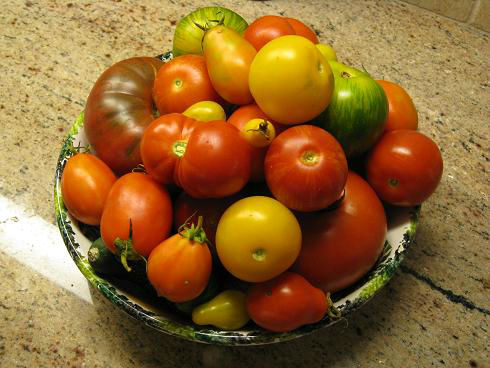 If you can't find a Tomatomania near you (consult the website above), then you can order tomato starts from White Flower Farm or Territorial Seed Company, both of whom carry a wide variety of tomato seedlings at good prices.
Here are a couple other tomato events happening around California:
Heirloom Tomato Plants – Lomita, CA
Love Apple Farm – Santa Cruz, CA
And if you need a little help preparing to fend off blight (like last year) check out this blog post on Tomato Blight for some helpful advice.
Find a tomato event near you to kick off the start of spring!
---
4. Gardenerd Product of the Month – Gardenerd Mug
Soon you'll be sipping lemonade on the porch swing, but until the snow melts and chill mellows, you'll want the Gardenerd Mug to help keep you warm. This stylish mug saves paper cups from landfills and let's everyone know where you stand on gardening. Get yours here:
Gardenerd Terra Cotta Flower Pot Mug
---
Stay tuned for more tips and tidbits from Gardenerd.com. Happy spring gardening!