09-24-10 Fall Garden Fantasy
In this issue:
September in the Garden
Solar Food Dryer
Gardenerd Tip of the Month: Extending Tomatoes
Gardenerd Product of the Month: Gardenerd Mug
---
1. September in the Garden
There's no denying that the smell of the air has changed. It's officially fall and that unmistakable crispness has arrived. The sadness I feel for the passing of yet another summer is counteracted by the excitement of starting seeds for kale, broccoli, spinach, chard and more.
We've been busy planning the fall garden, and helping others do the same. It's time for lettuces, mustard greens, peas, root crops and garlic. It's also a great time to plant artichokes and other perennials that will over-winter and develop strong roots for spring. In warmer climates, plant a few strawberries for a bumper crop in spring.
If you need some help getting started, take a gander through our fall Newsletters from past years. You'll find inspiration there.
Happy Gardening,
Christy
---
2. Solar Food Dryer
Looking for a fall project that will help you store your harvest? Try building a solar food dryer. We just did and it's a blast (of hot air – the good kind). Read all about it on the Gardenerd Blog: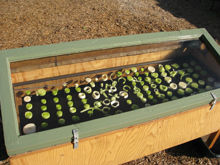 ---
3. Gardenerd Tip of the Month – Extending Tomatoes
This past January, at the Go Green Expo, we couldn't believe the number of people who told us they still had tomatoes growing in their garden – in JANUARY! That's Los Angeles for you. But if you don't live in a warm climate where tomatoes can keep going like the Energizer bunny, you can extend your season to get those last few green tomatoes to ripen.
Geoff Hamilton shares this trick in The Organic Garden Book:
Lay your upright varieties of tomatoes down on a bed of straw (still planted, of course) and cover the plants with a cloche. Cloches are typically made from plastic sheeting that drapes across hoops to create a mini greenhouse. Poke some holes in the plastic to allow some airflow. The warm air inside will keep your tomatoes going as temperatures drop outside.
If you have green tomatoes and don't want to wait for them to ripen, try this recipe for Red and Green Tomato Salsa:
---
4. Gardenerd Product of the Month – Gardenerd Mug
Now that it's fall, hot beverages aren't far behind. Pour your cuppa Joe or morning tea into this generous 16 ounce mug that not only keeps your liquids stylishly warm, it lets everyone know that you are a Gardenerd. No need to hide it. Wear it loud and proud!
---
Stay tuned for more tips and tidbits from Gardenerd.com. Happy fall gardening!