08-18-11 A Mind Toward Fall
In this issue:
August in the Garden
Upcoming Classes: Fall Garden Planning Workshops
Gardenerd Tip of the Month: Seed Starting
Gardenerd Product of the Month: New Fall Seed Collection
---
1. August in the Garden
Our economy has taken another dive, but luckily the garden doesn't keep track of the stock market. It just keeps doing its own thing. August in the garden is all about ebb and flow – the transition from green leaves to brown stalks, and the shift from hopeful anticipation of crops to an abundance of produce that needs canning, freezing or eating. Most of all, August means summer is coming to a close and it's time to get back to school or work. For gardeners, it's time to plan the fall gardening season.
Each August, I pull out the catalogs, the seed jar, a pencil, ruler, and my garden journal and start plotting out the future. What will you grow this fall? Will it be a trusty variety of salad greens or a new fangled beet? I'm looking forward to trying out a long sought-after heirloom savoy cabbage, and a few carrots that are new to me.
All planning aside, it's technically still summer so why not enjoy the warm weather with a neighborhood tomato tastinto tastingg party? We got together with some friends this week to sample our successes and we each found a few good varieties to try growing next year. In this process we call life, there are always delicious surprises!
Happy Gardening,
Christy
P. S. Don't miss our latest blog post about Black Coco Beans and one HUGE oversight.
---
2. Fall Garden Planning Workshops
TWO DATES: The ever-popular Fall Garden Planning Workshop is coming soon, and you'll have 2 dates to choose from: Saturday, September 10 from 9-11 a.m. or Saturday, October 1 from 9-11 a.m. Spaces fill up fast in this small group workshop that gives you all you need to get your garden growing this fall. Details and registration are below: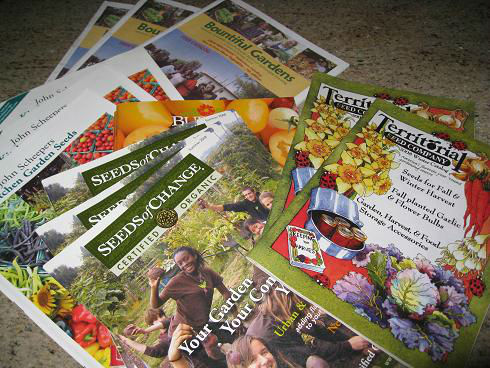 ---
3. Gardenerd Tip of the Month – Seed Starting for Fall Crops
Most seeds need to grow for 6-8 weeks before they are ready to be transplanted out into the garden. That means that right now is the time to start your fall crops for October or late September planting. Get our handy-dandy list of what to grow here. Or listen to our podcast that gives you the low-down in under 2 minutes:
For ideas on how to start seeds every which way:
Once you've heard those, you may want these:
---
4. Gardenerd Product of the Month – 2011 Fall Organic Seed Collection COMING SOON!
With all the talk about seed-starting and planning outfall gardens, you can bet that our new 2011 Fall Organic Seed Collection isn't far behind. We're busy putting the final touches on this year's collection, and it promises to bring color and excitement to your garden.
Stay tuned for all the details and your chance to save money over individual seed packet prices (in this economy we could all use little savings). In the meantime, we only have 3 sets left of our 2011 Spring/Summer Seed collection. It's on sale, so get them while they last.
2011 Spring Summer Seed Collection – ON SALE – ONLY 3 SETS LEFT!
---
Stay tuned for more tips and tidbits from Gardenerd.com. Happy summer gardening!