07-28-10 Eat the Garden
In this issue:
July in the Garden
Potluck and Seed Exchange
Gardenerd Tip of the Month: Canning Tomatoes
Gardenerd Product of the Month: Gardenerd BBQ Apron
---
1. July in the Garden
There's nothing quite like the flavor of a yellow pear tomato as it explodes inside your mouth on a hot summer day. Its sweetness and savory satisfaction really drive the season home. In our garden, yellow tomatoes have won the contest as far as abundance goes. We're trying to figure out a few new things to do with all these golden globes.
I took a sneak peak at the popping corn the other day – pulled back a husk to see if anything was really going on in there. Low and behold – actual corn was inside! (I half-heartedly expected to find bald cobs in there). Those neat little rows of kernels are just biding their time. It makes the excitement for harvest time even more palpable.
We just added a slew of summer classes that are sure to please. Whether you're garden is in full swing, just getting started, or winding down toward the Dog Days of Summer, we're here to help you do it right.
Happy Gardening,
Christy
---
2. Potluck and Seed Exchange
NEXT SATURDAY: It's our first ever Potluck and Seed Exchange and you're invited. There will be food (bring a dish made with ingredients from your garden – even if it's just basil!) and some of your favorite or unusual seeds to trade with your fellow Gardenerds. We got a really nice write-up in the LA Times this week. Click here to find out more about it:
LA Times features Gardenerd Potluck and Seed Exchange
Check out the website for more details and to RSVP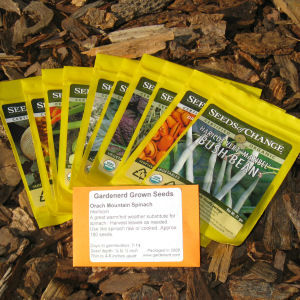 ---
3. Gardenerd Tip of the Month – Canning Tomatoes
If you're lucky enough to have too many tomatoes, you can preserve them in a number of ways. Freezing (yes you can freeze whole tomatoes), drying and canning are definitely on the agenda this summer. For step by step instructions on how to can your surplus tomato harvest, check out the Gardenerd Blog for some good old fashioned Grandma know-how:
---
4. Gardenerd Product of the Month – Gardenerd BBQ Apron
The smell of mesquite wafts across the backyard and you suddenly feel the urge to pick up a long-handled spatula. You slice up some zucchini nice and thick, rub them with olive oil and salt and pepper and burst through the screen door ready to grill. What's missing? The Gardenerd BBQ Apron of course.
Add this stylish layer to your outdoor (or indoor) culinary costume this summer and you'll be on your way to impressing the neighbors with more than just your cooking. Now available in 3 colors. Get yours before that polo shirt gets ruined!
---
Stay tuned for more tips and tidbits from Gardenerd.com. Happy summer gardening!