04-15-11 Celebrate Earth Day
In this issue:
April in the Garden
Go Green Expo
Gardenerd Tip of the Month: Wildflower Hotline
Gardenerd Product of the Month: MinifarmBox
---
1. April in the Garden
Earth Day is fast approaching, and even though gardeners celebrate the earth every day, this time of year is a chance to think about what else we can do to lower our carbon footprint and ease the burden on Mother Earth. Many studies have shown that growing your own food organically reduces carbon emissions, not to mention pesticide and herbicide usage. Collecting rain water, either in barrels or infiltration pits, reduces water consumption (we've had our sprinklers off since December in California). Riding a bike, taking public transportation or walking just one day a week provides exercise while reducing carbon emissions. What can you try this month to give back to Mother Earth?
With Earth Day comes a celebration of nature in the form of wildflowers. Wherever you live, you can visit open spaces that will be blanketed with your state's native flowers from March through May. Get more details below. Earth Day celebrations also dominate the calendar this month. Find out where Gardenerd will be and come be "earthy" with us.
Quick garden update: Our corn is tall enough to plant beans around them now, and the squash plants are starting to fill the raised beds. We've been harvesting lettuces and celery, along with more kale than we can fit in the fridge! Our experiment with triticale (a cross between wheat and rye) is going well, with the exception of a minor snail attack. We're excited to see how this season shapes up when our tomatoes go in the ground this week. If you need help planting your tomatoes, click here for the some planting advice that goes a long way.
Happy Gardening,
Christy
---
2. Go Green Expo
Earth Day wouldn't be complete without a plethora of great ideas to help us live better, greener lives. One of the best places to gather information and pick up some earth-friendly products is the Go Green Expo. Gardenerd will be participating in the Go Green Expo at the LA Convention Center this weekend, April 15-17 from 10-5.

Stop by our booth (#810) and enter for a chance to win an Ultimate Garden Bag. We'll also be offering all of our Gardenerd Gear at special prices for Go Green visitors. Not only that, you can use this code to buy tickets at a discount in advance: GGE2011 for $5 OFF at the Go Green Expo website.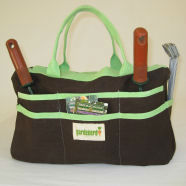 ---
3. Gardenerd Tip of the Month – Wildflower Hotline
It's time to venture out and see the world of wildflowers that are springing up all over our nation's open spaces. California poppies are coloring the landscape along with cheerful lupines and hundreds of other native wildflowers. Celebrate Earth Day by taking in a hillside of hummingbird sage or apricot mallow.
Need help finding these beautiful site to visit? Just type "wildflower hotline" and your state into your browser and you'll be presented with a list of resources to keep you "in the know". Here are a few to get you started:
Theodore Payne Foundation's Wildflower Hotline – California Native Plants
Desert USA – Wildflower reports for Nevada, Arizona and the Southwest
US Forest Service – listings for all national parks across the country
---
4. Gardenerd Product of the Month – MinifarmBox©
We've been growing kale, carrots and parsnips in our MinifarmBox©. Last year the tomatoes we planted in it did very well. It's a great solution for those who want to put together a raised bed in about 20 minutes. The Rolling Patio Box is a popular solution for gardeners without space, or for those who have to chase sunlight around the yard. The Rolling Patio Box moves easily to sunny spots for more exposure (and better tomatoes). Cedar beds finished with linseed oil that assemble without tools. What could be better?
Stay tuned for more tips and tidbits from Gardenerd.com. Happy spring gardening!