In this issue:
December in the Garden
Cover Crops Sequester Carbon

Gardenerd Tip of the Month: Catalogs, Catalogs, Catalogs!

Gardenerd Product of the Month: Autographed Copies of Gardening for Geeks

---
1. December in the Garden
The garden takes on new dimension in winter. For some, it's buried under snow. Icicles hang off evergreen trees, and garden pathways are wiped from familiarity. In warm-winter climates, gardens are still very much alive and active. Tender green leaves decorate the landscape, and everything grows almost without care (certainly not like our summer gardens, which need constant attention). December gives us a chance to sit back and enjoy some down time.
In our Test Garden, our garlic, onions, shallots, carrots and radishes are going strong, but parsnips stubbornly refuse to sprout, despite reseeding. We're picking kale regularly and our peas are climbing their trellises. Lettuces are still small, but growing nonetheless. Our brassicas have outgrown their floating row cover protection, so now they are big enough to fend for themselves. Cabbages are already heading up and herbs like dill, parsley and cilantro are ready to harvest. Recent rains have filled our rain barrels to the brim, so we're back to watering by hand.
The holidays are here, and the Gardenerd Store has something for everyone on your list. Get autographed copies of Gardening for Geeks, Gardenerd mugs, Recycled cotton tote bags, Ultimate Garden Bags, Gardenerd Gear, Gift Certificates and more. If you can't give gifts from your garden, we've got you covered. We'll be enjoying some down time between now and the New Year. In the meanwhile, we wish you happy holidays and best wishes in 2016!
Happy Gardening,
Christy
---
2. Cover Crops Sequester Carbon

With climate change talks concluding in Paris, there is renewed hope that we can take action to reduce carbon emissions in our atmosphere and help return to more stable levels. While action needs to be taken nation- and worldwide, we can do our part at home, too.
Let's keep it short and sweet: carbon is our issue. Soils can fix that issue. Healthy soils sequester carbon, by the gigaton. If we change the way we treat our soil (Big-Ag, are you listening?), we can capture carbon in soils and reduce carbon levels faster than getting every car off the road (which will never happen, let's face it). Cover crops are a key component in creating healthy soil that captures carbon.
Read up on how this works here. Watch the video, download the white paper that explains it all. Our soils can save our planet if we help. Let's do it! Grow cover crops!
---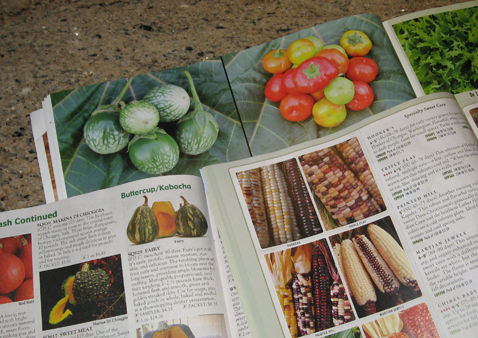 3. Gardenerd Tip of the Month – Catalogs, Catalogs, Catalogs!

December is when new seed catalogs arrive in the mail. Now is the time to sit back by the fire with a pile of seed catalogs to plan out next year's garden. There are many seed companies to choose from. We have our favorites. Here are a few:
Baker Creek Heirloom Seed Company – this all-heirloom seed company offers drool-worthy pictures. Seeds collected from around the world.
Seed Savers Exchange – Learn about seed saving and find unusual varieties grown and saved around the country. Insiders can access the exchange database, too.
Renee's Garden Seeds – No printed catalog, but some great varieties available online as well as at local nurseries. Located in California.
Sustainable Seed Co. – certified organic seeds with plenty of heirlooms and OP seeds to choose from.
Turtle Tree Seeds – Biodynamic, organic and open-pollinated seeds grown with the utmost care.
Sow True Seeds – If you live in Southern Appalachia, or any place with a similar climate, this is your seed company. Organic, open-pollinated and heirloom varieties available.
Stay tuned in 2016 for our list of favorites to grow from these great companies.
---
4. Gardenerd Product of the Month – Autographed Copies of Gardening for Geeks Available Now.

The holidays are right around the corner. Need a gift for your gardenerd friends? Look no farther.
Just added to the Gardenerd Store, now you can get personalized, autographed copies of Gardening for Geeks for your friends and family this holiday season. Get them straight from the source. Just include the first name of the recipient with your order and we'll send it out in time for your gift-giving events. A personal gift of gardening knowledge gives back year after year. Get yours today.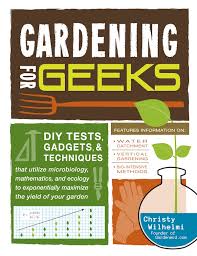 Stay tuned for more tips and tidbits from Gardenerd.com. Happy winter gardening!