In this issue:
December in the Garden
Hearty Sweet Potato Chili

Gardenerd Tip of the Month: Favorite Seed Catalogs

Gardenerd Product of the Month: Gardening for Geeks

---
1. December in the Garden
It's hard to believe the year is almost over. Winter officially begins next week. December brings rain and snow, both much needed here in California, and our gardens continue to grow through winter. In climates with snow on the ground, now is the time to sit back and enjoy those seed catalogs that show up in the mail. Check out our list of favorites in the article below.
In our test garden, our shelling peas are flowering and setting fruit. Lettuces, spinach, mache, and mustard greens are filling in. We're harvesting a few leaves here and there. We're harvesting radishes, kohlrabi (always the first brassica to be ready), and a ton of volunteer cilantro. Perfect for Sweet Potato and Pinto Bean Chili (see below for the recipe).
We'll be taking a couple weeks off for the holidays, but we want to wish you a very happy holiday season and thank you for being part of the Gardenerd community. We'll see you in 2017 to grow more great food together.  

Happy Gardening,
Christy
---
2. Hearty Sweet Potato Chili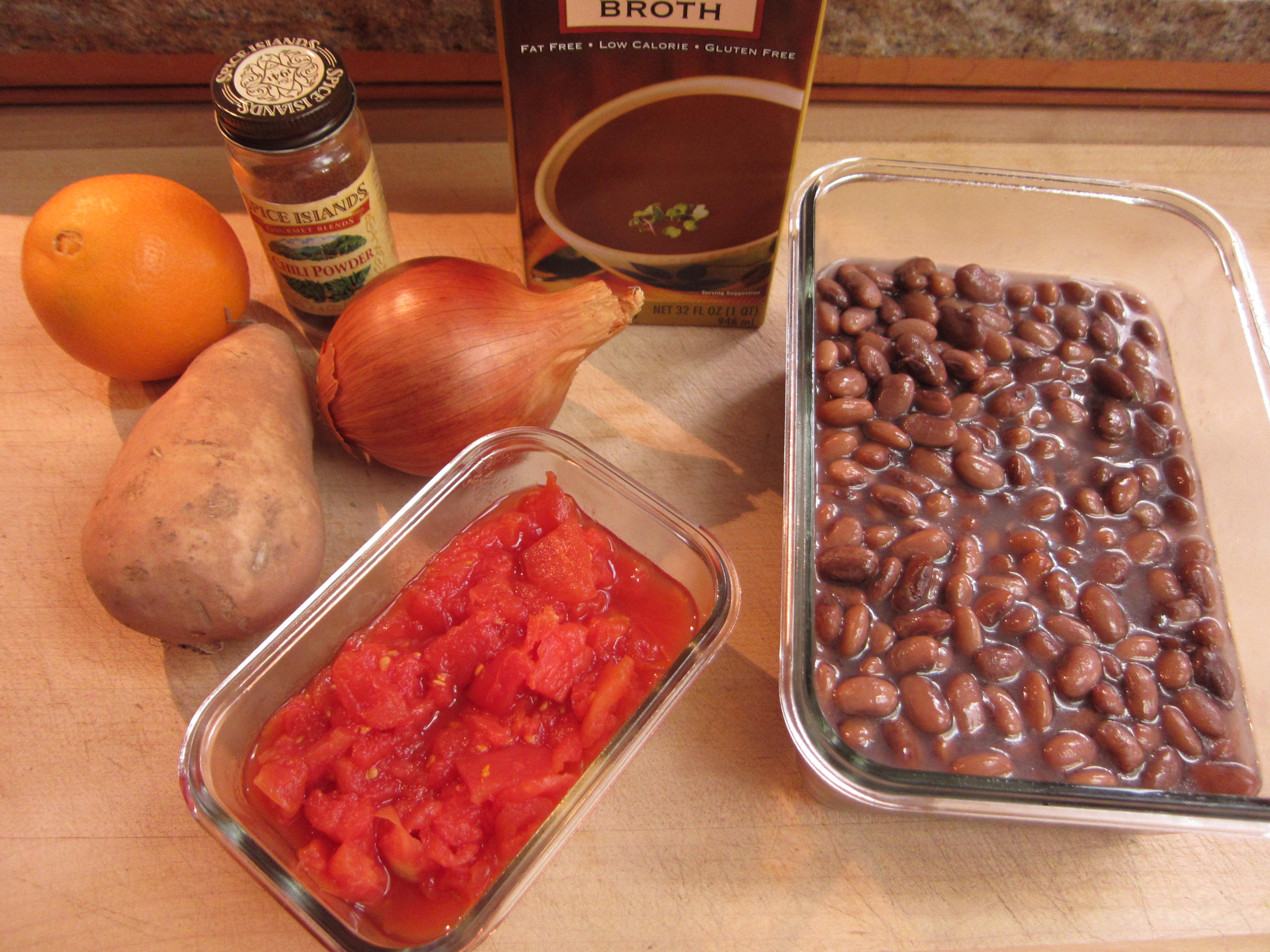 We keep home-cooked beans in the fridge any day of the week. If you don't have Pinto beans, you can substitute black or kidney beans. A can of tomatoes, a little chili powder, and cilantro, and you've got a great meal to keep you warm on a cold winter night. Here's the recipe:
1 tablespoon olive oil
1 medium onion, chopped
2 teaspoons chili powder
1 cup canned vegetable broth or water
1 10-ounce red-skinned sweet potato (yam), peeled, cut into 3/4-inch  cubes
1 14 1/2- to 16-ounce can Mexican-style stewed tomatoes
1 15- to 16-ounce can pinto beans, drained
3 tablespoons chopped fresh cilantro
1 1/2 teaspoons grated orange peel (we used less)
Method
Saute onion in a medium sauce pan over medium heat for 5 minutes until golden. Stir in chili powder and cook an additional minute.
Next, mix in the broth and sweet potato, then cover and cook on a simmer for about 10 minutes, until the potatoes are tender. Stir in the tomatoes (with juice) and the pinto beans.
Cook uncovered another 10 minutes until the chili thickens up. Add the cilantro and orange peel, then season to taste with salt and pepper.
The citrus gives the chili a little sweetness, but don't overdo it. You'll like the freshness both the citrus and cilantro bring to this dish. Enjoy with tortilla chips as you read through seed catalogs.
---
3. Gardenerd Tip of the Month – Favorite Seed Catalogs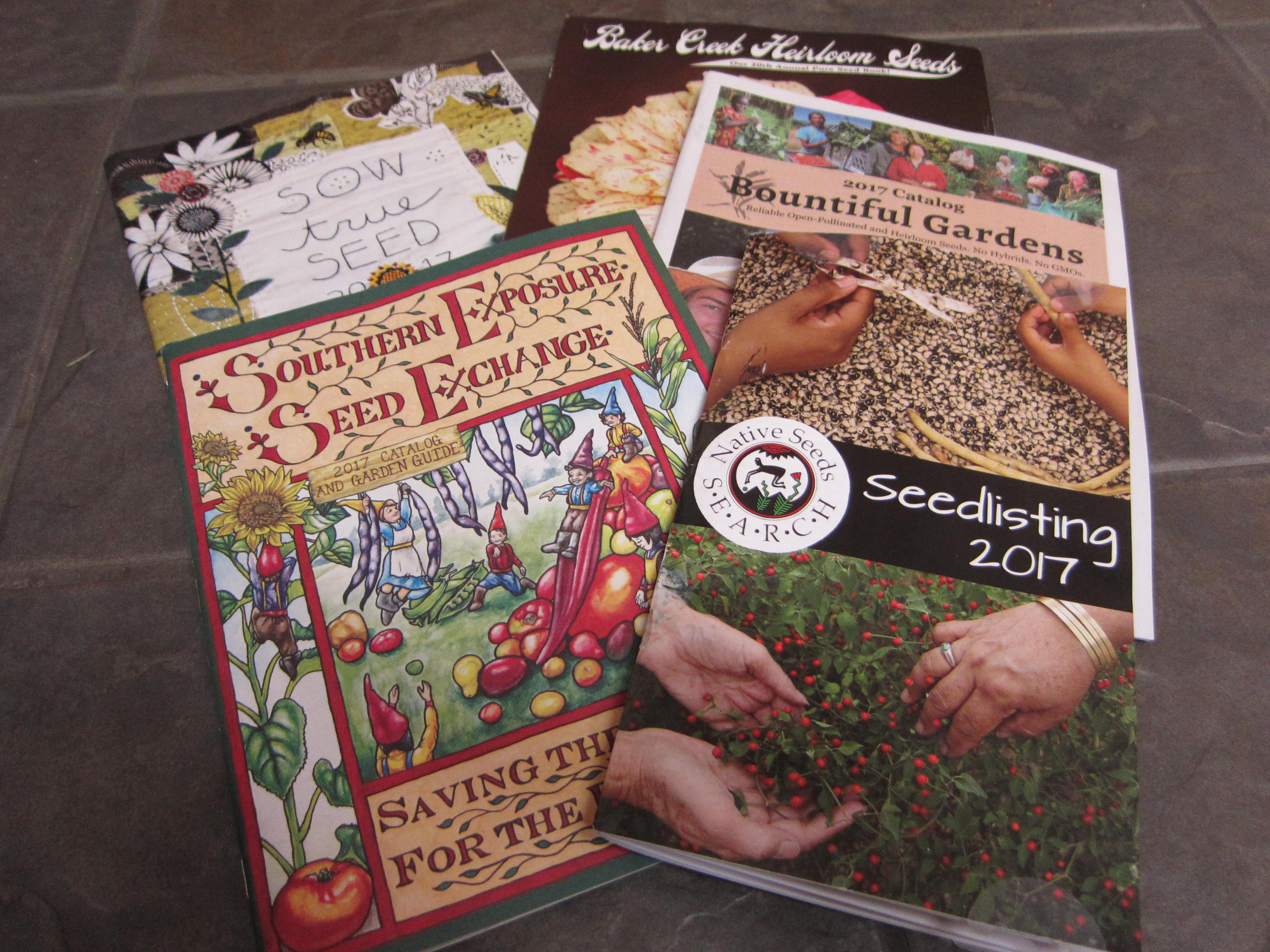 We're addicted to seeds here at Gardenerd. There isn't enough space to grow all the varieties we love, but that doesn't stop us from window shopping (or shopping shopping) when new seed catalogs arrive each year. Here are some of our favorites. All take the Safe Seed Pledge and support regenerative agriculture.
Sow True Seeds – if you're looking for seeds from Southern Appalachia, this is your catalog. In addition to the basics, they carry seeds for specialty items like burdock and salsify.
Bountiful Gardens – our go-to catalog for grain varieties like the Turkish Red Winter Wheat we're growing this season. A must for every bio-intensive gardenerd.
Baker Creek Heirloom Seeds – if you haven't discovered this seed catalog yet, you don't know what you're missing. Heirloom varieties from all over the world. Beautiful, unusual. It's garden porn.
Seed Savers Exchange – heritage varieties saved for generations by caring individuals across the country. Pages of squash, peppers, and beans will satisfy the most curious gardenerds out there.
Turtle Tree Seed – here's one for our biodynamic gardenerds. Their seed comes from certified biodynamic farmers California to New York and include a few interesting specialty green varieties.
Wood Prairie Farm – our go-to seed potato company for certified, disease-free seed potatoes. Their Experimenter's Special is perfect for small-space gardeners.
---
4. Gardenerd Product of the Month – Holiday Gifts including Gardening for Geeks

If you know someone who plans to start gardening in 2017, Gardening for Geeks is the perfect holiday gift. There's still time to order items from the Gardenerd Store such as Gardenerd Mugs, Grocery Totes, and The Ultimate Garden Bag. Get Gardenerd gear from our Cafe Press store as well. Perfect for the Gardenerd in your life.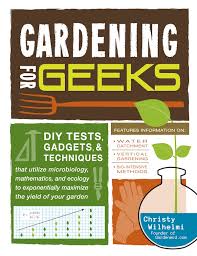 Stay tuned for more tips and tidbits from Gardenerd.com. Happy Holidays!

Search our archives here.