In this issue:
November in the Garden
Compost Your Clothes

Gardenerd Tip of the Month: Plant Natives Now

Gardenerd Product of the Month: NEW! Autographed Copies of Gardening for Geeks

---
1. November in the Garden
Fall has fallen. Finally. And boy are we thankful Gardenerds. We never thought we'd see cool weather again here in Los Angeles, but the air has changed and temperatures have dropped 10 degrees seemingly overnight. The phenomenon sends out a resounding alarm, "PLANT NOW, PLANT NOW!" and we're doing just that. If you have been waiting to plant perennial edibles, fruit trees, native plants or your fall crops, now is the time!
In our Test Garden, our kale is ready to pick — a few leaves here and there. The crops is still under floating row cover, but is close to outgrowing it. Potato plants have grown tall, while we're still waiting for the rest of our seed potatoes to break dormancy. Sprout, already, sprout! Oh well, the best laid plans… Anyway, our sugar snap and snow peas have sprouted, as have our spinach and cilantro seeds. If your ground doesn't freeze, you can still plant these crops for winter harvest. For the rest of you, enjoy the chance to relax. Enjoy the preserved harvest, the frozen sauces, the dried fruits, the canned soups. You deserve a break. It's time to give thanks for all that our garden provides.
With the holidays just around the corner, we're happy to announce we are now selling Gardening for Geeks directly in the Gardenerd Store. What's more, we're offering autographed copies with an option to personalize your gift. Plan ahead and order one for everyone on your wish list. We are grateful to have you in the Gardenerd community, and hope you enjoy a November filled with gratitude.
Happy Gardening,
Christy
---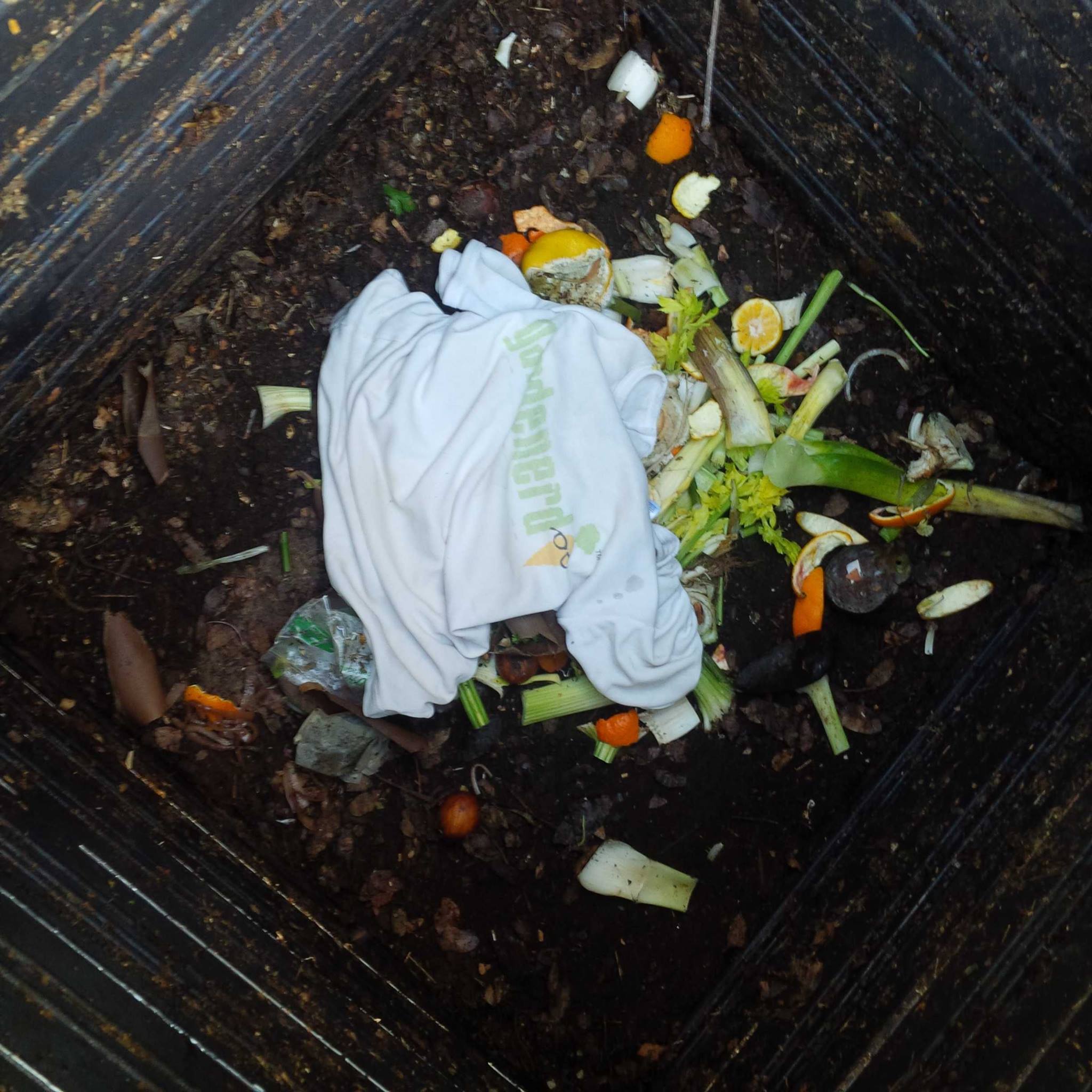 2. Compost Your Clothes

Whenever we talk about composting, people are always amazed and what you can put in that bin. It's pretty straight forward: if it grew in the ground, it can be composted. That goes for bread, wood products (untreated, of course) and your natural-fiber clothes. Cotton grows in a field. It is biodegradable. Wool and other animal fibers are also biodegradable (your own hair is too, so throw that in there when you clean out your hair brush).
When clothing ends up in the landfill, it lives on for decades. In a non-oxygen environment, microbes can't do their job to break down organic material. So it sits there for years. A local museum in Los Angeles has an exhibit of 15-year-old newspapers and other items pulled from a closed landfill. You could still read the print on the page. Tougher fibers like cotton would take even longer. So, if your duds are too worn for Good Will, and you can't turn them into produce bags, then tear them into shreds (and have fun while doing it) and dump them into your compost bin. They'll disappear in about 4-6 months. Even sooner if you're hot composting!
P.S. blended fiber fabrics also can be composted. The synthetic fibers will remain in the bin and can be sifted out before compost is used in the garden.
---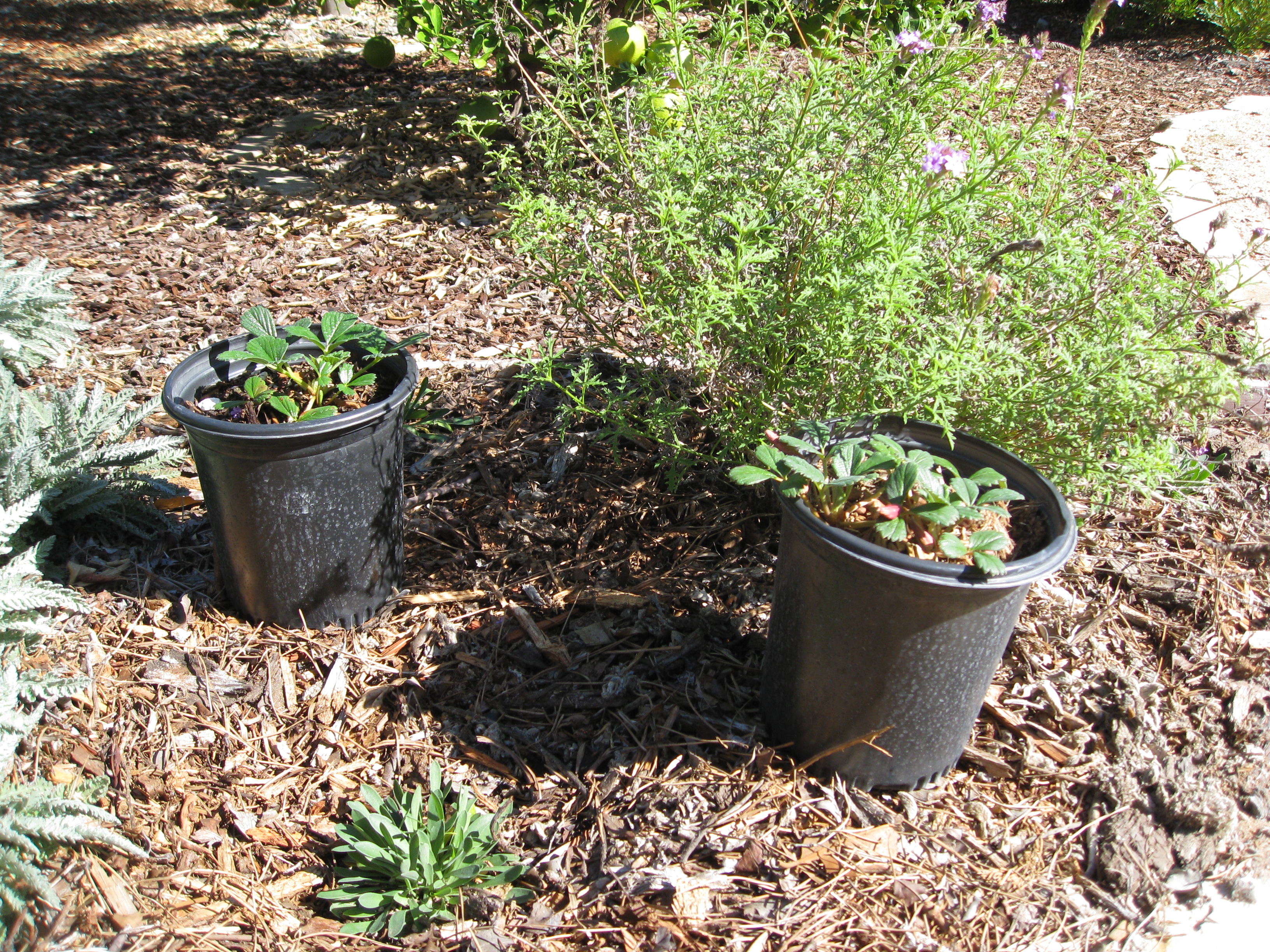 3. Gardenerd Tip of the Month – Plant Native Plants

Cooler weather is here, and native plants prefer to get established over winter so they can take off in spring. Fall planting encourages root development, and plants appreciate cooler temperatures for their roots.
Here at Gardenerd, we're planting manzanitas, beach strawberries, sages and more. Natives plants for your region may differ, but the timing is still right. Don't feel like planting? Then broadcast handfuls of native wildflower seeds throughout the yard. With rain they will begin to sprout and soon you'll have color popping up in either late winter (in warm-winter climates) or spring. Don't forget about native bulbs, too! They'll sleep over winter and bring cheer to the garden after other plants have finished flowering. Find a list of beautiful native bulbs to plant here.
---
4. Gardenerd Product of the Month – New! Autographed Copies of Gardening for Geeks Available Now.

That's right, it's been long in coming. People have asked us why we don't sell Gardening for Geeks on the Gardenerd website. Well, now we do!
Just added to the Gardenerd Store, now you can get personalized, autographed copies of Gardening for Geeks for your friends and family this holiday season. Get them straight from the source. Just include the first name of the recipient with your order and we'll send it out in time for your gift-giving events. A personal gift of gardening knowledge gives back year after year. Get yours today.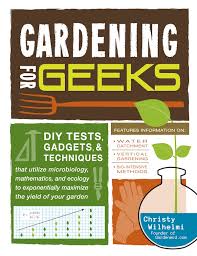 Stay tuned for more tips and tidbits from Gardenerd.com. Happy fall gardening!