In this issue:
June/July in the Garden
Zucchini Bread Oatmeal

Gardenerd Tip of the Month: Getting Rid of White Fly

Gardenerd Product of the Month: 400+ Tips for Organic Gardening Success

---
1. June/July in the Garden
June is almost over. It's time for 4th of July celebrations, barbecues, swimming, and summer tomato dishes. Before we get to that, there's still plenty of zucchini to use up. Check out a new recipe we tested for zucchini bread oatmeal below before you stick another baseball-bat-sized zucchini in your neighbor's mailbox.
In our test garden, we're setting rat traps to protect sweet corn that is just starting to ripen. Remove diseased tomato leaves to allow for better air circulation. It's also time to feed tomato plants as they set fruit. Now is the time to inspect for squash and cucumber beetles. We squish them on site every morning. Our harvest includes Royalty Purple bush beans, Cocozelle zucchini,  and very persistent Swiss chard from a fall planting. Everything needs a little extra water on hot days, so check your garden after the sun goes to down. If leaves are wilted, increase irrigation for those plants.

I hope you'll check out my new book, 400+ Tips for Organic Gardening Success: A Decade of Tricks, Tools, Recipes, and Resources from Gardenerd.com. It's a digital book with links to hundreds of online resources, available from Amazon Kindle. If you don't have a Kindle you can download their free app to any computer or mobile device. Get your copy today and enjoy a scintillating read this summer.
Happy Gardening,
Christy
---
2. Zucchini Bread Oatmeal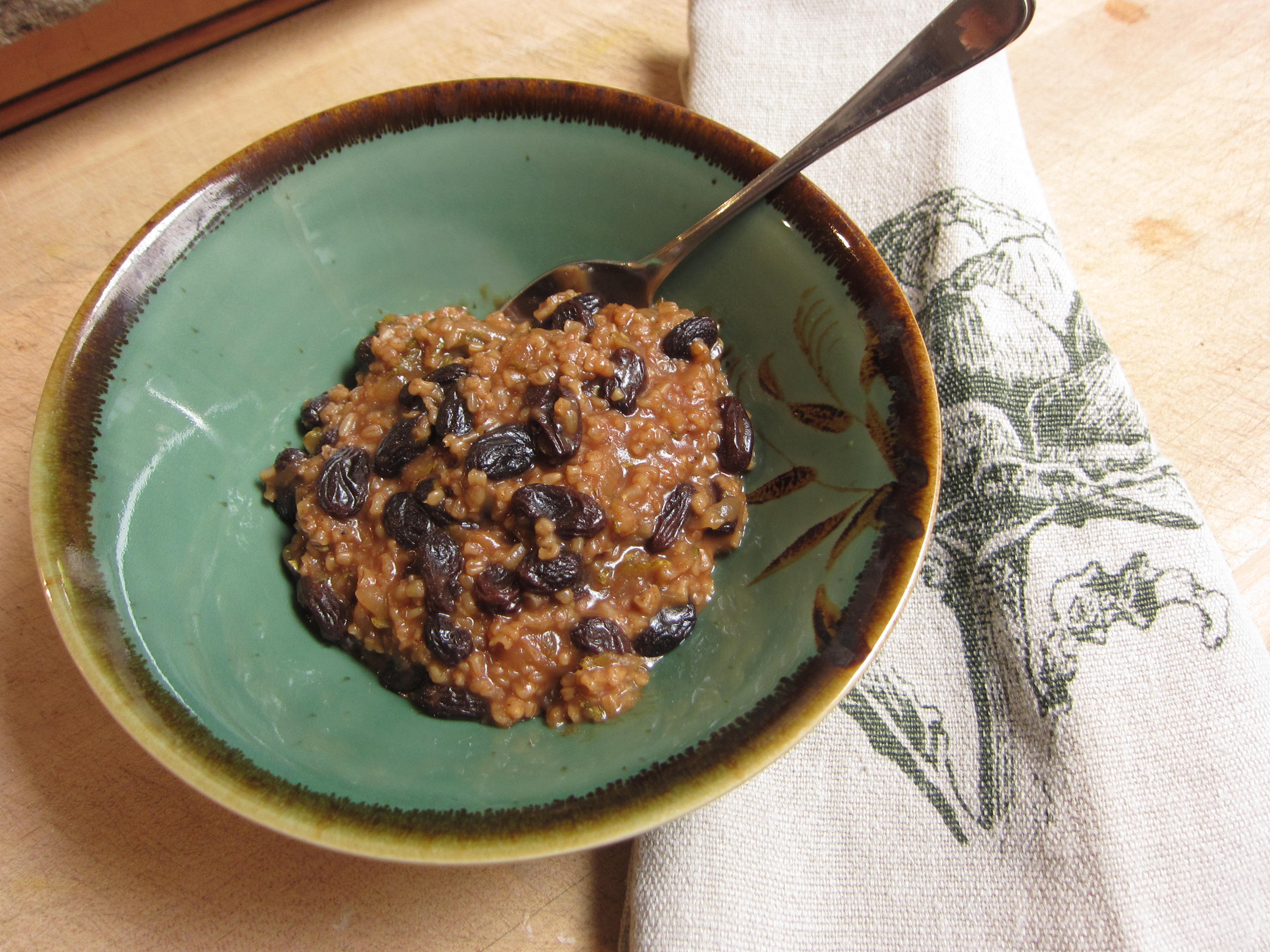 We see it as our mission to provide zucchini recipes here at Gardenerd. There's always so much of this ubiquitous summer squash and we're usually sick of it by June. This recipe disguises shredded zucchini very well. It sounds a little weird…zucchini bread oatmeal, but think of it as oatmeal with the spices you'll find in zucchini bread. Have at it.
from Vegetarian Times Magazine – April/May 2015
Ingredients
2 cups unsweetened apple juice
1 tsp. ground cinnamon
1/2 tsp. ground ginger
1/2 tsp. ground nutmeg
1/4 tsp. ground cloves (editors note: we recommend using half this amount)
1/4 tsp. salt, optional
1/4 tsp. apple cider vinegar
1/2 cup steel-cut oats
1 cup finely grated zucchini
1 cup raisins or chopped dried figs
Method
Combine apple juice, all spices, and apple cider vinegar in a medium saucepan. Bring to a boil, cook 2 minutes.
Then add oats, zucchini and raisins (or figs, if using). Turn down the heat and simmer for 30 minutes. Stir occasionally.
---
3. Gardenerd Tip of the Month – Getting Rid of White Flies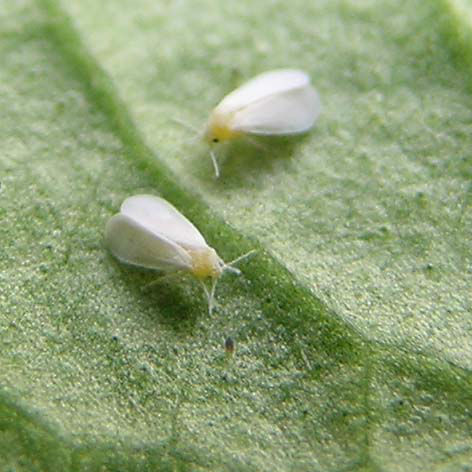 White Flies – Linde wrote into Ask Gardenerd this week: "How do I get rid of the little white bugs that are destroying all my new pole and bush bean sprouts!!! When I water the plants the fly off and then go right back on the seedlings!! We are organic gardeners and have never used any chemicals . We only use companion planting methods. This is killing me!!!"
Sorry to hear about your white fly problem, Linde. Our first line of defense against white flies and other sucking insects is to put down a layer of worm castings around each plant and water it in. The presence of white flies indicates the soil is weak (and therefore so is the plant). Worm castings boost soil health with good bacteria, and 10x as much nitrogen as compost. The castings also contain an enzyme that wards of sucking insects. When the plant takes up the enzyme, white flies tend to leave.
Keep the hose handy to blast off the insects with a jet spray until the worm castings can take effect. It may take a couple weeks. Blast them off every day and you'll see improvement.
We hope this helps. Thanks for writing in.
---
4. Gardenerd Product of the Month – 400+ Tips for Organic Gardening Success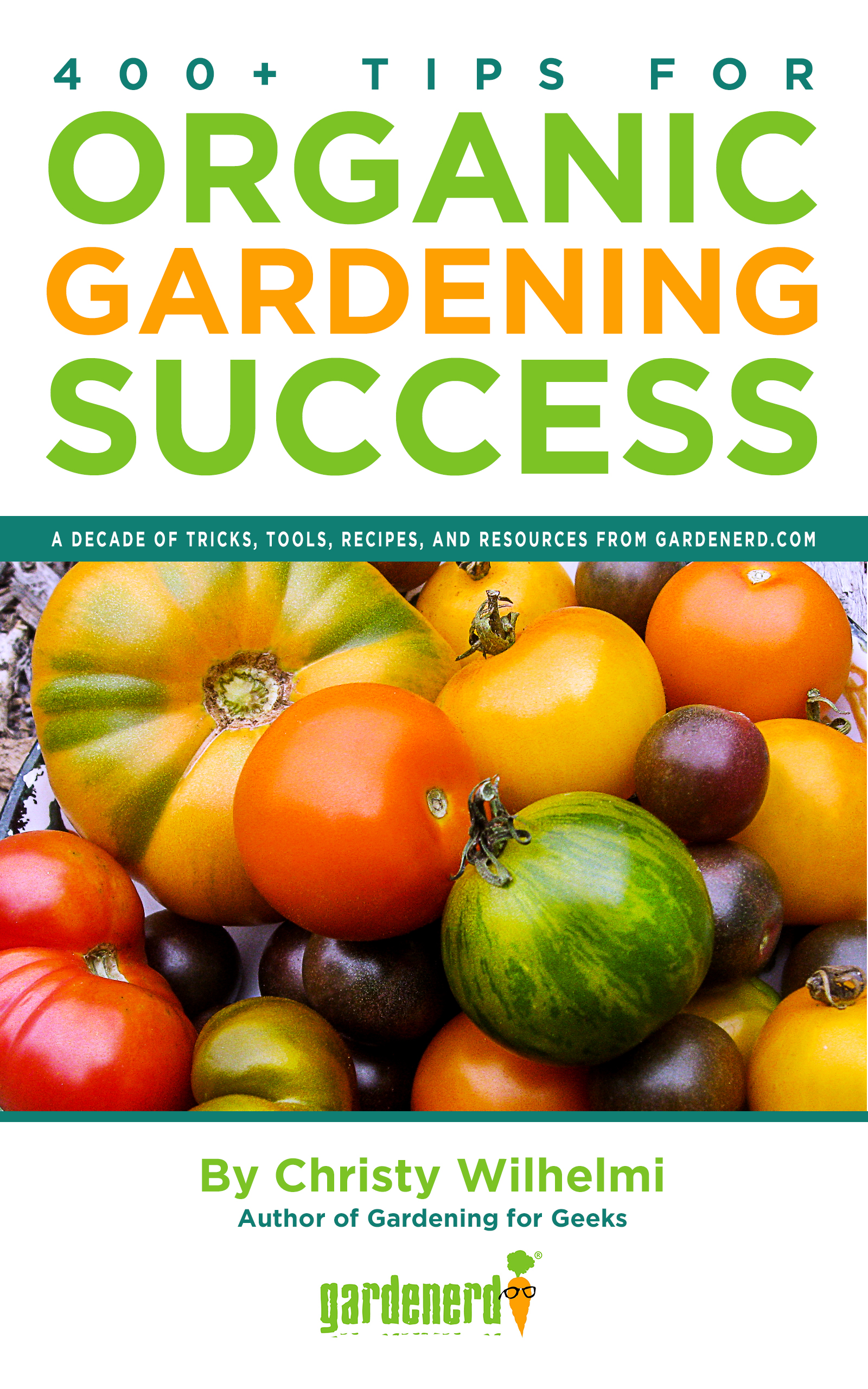 Why You Want This Book
Christy's new book has everything: pest control tips, harvesting instructions, recipes for seasonal produce, and tricks for a successful garden. She's done the research for you, now all you have to do is click through to find solutions to all your gardening questions.

Why digital?
We know most gardeners prefer physical books, but 400+ Tips is the exception. It shares hundreds of online resources, and the answer is a click away. Read this book with WiFi on. You'll have access to every tip we've published in the last 10 years all in one place.
Don't have a Kindle?
That's okay, you can download the free Kindle app to any computer or mobile device (tablet, phone, etc.) It couldn't be easier to unlock your organic gardening success story! Get your copy today!
Stay tuned for more tips and tidbits from Gardenerd.com. Happy Summer Gardening!

Search our archives here.