In this issue:
January in the Garden
January To-Dos

Gardenerd Tip of the Month: Taking Stock – Seeds, Successes and More

Gardenerd Product of the Month: Gardenerd Zipper Hoodie

---
1. January in the Garden
Happy New Year, gardenerds. January is a time of renewal. We evaluate our progress and make changes (or promises) for a better, more organized, more abundant life. The garden gets its own make over, too. Winter gardeners are enjoying the fruits of a fall planting, while iced-in gardeners take this time to plan for spring. Both satisfy the need to look after living things.
In our Test Garden, we harvested (and ate right there in the garden) our first snow pea. We've been harvesting radishes, kale, cilantro, dill, and new potatoes. We're picking oranges and lemons, while our broccoli starts to head up. Kohlrabi and cabbage are getting closer to harvest. It's time to add compost around winter crops to get them through the season. Layer compost and worm castings around each plant and scratch it in. See our January To-Dos below for more tasks.
If you need help getting your garden started for spring, we're here for you. We have on-site consultations as well as Skype consults over the interwebs. Schedule your appointment before the busy season and you'll be growin' in no time.
Happy Gardening,
Christy
---
2. January To-Dos

It may feel like there's nothing to do in the garden, but oh, there is! Here's our list of what to do in January:
Plant Bare Root Fruit Trees & More – if you ordered trees in October, they should be arriving soon. Dig the hole (if you didn't in the fall) and prep the soil for those new trees. If your ground is frozen or you don't have time now, pick the best place to heel trees in until you can dig. Many nurseries are now carrying bare root trees so if you missed out on early orders check your local nursery for stock now. While you're there look for bare root asparagus, rhubarb, and strawberries, too.
Plan your Spring Garden – get out your pencils and paper, it's time to plan out that spring garden. Having a plan informs your seed-starting ventures. A Plan = a more efficient garden. You'll know how many seeds to start when you know how much room you can dedicate to each crop.
Start Seeds in Trays – speaking of planning, it's time to start seeds for flowers and veggies. Find our spring garden planning guide here to help you choose the right crops. See our Tip of the Week for tasks leading up to this one.
Feed Existing Crops – winter garden are now in bloom and setting fruit. Now is the time to add compost around each plant to help them through to the end. Coastal areas can apply compost tea to help combat powdery mildew as pea and kale plants age.
Prune Roses – January is rose-pruning time. Watch our helpful YouTube video for simple and easy step-by-step instructions for how to ready your roses for spring.
Harvest, Harvest, Harvest – keep an eye out for ripe broccoli, cauliflower and Romanesco. Pick plants before buds start to separate (as shown above). Tie up leaves around cauliflower and Romanesco heads to blanch them before harvest. Check regularly to ensure proper harvest timing. Don't forget about broccoli side shoots! After harvesting the center head, side shoot will proliferate for at least a month. Pick every day to encourage more production.
Share the Excess – got more lettuce than you know what to do with? Donate your fresh produce to a local food bank like Meals on Wheels, or swap it with friends. Join a produce exchange or take advantage of apps like CropDots, where you can offer your produce for sale locally.
---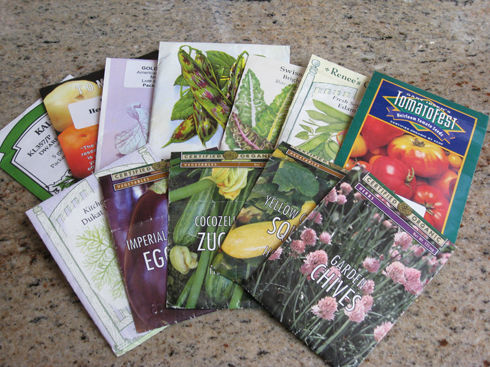 3. Gardenerd Tip of the Month – Taking Stock – Seeds, Successes and More

By the time spring gardening rolls around, most gardenerds have amnesia. We no longer remember what worked and what didn't work in last year's garden. We also don't remember what seeds we used up last season. January is the time to take stock of supplies and review notes from last year. Do you have enough seed starting mix for those trays? Did you run out of Lemon cucumber seeds? What really happened to those tomatoes last year? Do you need to buy new rat traps? Do all your gloves have holes in them?
Take time to take inventory and make a list of supplies needed for the coming growing season. As you plan out your spring garden, review seed catalogs and incorporate a few new varieties to try. Visit the Gardenerd Trusted Resources page for help finding supplies and seeds for spring.
---
4. Gardenerd Product of the Month – Gardenerd Zipper Hoodie

Guys, it's still winter, and it's cold out there. Stay warm outdoors in our Gardenerd Zipper Hoodie. This understated hoodie is cozy on chilly days, and covers your head in a drizzle. It's got the Gardenerd carrot over your heart and the full logo across the back. Get yours in grime-hiding gray.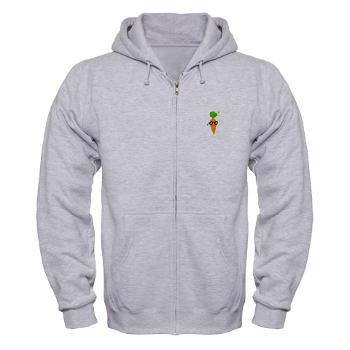 Stay tuned for more tips and tidbits from Gardenerd.com. Happy winter gardening!