In formats ranging from 2-hour workshops to 4-week courses, Gardenerd covers the basics of organic gardening on a seasonal basis. Classes can be taught indoors or out in the garden; both publicly and for private groups.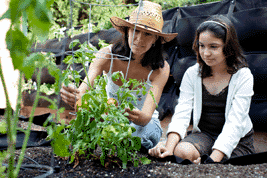 ©picottephotography.com

---
Upcoming Organic Gardening Classes

Composting Workshop:
Saturday, May 17, 2014 from 9-11 a.m.. Details and registration now open.

BASIC ORGANIC GARDENING 101 @ SMC:
The next course will run on July 13, 20, 27, Aug. 3 from 3-5 p.m. new room – Art118. Registration will be open in late Spring.

We have several private classes coming up. Want one for your group? Gather your friends and Gardenerd will come teach your group. Call for details and rates: 310-773-4806.
---
Praise for The Gardenerd Organic Gardening Series…
"Christy is a very engaging instructor, knowledgeable, and a crack-up!" – M. Maisterra, Los Angeles, CA.
"The class covered a lot of information and a good amount of hands-on. Excellent class, great delivery with passion." -S. Foss, Los Angeles, CA
"Thanks for today, Christy! I'm feeling really motivated and optimistic that I'll get some tasty tomatoes going soon thanks to the class. – M. Medvedoff, Mar Vista, CA
"Christy is awesome at offering tips and answering all of our questions…The best part is, of course, getting your hands dirty." – Mary M., Los Angeles, CA
"I might be a formally trained horticulturist, but … I have gotten some great info from Gardenerd. Christy has been able to give me a more real perspective on things." – Chantel S., Mar Vista, CA.
"I found the mix of lecture, video and hands-on instruction to be a great mix. The class has definitely motivated me to learn more & explore other resources." – Alison A.
To inquire about these services contact us at:
310-773-4806
or e-mail Christy at Christy@gardenerd.com
Gardenerd.com
P.O. Box 661647
Los Angeles, CA 90066