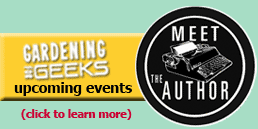 Gardenerd News & Calendar


Press


Press Releases
Gardenerd News & Calendar
Christy recently had a a Spring garden chat with other Home & Family Gardening All-Stars on the Hallmark Channel). Check out the video here or read top tips for springtime planting!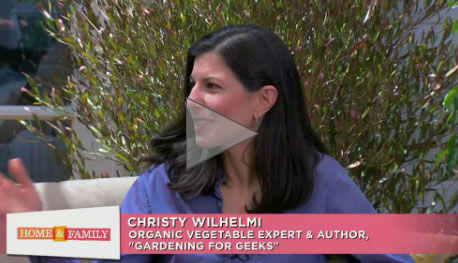 Installing drip irrigation is kind of like building LEGOs. There are many different hoses and attachments to customize your set-up. Christy explains the simple At Home Drip Irrigation process she uses during a recent appearance on the Hallmark Channel.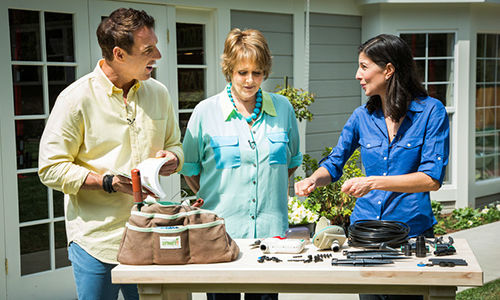 Host David Walrod meets up with Christy Wilhelmi to see just a glimpse of Mar Vista Green Garden Showcase on UrbanDirt.TV.
Did you miss Gardenerd's appearance on Food For Thought with Claire Thomas? Here's a segment from it.
Here's a personal favorite: How to Transplant Lettuce & How Deep
New 2012 Spring/Summer Seed Collection: We're proud to unveil our brand new 2012 seed collection, just in time for holiday gifts. Give that Gardenerd in your life seeds they will love. Colorful heirlooms and open-pollinated seeds from Seed Savers Exchange will have them jumping for joy.
New YouTube video featuring vintage Gardenerd footage. Learn all about heirloom lettuces in this clip from a pilot gardening TV show we did back in the day. Check it out!
YouTube video: Transplanting Tomatoes with Grow Lights and Self-Watering Techniques.
Learn how to braid garlic in this Gardenerd video…
Food For Thought – Gardenerd was featured on Food For Thought with Claire Thomas, a new show on ABC this September. The first episode where Christy shows Claire how to plant a patio salad garden aired on Sept. 3 at 11:30 AM PDT.
Sustain: A Photo Essay of Women and their Farms across America – Sustain is an ongoing investigation of the agrarian renaissance and sustainability movement taking place in America today. Review the photo essay here.
Gardenerd interviewed for NBC LA feature – Christy was interviewed at the Go Green Expo 2011 about going green in the kitchen and garden. Watch the video here.
Gardenerd in Organic Connections Magazine – Christy was grilled about Gardenerd and how we're going to save the world. Check out the article here.